Premier League explains reason why Heung-Min Son was sent off against Everton after Andre Gomes' horrible injury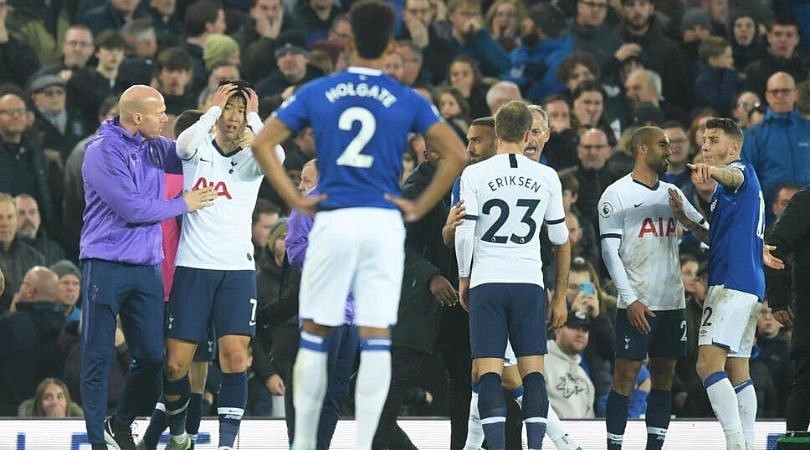 Premier League explains the reason why Heung Min Son was sent off against Everton after Andre Gomes broke his ankle in last night game.
Everton Vs Tottenham is a match to forget as Andre Gomes suffered a horrible injury against Everton in the Premier League game last night, the player dislocated his ankle and was immediately taken off the pitch.
Just a few seconds before he suffered the injury, Heung-Min Son was chasing the Portuguese midfielder and made a sliding tackle, which brought Gomes down and making him collide with Sergi Aurier due to which his ankle got twisted.
Not a red. Not even a yellow. #gomes #Aurier #Son #EVETOT pic.twitter.com/JB09UyIhTj

— Man With Nice Hat (@Cliff_VF) November 3, 2019
At first, referee Martin Atkinson brandished yellow card to Son, but after seeing the severity of Gomes' injury Atkinson handed the South Korean International a red card.
On the other hand, Son was devasted after seeing Gomes suffering on the floor and massively broke out in tears and meanwhile, Aurier started praying for Gomes. Even the fans nearby were in distraught while seeing Gomes suffering on the pitch.
Probably, the red card was a relief to Son who was no way in any condition to continue the game. However, after watching replays, it can be seen that Son's tackle did not cause Gomes injury as it was thought and rather the collision with Aurier was the probable reason. But, if it was unjust, then why didn't VAR overrule the direct red card.
Heung min Son's horror tackle didn't cause Andre Gomes's injury, it was the collision with Aurier that caused the injury.
Clearly Son didn't deserve a red card it can be a yellow for the harsh tackle.
But clearly the ref didn't see the tackle but gave the red card for the injury. pic.twitter.com/Si9OGvMp69

— Orion Pax (@ashminster23) November 3, 2019
To this, many people on social media advocated for the alleged unjust red card for Son but the Premier justified Atkinson's reaction by claiming that Son was dismissed for 'endangering Andre Gomes' safety which happened 'as a consequence of his initial challenge.'
VAR: Clarification after today's draw between Everton and Tottenham. #SSN pic.twitter.com/ytgNKr8r0z

— Bryan Swanson (@skysports_bryan) November 3, 2019
Also read: Jamie Vardy mocks Crystal Palace with Eagle dance after scoring in Leicester's win
Meanwhile, Gomes has reportedly dislocated his ankle during the clash and would soon go for a surgery. So far, there is no clarity over his recovery period.
---
Share this article