LOUD Vs FURIA Valorant Americas UB Semis; Predictions, Head to Head, Where to Watch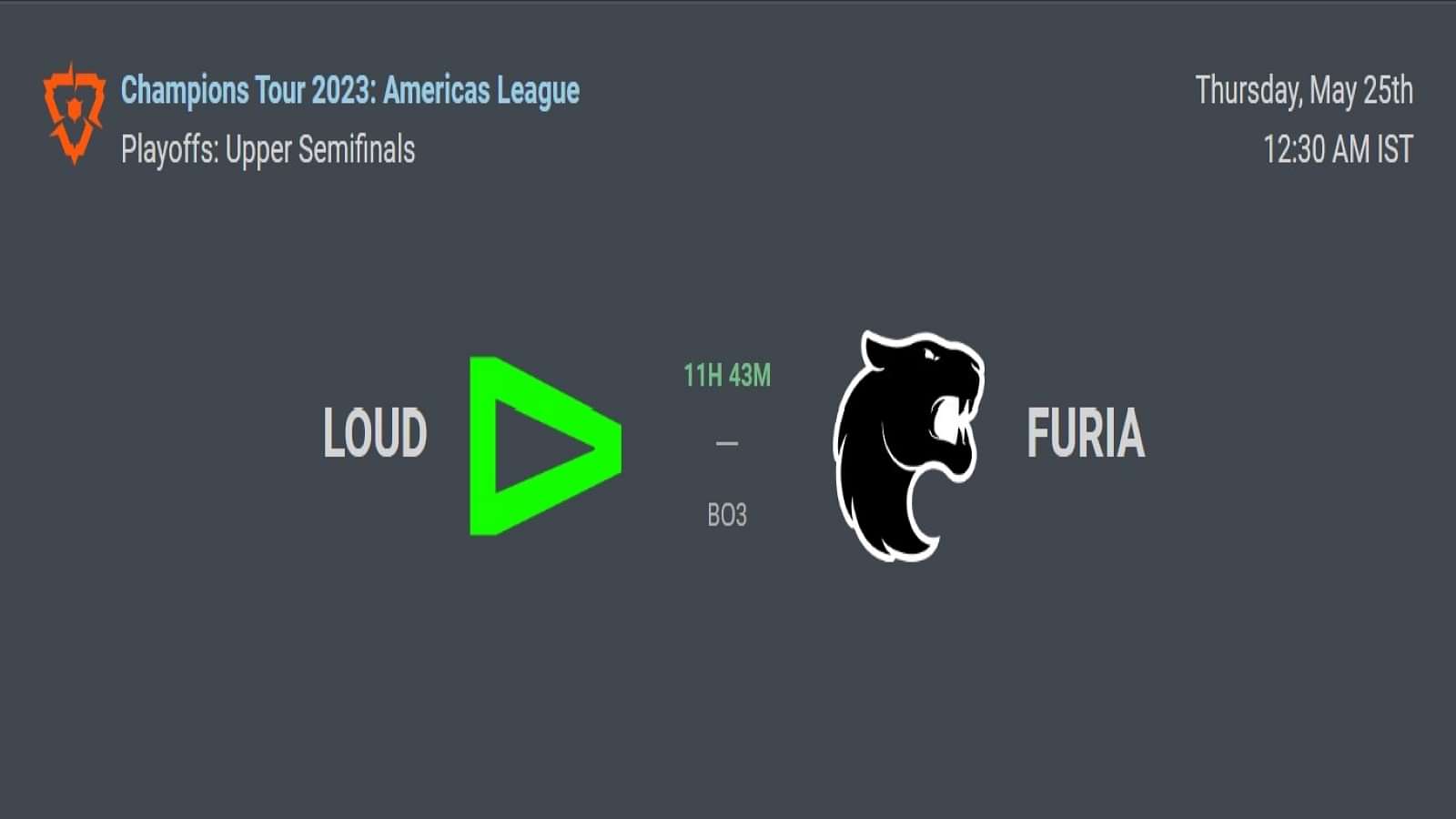 LOUD is set to clash against FURIA as two Brazilian Teams battle to get a chance to move onto the UB Finals. The loser of this Valorant match will go face NRG in the LB QF.
Both FURIA and LOUD have had stellar performances in the league. However, LOUD is a class apart from FURIA. Part of the reason why is that LOUD has only lost one match in the league. In yesterday's match, we saw that FURIA can do a lot of damage even to tough teams as they took out Leviatan and sent them into the lower bracket.
LOUD will look to win this match-up quickly. Let us analyze who has the higher chance of winning this match-up. The stakes are clear, the winner goes to the UB Finals while the loser faces NRG in the LB quarters. You can check out a detailed rundown here.
Contents
Can FURIA Beat LOUD Against All Odds in Valorant Americas UB Semis?
Predictions
Head-to-Head
Rosters
Where to Watch This Valorant Match
Can FURIA Beat LOUD Against All Odds in Valorant Americas UB Semis?
FURIA recently beat Leviatan 2-1 in the UB Quarters to secure this match-up against LOUD. While LOUD qualified through the top seed, this will not be an easy match. FURIA are known for their hyper-aggressive playstyles and their ability to take aim-duels. While LOUD have mechanical aimers as well, FURIA would need to bring their A-Game to withstand the onslaught of aspas and Saadhak.
Predictions
FURIA is a strong team. However, LOUD is another dragon to slay. They have been a consistent team since last year and even though there were two or three changes, they have not lost a beat. LOUD has shown up and beat almost everyone they have faced.
We predict LOUD will do the same here. A win over FURIA won't be easy but it will be something LOUD has to plan through.
Head-To-Head
These two teams have faced each other twice and both times LOUD has taken the fight to FURIA and won the games 2-0. Will it be a repeat of the last two matches in the UB Semis as well? We will have to wait and see. You can check out the highlights from the last encounter in the video above.
Rosters
LOUD
Erick "aspas" Santos
Felipe "Less" Basso
Matias "Saadhak" Delipetro
Cauan "cauanzin" Pereira
Arthur "tuyz" Vieira
FURIA
Gabriel "qck" Lima
Khalil "Khalil" Schmidt
Matheus "mazin" Araújo
Douglas "dgzin" Silva
Leonardo "mwzera" Serrati
Where to Watch This Valorant Match
One can watch this match by tuning into the Valorant Americas Twitch and YouTube Channels. We are embedding a video that you can use to directly watch the match when it starts so bookmark this page until then. The match is scheduled for May 24th, 12:00 PM PDT. For more Valorant matches like this, click here.
---