Why Louis Van Gaal must go!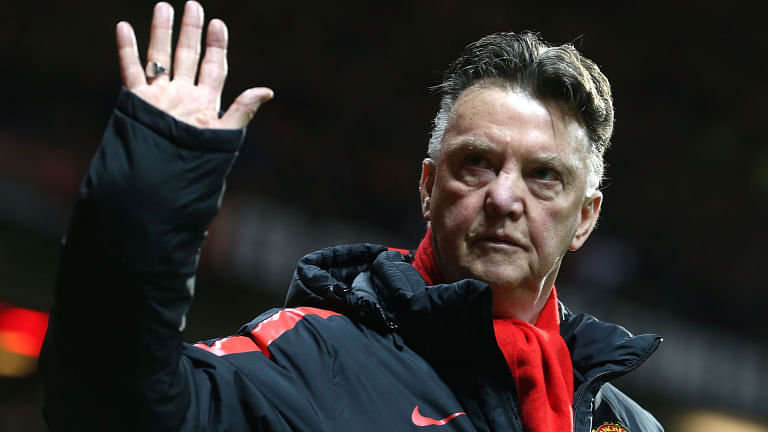 As Manchester United reach the end of yet another season, it is time to reflect on what actually went wrong. Here's my two cents on the managerial situation at the Theatre of Dreams.
'Judge me on my second season.'
These were the exact words LVG used at the start and throughout the 2014-15 season. Well, now it's time to put that judgment into perspective. The minimum requirement of Champions League qualification has not been met, in spite of two summers of reckless spending. 'Thrown away' would be more apt at describing United's attempt at a top four finish.
Our neighbors in blue did all they could to ensure Pep Guardiola got an oppurtunity to win the Europa League. All United had to do was pick up the pieces. Yet, as has been rampant throughout the season, when the time came United simply couldn't hold on. Before, West Hams's farewell match at Upton Park, LVG highlighted the dangers of West Ham's man mountains at set pieces. If only, he had put some effort to negate the same, we might still have qualified for Europe's elite competition.
Before coming to United, Van Gaal had a reputation for making surprising decisions, which included dropping his pants at Bayern Munchen. In spite of that, he has managed to stun fans, players and critics alike with some of his decisions over the past two seasons. From playing Di Maria at wingback to Ashley Young as a centre forward and Jesse Lingard as a number 10, LVG has done it all. Not only that, he stuck an ageing Michael Carrick who has historically had no pace to lose beside an equally slow Daley Blind in defense in a must win game against Midtjylland which resulted in United conceding an early goal, which was ultimately overturned. To take the cake, he substituted Juan Mata for Nick Powell when United were desperately searching for an equalizer against Wolfsburg, in the game which ended United's Champions League campaign.
Throughout the season United have been found wanting on the biggest occasions. Starting with the 2-1 reverse at PSV, where United surrendered a first half lead followed by what happened at the Emirates stadium in October, when Van Gaal stuck Carrick and Schweinsteiger in midfield. This trend continued at Wolfsburg, White Hart Lane and culminated at Upton Park. The only high octane match United could be credited with winning is the Rashford inspired victory at the Etihad.
All of this has been sugar coated with a style of play so uninspiring that even die hard season ticket holders have been found snoozing. United played out as many as six goalless draws at Old Trafford, include a 120 minute embarrassment against Middlesbrough which ended with United being eliminated on penalties. We narrowly avoided a similar embarrassment agaist Sheffield United in the FA Cup.
Van Gaal has highlighted signs of so-called progress under his regime. Before the FA Cup semi final, he reiterated. "We are further than last year," the Dutchman said."We were in the quarter-finals, now we are in the semi-finals. I believe that means we are better than last year."
Alas, if only domestic cups could be considered the benchmark for progress. Going by this logic, even David Moyes could lay claim to having shown progress during his stint. After all, under him United reached the Capital One Cup semi finals and were a whisker away from making the final. That indeed was 'progress' considering United were eliminated in the 4th round of the competition, the previous year. However, even someone with limited knowledge of football would be able to tell you that the 2013-14 season under David Moyes was an unmitigated disaster.
Van Gaal also likes to take credit for the success of United's youth players. Let us put this in perspective. Speaking after Anthony Martial's deadline day transfer, Van Gaal said: "Yes I spend a lot of money on Martial – but I buy him for my successor, Ryan Giggs." The statement could be interpreted as an attempt to mitigate fan backlash if the highly priced transfer hadn't turned out well. However, among outfield players, only Smalling, Blind and Mata have made more starts than Martial over the course of the season. Also, Martial is United's top scorer and has been the most creative player in the entire squad. If Martial was indeed 'for his successor', then what was Van Gaal's plan A for the season? Pressing question indeed.
Marcus Rashford has been another success story. LVG praised himself for having the guts to put Rashford in the starting lineup. However, it is important to revisit the chain of events which led to Rashford's debut. On 22nd February, United took on Shrewsbury Town in the FA Cup. Anthony Martial started as the striker with Will Keane on the bench. Rashford was even not in the match day squad. Keane came on for Martial in the 2nd half, which was understandable, considering the fact that United had ramped up a 3 goal lead and had to face Midtjylland 3 days later. Unfortunately, Keane picked up an injury soon and could not continue. He was subsequently ruled out of the rest of the season. This resulted in Rashford being called up to the first team squad for the game against Midtjylland. He was named on the bench, before making his debut after Martial was ruled out. The rest is history. Coming back, we must understand that Rashford was behind Rooney, Martial, Keane and probably even behind James Wilsom (who was out on loan) in the pecking order. Only, a twist of fate resulted in his debut as he had not even been in the match day squad 3 days prior.
Similarly, the versatile Fosu-Mensah had not even been picked in the initial Europa League squad, which had included the likes of Regan Poole, who had not been cleared to play for United until days before.
True, he cannot be blamed for all the ills of the season. There has been an alarmingly high number of contact injuries throughout the season, starting with Luke Shaw. Also, LVG cannot be blamed for the profligacy of players like Fellaini and Lingard. Even Rooney missed a sitter towards the end in the goalless draw at home against Chelsea, which would have almost surely resulted in three points.
However, Van Gaal showed how far removed he is from reality when he claimed that expectations at the club were unreasonable. Is it so unreasonable to expect a top four finish after hundreds of millions worth of investment? Is it too much to expect the team to make proper use of the talent present in the squad? Van Gaal kept complaining tht the squad lacks creative fast players. Yet, here he was benching Memphis and Herrera and relegating Januzaj and Andreas Pereira to the under 21s.
Not to mention his mismanagement of talents like Di Maria, Mata and the absolutely deplorable treatment meted out to Victor Valdes. Players have changed from flavor of the month to outcasts in a matter of weeks. The most recent example of this was Ashley Young who has dutifully played out of position throughout the season and still found himself struggling to make the match day squad after returning from injury. Even Fellaini, who has been most effective when playing as an auxilliary number 10 has been forced to make most of his appearances in densive midfield where he has zero chances of utilizing his skills.
All in all, the second season on which LVG was supposed to be judged, has been a failure. The FA Cup, while important, can be considered a stand alone success, not the parameter with which to judge Van Gaal. We can only hope that the United board has waited this long to terminate his employment, due to the sole reason that firing Van Gaal after Champions League Qualification was made improbable, made more financial sense.
Now who should United go for, Mourinho or Giggs? Well, that is a story for another time.
---