Luis Suarez has been told where Neymar will go after PSG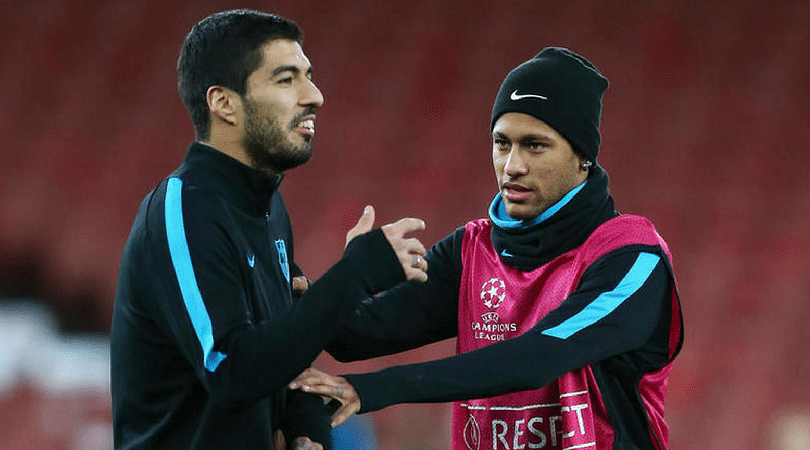 Barcelona ace Luis Suarez has reportedly been told that Neymar wants to shift form PSG in two years time. The Brazilian will then be looking to make the switch to either Manchester United or Real Madrid, as he will then be at the peak of his career.
Neymar made the decision to join PSG over the summer as the footballing world was left stunned. Barcelona were left reeling as Neymar decided that he had to step away from Lionel Messi's huge shadow in order to win the Ballon d'Or.
At Paris, Neymar is the spear head of what already looks like one of the favourites for the Champions League. Neymar, Cavani and Mbappe have formed a fearsome threesome, as the trio have ran roughshod over opposition defenses.
But it looks like Neymar considers PSG a pit stop before he eventually moves to the club that will catapult him into another sphere altogether.
Neymar is arguably the most marketable player in the world today, which is why he brings so much more than what he does on the football pitch.
His commercial deals rival those of big time movie stars, as the Brazilian is certainly one of the most recognizable faces on the planet today.
Now imagine if he was to move to Manchester United or Real Madrid in a couple of years time. Two years later, Messi and Ronaldo's powers may be on the wane which will open up Neymar's path to being the best player in the world.
The idea of the best player in the world coming to either of Manchester United or Real Madrid would be mouth watering to say the least. At United he will certainly be the biggest name in the most succesful club playing in the most popular league in the world.
At Real Madrid, he would be the best player in the world coming to the biggest football club in the world. Not to mention, he would be committing the ultimate betrayal in Barcelona's eyes!
Either way, he is going to make news!
---
Share this article