Nicolas Pepe's agent has played down potential Red Devils deal by quoting 'false news'. 
Khiat Sam, Nicolas Pepe's agent, has played down Manchester United deal agreement by quoting 'fake news'.
The Red Devils have shown enough interest in the forward, but he is waiting for a perfect side to enhance his personal development. However, there were widespread reports about the Red Devils bidding 80 million for the forward with player's entourage.
Nevertheless, those allegations have been rubbished by his agent, who quoted "Fake News" tagging Yahoo Sport French.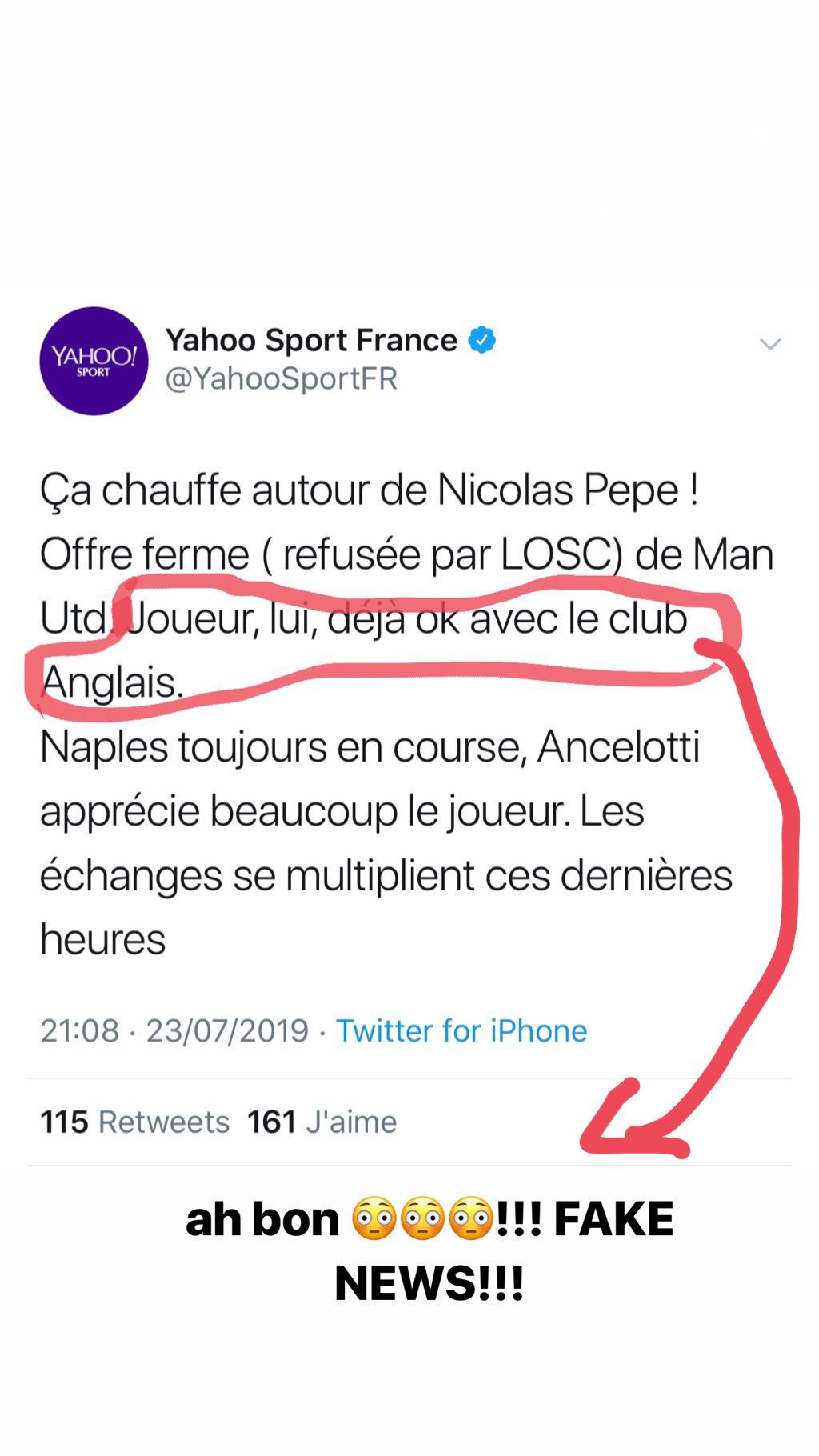 This will come as a huge piece of news to Liverpool, as they prepare to land him this summer. There has been silence among the English media by playing down the news, but reliable French journalists, along with Lille's president have confirmed about the Reds interest.
Bayern Munich, Inter Milan, and Arsenal are the other sides interest in the forward, but he is yet to take a decision on his future. The inevitable delayed transfer is mainly because of the AFCON commitments with this country. The Elephants were brought down by Algeria in the Quarterfinals, leaving the player to take a decision sooner or rather than later.
Club president Gerard Lopez confirmed that the player is close to joining a club.
He said: "For Nico, it is almost done and he could have left last summer.
"It is true that there are big offers and big clubs in for him, so I think (he will leave). Aside from that, you never know in football."
Less than a month ago, Sega Diallo, who is one of Africa's reliable journalists, claimed that Nicolas Pepe has set his heart on an unnamed English club, but Bayern are also showing enough interest to lure him away.
Here's how Twitter has reacted..
FAKE NEWS!!! @YahooSportFR #mercato #Losc #ManUtd pic.twitter.com/YlAyJXO9ka

— khiat Sam (@FsmagencyParis) July 24, 2019
Dans le cœur de #Pépé la bataille du pays est gagné par l'Angleterre qui a la préférence du joueur sans plus de précisions. Le Bayern devra sortir le grand jeu pour le faire changer d'avis. Et la suite après la can

— sega diallo (@segadiallo) June 28, 2019
Manchester United progress discussions with Lille over Nicolas Pepe.https://t.co/faesOIXI0Q pic.twitter.com/MyeL9G5han

— Duncan Castles (@DuncanCastles) July 21, 2019
BREAKING: Nicolas Pépé's future will be announced very soon according to Gerard Lopez. pic.twitter.com/9R7EtvXDJW

— The Kopite (@TheKopiteOFF) July 22, 2019
The first bid has been tabled for Nicolas Pepe.

But it falls way short of Lille's valuation.

Transfer latest👇https://t.co/o071L6LDo7 pic.twitter.com/aDWtg1Yh7H

— Liverpool FC News (@LivEchoLFC) July 22, 2019
What's next?
Earlier, Nicolas Pepe's agent said that his client would be 'open to anything', meaning that Manchester United still hold the possibility of signing him.