Marcos Rojo Rabona Kick: Manchester United star seen kicking rabona in training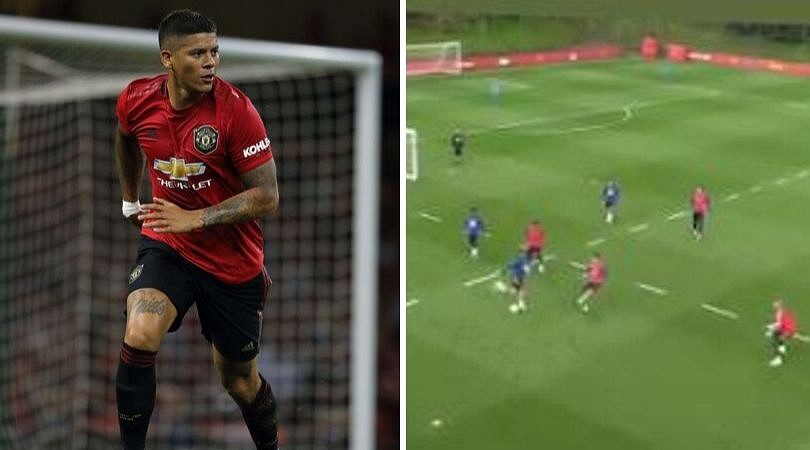 Marcos Rojo Rabona Kick: Manchester United star seen kicking rabona in a training session, as a video emerged on social media.
Marcos Rojo had a great match after a long time for Manchester United, and fans were amused by his performance as the player was seen dominating the pitch against Astana in the Europa League match.
Amidst all of this, what really surprised the fans was the "rabona kick" by the Argentine International, it was the confidence of the player which impressed the fans.
Thus, in a recent footage surfaced online, Rojo was seen making the same stylized kick in a training session, and it was even more impressive than the one he did against Astana, as the ball in this directly went into the top-right corner of the goal.
Marcus Rojo then posted that exact video on his Instagram story, something that was incredibly sporting of him.
Amusing from Marcos Rojo: 'This was the idea.' #rabona #mufc (via @_joebray pic.twitter.com/Dp3GAOXqnJ

— Samuel Luckhurst (@samuelluckhurst) September 20, 2019
Also read: Manchester United lineup Vs West Ham: How will Man United lineup without Pogba and Martial
So, it could be said that the Argentine defender has been mastering the kick that gave him the confidence to even think about doing it in a match, when his career at the club is in big jeopardy.
Rojo has been a victiom of massive criticism by fans, after his underwhelming seasons with Manchester United. The 29-year-old International was even set to be departed from Manchester United squad but no deal was finalized.
Since then, Rojo was seen out of the game-week squads and was only included against Leicester City. He made his first appearance against Astana, and certainly tried to show that he still has calibre.
Meanwhile, Rojo do have a chance to play in further games for Manchester United, as the club is marred with injuries, and Ole Solskjaer is out of options. Hence, it is the best time for him to gain his form.
The Red Devils will face West Ham United in an away game on Sunday, and Solskjaer has not announced his squad yet. Therefore, Rojo is speculated to make a cut once again.
---
Share this article