Max Verstappen admits mistake for Vettel clash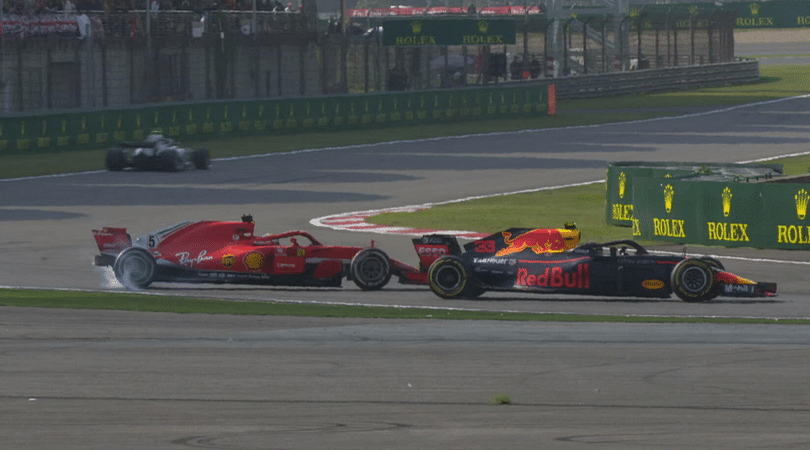 Max Verstappen brought his immaturity to the fore today, spinning Vettel off the race track at the hairpin on lap 43, going for a gap that did not exist.
FIA investigated the accident mid-race and gave Verstappen a 10 second penalty. But for Ferrari and Vettel the damage had been done, as he was knocked off that third place and had to settle for 7th spot in the end.
After the race, Verstappen admitted his mistake.
"I could see he was struggling on the tyres and tried to brake late in the corners," said Verstappen.
"I locked the rears and hit him – it was, of course, my fault. Not what I want.
"It is easy to say after I should have waited, and that probably would have been the best idea, but unfortunately it happened." he added.
Verstappen is an inherently aggressive driver, but will he tone that aggression down after a couple of incidents?
"It is easy to comment. At the moment it is not going the way I like of course, but does it mean I have to calm down? I don't think so.
"It is very unfortunate those things happening and I need to analyse everything and try to come back stronger for the next races." the Red Bull driver said.
Vettel did express his frustration to Verstappen in the post-race parc ferme.
"I didn't see him until very late," said Vettel.
"I left a little bit of room as well. To be honest I was expecting him to come earlier.
"I had no intention to resist him because I saw with Daniel [Ricciardo] as well there was no point in doing so. They were just too fast on the fresh tyres.
"So I didn't want to compromise my race to the guys behind. But he made a mistake, he locked up, which happened. I guess he misjudged and sort of compromised both our results." he added.
Vettel later conceded that such things can transpire on the race track.
"He has done enough races, but this can happen to also if you have done 300 races.
"You mustn't forget that inside the car the judgements are very difficult to make but you have to ultimately have these things in mind and make sure you don't crash.
"He could easily have taken his front wing off or have a puncture. So we were both lucky." he concluded.
---