Michael Vaughan trolls Virat Kohli after Team India crashes out of the 2019 ICC Cricket World Cup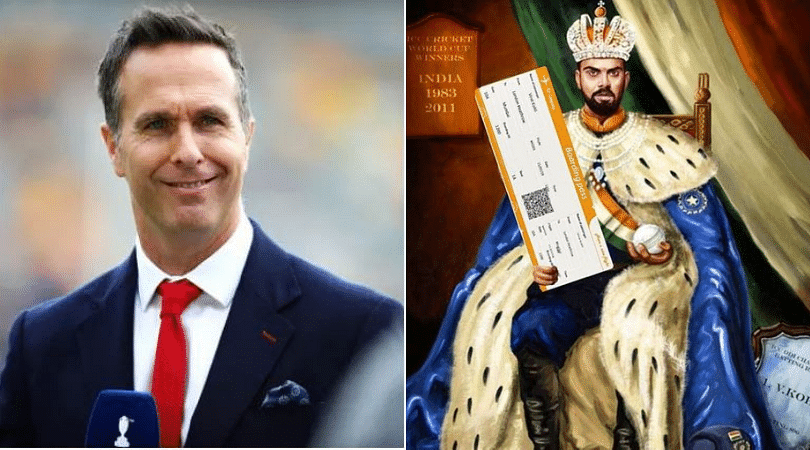 Michael Vaughan trolls Virat Kohli after Team India lose their World Cup semi-final match vs New Zealand at Old Trafford in Manchester
Team India agonisingly lost its 2019 World Cup semi–final match versus New Zealand by 18 runs at The Old Trafford to crash out of the marquee tournament. Despite a valiant effort from MS Dhoni (50 off 72) and especially from the all-rounder Ravindra Jadeja (77 off 59) India bowed out in yet another semi-final of an ICC event.
However, former England captain Michael Vaughan has made sure that the spotlight which he has owned off-late does not spot on anyone else for long, at least till the World Cup heat is on. It is worth mentioning that Vaughan has been in news off-late for his repeated digs at the former Indian cricketer turned commentator- Sanjay Manjrekar, since the latter's 'bits and pieces' comments on Ravindra Jadeja found him at the receiving end of the fans.
Jadeja's scintillating performances against Sri Lanka and especially against New Zealand in the World Cup semi-finals had given further mileage to the former English captain, to keep on trolling Manjrekar on various social media platforms. Perhaps, frustrated with the constant jibes, Manjrekar even blocked him on Twitter, with Vaughan even disclosing this fact publicly.
Vaughan's focus shifts to Virat Kohli
Following India's exit from the ongoing World Cup, Vaughan has now taken a fresh dig at the Indian skipper Virat Kohli on social media.
He has posted a picture of Virat Kohli donning the royal king suit with a BCCI logo on it and a crown on his head. Kohli is also seen holding a boarding pass in his right hand, perhaps signifying that the time has arrived for his flight back to India post the semi-final loss.
The entire picture is a bit puzzling, as Kohli is also seen holding the cricket ball in his left hand, with a board signifying his number one ODI ranking lying on the ground. Just behind him displays the fact that India were the World Cup winners in the years-1983 and 2011.
 

View this post on Instagram

 
---
Share this article