Weeks After Ugly Run-In, Denny Hamlin's Team Hails Kyle Larson as "Class Act"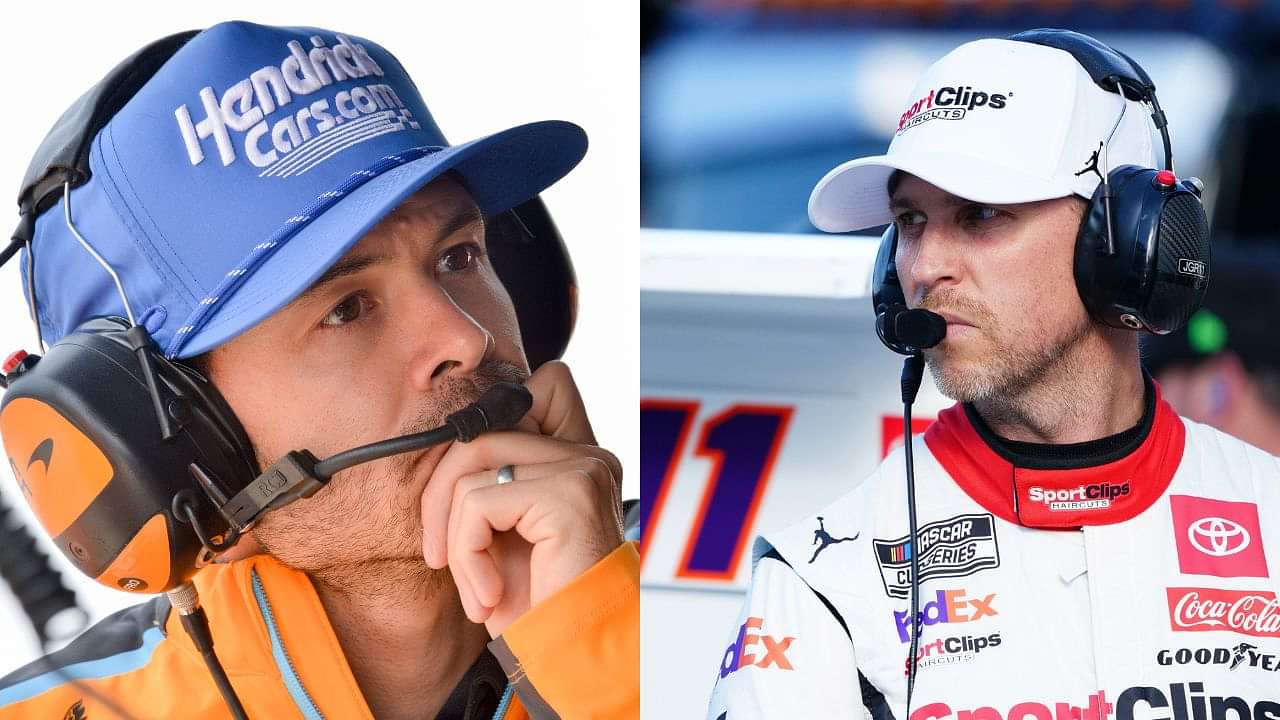 The Bristol night race had a fantastic outcome for Joe Gibbs Racing's Denny Hamlin after he clenched the race win. His teammate Christopher Bell had dominated the first two stages, and when the time came, Hamlin raced marvelously defending several competitors, including the likes of Kyle Larson to claim the checkered flag.
Following the race, during the press conference, a reporter asked Hamlin's crew chief if had been concerned despite the team's good performance, given that Larson was in their rearview mirror.
It's worth mentioning that this year alone, Larson and Hamlin have had a few instances of coming together on the racetrack, with things escalating to almost a feud after Pocono. But after Bristol, Hamlin's crew chief had some big words for Larson.
Denny Hamlin's team lauds Kyle Larson after the race at Bristol
Responding to the reporter, Gabehart said, "Yeah, I mean, I've told all of you how I feel about Larson and his talent. If he has a sniff of it at any point, and you saw it late in the race, right?"
"We had such a lead that we kind of got a little conservative behind the 8, some other car there. Kind of nowhere to go for a little bit. Here comes Larson like a prize fighter off the mat. He's right back on our bumper, giving us all we want one more time. Him, that team, that whole group, what a class act."
Speaking further about Larson and Hendrick Motorsports, Gabehart stated that the two teams have had recent conflicts, indicating the incident between Hamlin and Larson at Pocono.
He then explained that when two teams consistently find themselves at the front of the pack and race with a lot of passion to win, as Larson's team does, conflicts are bound to arise. Gabehart added that this is precisely why fans tune in to watch races. "I think the world of Kyle Larson and his team, and I'm glad we were able to beat him today," he concluded.
Can Denny Hamlin gun for the championship title this year?

Winning a championship has been a long-time dream for the veteran. There have been so many occasions where he has fought all the way to the championship four, only to have his race marred with bad luck.
However, as per Hamlin, this year seems to be headed towards a different trajectory, as he has emphasized multiple times this year about his conviction in 2023 being his year.
The Joe Gibbs Racing driver has remained fairly consistent towards the front of the field on a regular basis. Given how well he has run so far, especially in the last three races in the playoffs, one could argue that Hamlin may finally have the chance to win it all come race day at Phoenix. Although, much of it is still up for speculation as we wait to see the driver's progress through the next few weeks in the Cup Series playoffs.
---