"Bryce James' Eurostep had LeBron and Bronny hyped": Lakers star's jubilant reaction his son's expertly executed Eurostep is going viral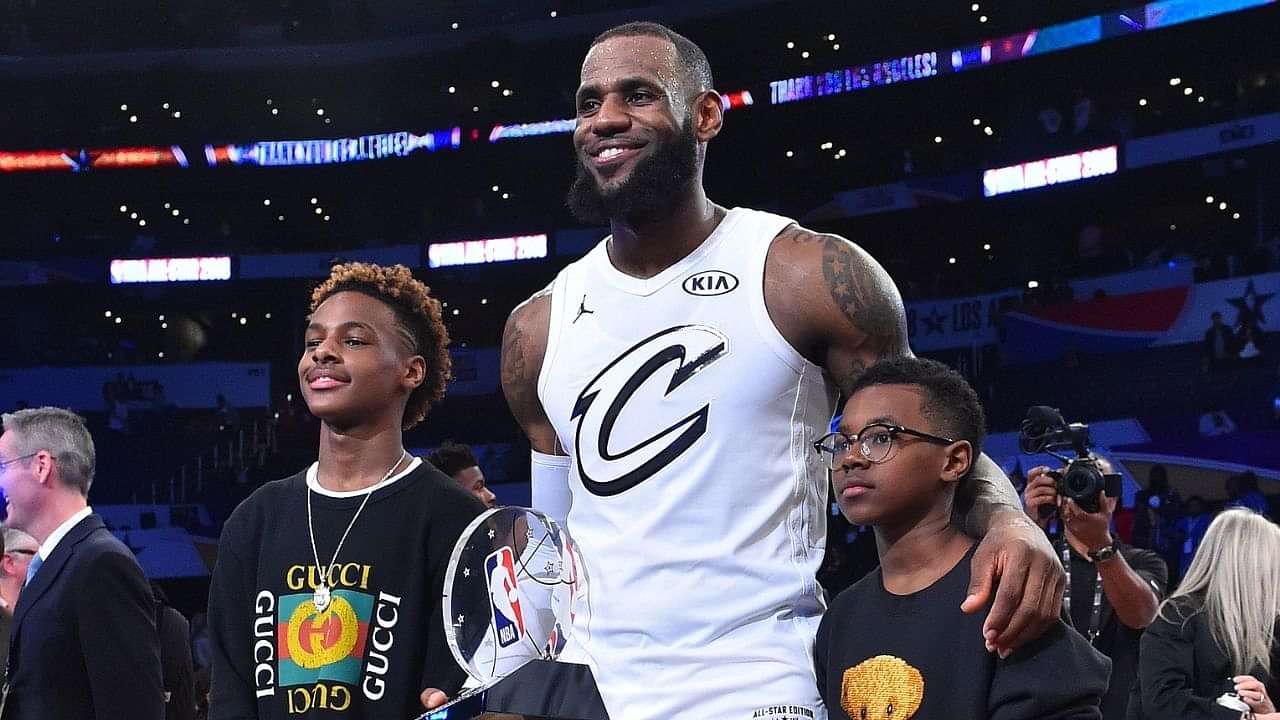 LeBron James and Bronny cheered on Bryce James as he bust out a beautiful euro step in an AAU tournament game yesterday.
Following an early playoff exit, LeBron James seems to be enjoying the long off-season spending time with his family. the 36-year-old was recently spotted courtside with Bronny cheering on his younger son Bryce James as he executed a flawless euro step to score the basket. 
http:/https://www.youtube.com/watch?v=7jiUoDA-9tM
Competing in the Bad Boyz Summer, the Strive for greatness (Sfg) u15 team are certainly living up to their name. Going up against the AVAC ballerz , this under 15 Sfg squad put on a truly dominant performance finishing 67-21 as LeBron and Bronny watched from the sidelines.
Sfg seemed to have the game in control right from the start, playing with poise and determination well beyond their age. Their ball movement along with their ability to turn over the ball and score in transition seems to be a clear strength.
Players like Naseef Lubowa and Demarco Johnson athletic capabilities tied with Bryce's mid-range game and a strong post presence in Brayden Kyman proved to be too much for their opposition. With this kind of an opening statement, the Sfg squad will hope to go on win the tournament adding to their growing notoriety.
Even though Bronny (LeBron James jr) has been in the spotlight for the longest time, Bryce managed to stay under the radar for a while but only for so long. The 14-year-old attends the same school as Bronny (Sierra Canyon, CA) and plays on LeBron's under 15 Strive for Greatness squad.  
Also read: "Don't feel bad for me I don't speak on what I'm going thru for sympathy": Lakers big man Montrezl Harrell sends out a strong message while talking about his personal struggles
Bryce James player profile and how he matches up to Bronny James under LeBron's tutelage
While Bronny has a style similar to his father, Bryce who is in the early stages of understanding and playing the game seems to be on a path of his own. Declared as the best shooter in the James household, Bryce has a more spot-up shooter style and can drive to the basket efficiently.
Fans expect him to end up being taller than Bronny who is 6'1 at the age of 16. The comparisons between the two sons of one greatest basketball players of all time have already begun as Bryce begins to compete on a higher level.  
King James has always stressed maintaining a balance between his professional and personal life and is well known for being a loving father and husband. Instances of LeBron turning up for one of Bronny's or Bryce's games aren't rare at all. 
The 4 time NBA champion is not only heavily invested in their development as human beings but players as well. However, LeBron has also mentioned he doesn't want to force them down a certain path but will always be there to guide them along their basketball journey.   
LeBron's strive for greatness team which competes on the unofficial circuit has produced some great talent with a lot of potential including UCLA commit Amari Bailey. King James is known to be extremely hands-on with the team giving these young aspirants valuable insight and feedback helping them elevate their game. 
When it comes to Bryce James and his future in basketball it will be interesting to see the 14-year-old discover himself as he comes of age. Both sons are blessed with their parents' athletic genes but carrying the burden of being the sons of one of the greatest players will be a daunting task and whether they're up for it is something we will only know in a year or two. 
Also read: "DeMarcus Cousins botches an intentional free-throw miss": Clippers' Boogie Cousins has a hysterical moment during the final seconds of Game 4 vs Suns
---