"Comparing Me To Paul Pierce Is Comparing Him To Dwyane Wade": Richard Jefferson Goes Off On Celtics Legend For Calling His Defense 'Sweet'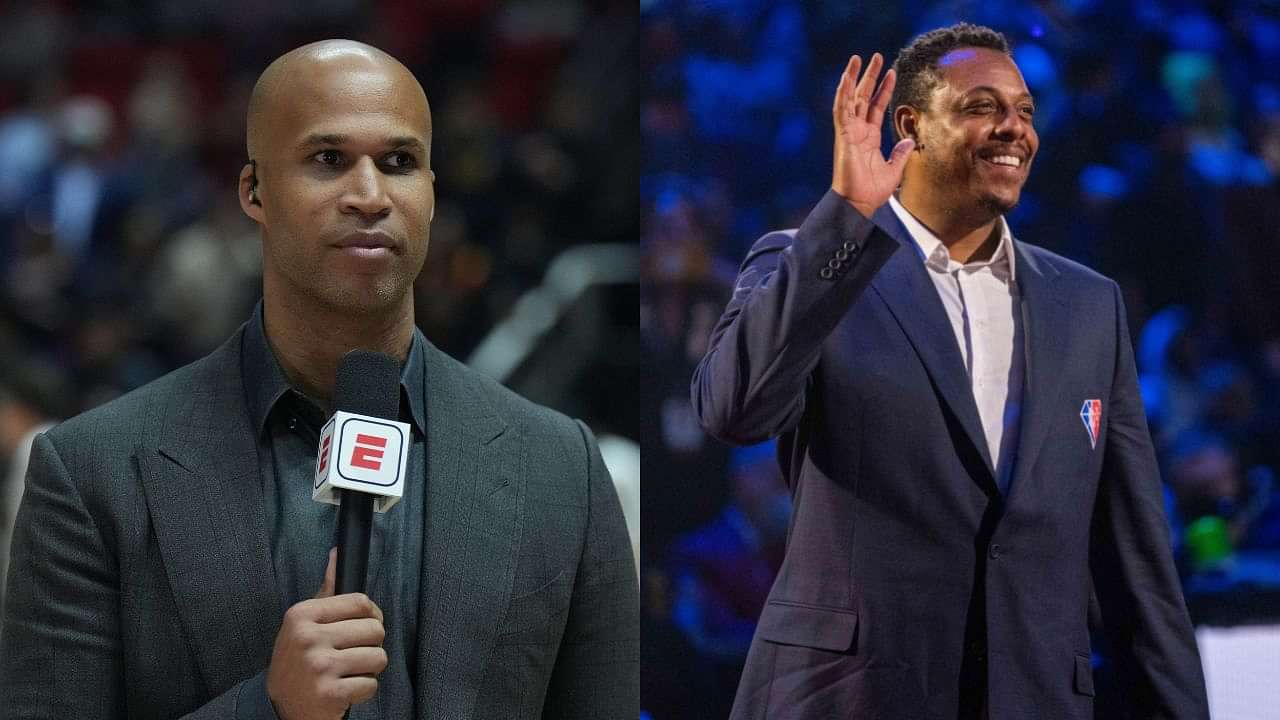 Former NBA players turning into media or punditry roles is commonplace now. Sometimes, players even become more popular than how they were during their playing days. Take Kendrick Perkins for example.
In that regard, arguably the most versatile former NBA player is Richard Jefferson. While he appears as an analyst of the game on Fox Sports, ESPN, and the Pac-12 network, Jefferson even took his turn at officiating and even refereed in the NBA's summer league and at All-Star weekend too.
And amidst all this, it looks like Jefferson has enough time to roast former opponent Paul Pierce too. In a clap back to a dig taken by Paul Pierce, Jefferson went all in on Pierce and delivered a few killer blows.
While agreeing to be a lesser player than Pierce, Jefferson even called back to Pierce's failed DWade communication.
Also read: "You're reffing like Marc Davis and S**t": Giannis Antetokounmpo banters with Richard Jefferson while Coaching Team Dwyane Wade
Richard Jefferson pointed out how his Nets oncs dominated Pierce's Celtics
Jefferson didn't hold back at all in his clap-back to Pierce's comments. Pierce, in his segment with Kevin Garnett, had stated that it was an "easy 40" every time he played Jefferson. And then, he committed a cardinal sin. Pierce, to add to his statement, said that "the numbers don't lie".
That is where Jefferson, a basketball analyst, caught on. Pierce is known for his blank statements backed by just his statements on the pretext of numbers. Jefferson on the other hand was prepared and ripped Pierce apart.
RJ gave the disclaimer regarding talent to start. Referring to Pierce as one of the best players of the generation, Jefferson went on to dissect "The Truth" and the numbers that don't lie to shut Pierce's statement down.
Loading embed tweet https://twitter.com/Rjeff24/status/1635408185472475136?ref_src=twsrc%5Etfw
"Paul Pierce, one of the best players of the generation. 100% better than me. Comparing me to him is like comparing him to D Wade. It's in different stratospheres….We beat you 10 out of 11 times. We beat you 3 times in the postseason in the Conference Finals. There's even a Christmas Day game here…We beat you by 40 in front of all of America…you proceeded to follow that amazing act up with 8 more straight losses. Including getting swept in the postseason…I think your definition of sweet is a little bit different" retorted RJ.
"The Truth" was shredded by the truth. And the D Wade dig that was subtly slipped in proved to be the highlight of the response.
Paul Pierce humiliated himself on live television after stating he had a better career than Dwyane Wade
Pierce's confidence in his own abilities is almost enviable. But when it comes at the expense of other NBA stars, The Truth has often had solid reality checks.
The most embarrassing incident arguably was when Pierce decided to go to DWade. Wade was one of the most decorated players of his generation and while Pierce too enjoyed a successful career, there is no comparison to most eyes.
Pierce, however, seemed to believe that he had a better career than Wade. That belief, when said out loud, earned The Truth a dose of reality. Jalen Rose ripped Pierce apart in his presence on live television in what was a spectacle to the public.
While RJ's clap-back was harsh, it was nothing compared to how Rose eviscerated Pierce. Will "The Truth" can't seem to stop lying, and keeps being served sweet dishes of fact checks.
Also read: "I'm the GOAT on and off the Court!": Paul Pierce Makes Startling Twitter Declaration In Unprompted Fashion
---