Dennis Schroder has taken a few actions that have convinced Lakers fans that he's moving on. The German has removed the Lakers from his bio.
The Lakers are in a do-or-die spot today. They need to win 2 games on the bounce against the Phoenix Suns. The journey towards that starts with a win at the Staples Center tonight. However, to get the W, the Lakers will need all their players to be locked in.
But if anything, the signs given out by Dennis Schroder are quite discouraging for the purple-and-gold brigade. Schroder and KCP compiled two big doughnuts in Game 5, and will still have a significant role to play in today's game.
Dennis has removed "PG for the Los Angeles Lakers 🟣🟡" from his bio 😬 pic.twitter.com/WnX0G49CIg

— The Laker Files (@LakerFiles) June 3, 2021
Also Read: "If LeBron James or Kevin Durant had this statline, we'd be asking questions": Shannon Sharpe wants to know why Clippers stars Kawhi Leonard and Paul George are being spared NBA Twitter's blushes this year
Instead, it seems from the German's actions that he's going to be walking away from LA this summer. Schroder was acquired by Rob Pelinka in exchange for the much-maligned Danny Green. But it seems that the 27-year-old is set to receive even more vitriol than the former Laker.
Is Dennis Schroder benched for Game 6 vs Devin Booker and the Phoenix Suns
Schroder's actions on social media seem to be a sure indicator that the Lakers are contemplating some lineup changes for their must-win game today.
Alex Caruso is likely to be on the starting lineup alongside LeBron, KCP, AD and Andre Drummond. Schroder will be asked to provide the Lakers with a bench boost in all likelihood.
One of the reasons for the demise of Dennis the Menace's postseason hopes is his poor shooting. Schroder seems to take too much time to let fly from 3-point range, allowing defenses to close out. He's not been able to get to the rim with his characteristic ease because of how bad his shooting is at the moment.
Also Read: "Bad Adebayo signed supermax extension despite Pat Riley asking him to wait an offseason": Heat star and DPOY candidate thrown under the bus in latest trade rumor leaks
Schroder will still be looking to make an impact in whatever remains of the Lakers' season. He does want the bag this offseason, after all.
UPDATE
Schroder seems to have realized that he caused a s***storm among Lakers and NBA fans. Thus, he seems to have restored 'PG for the Los Angeles Lakers' to his Instagram bio.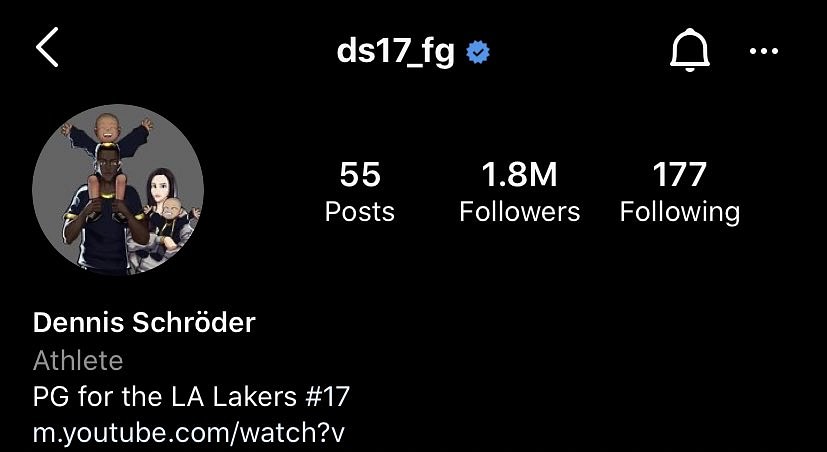 This flip-flop hasn't helped his status with Lakers fans, who're still hounding him for his social media maneuvering over the past few hours.