Despite $80 Million Net Worth, Kawhi Leonard Has a Hilarious Reason For Driving $1500 Chevrolet Tahoe Over His Porsche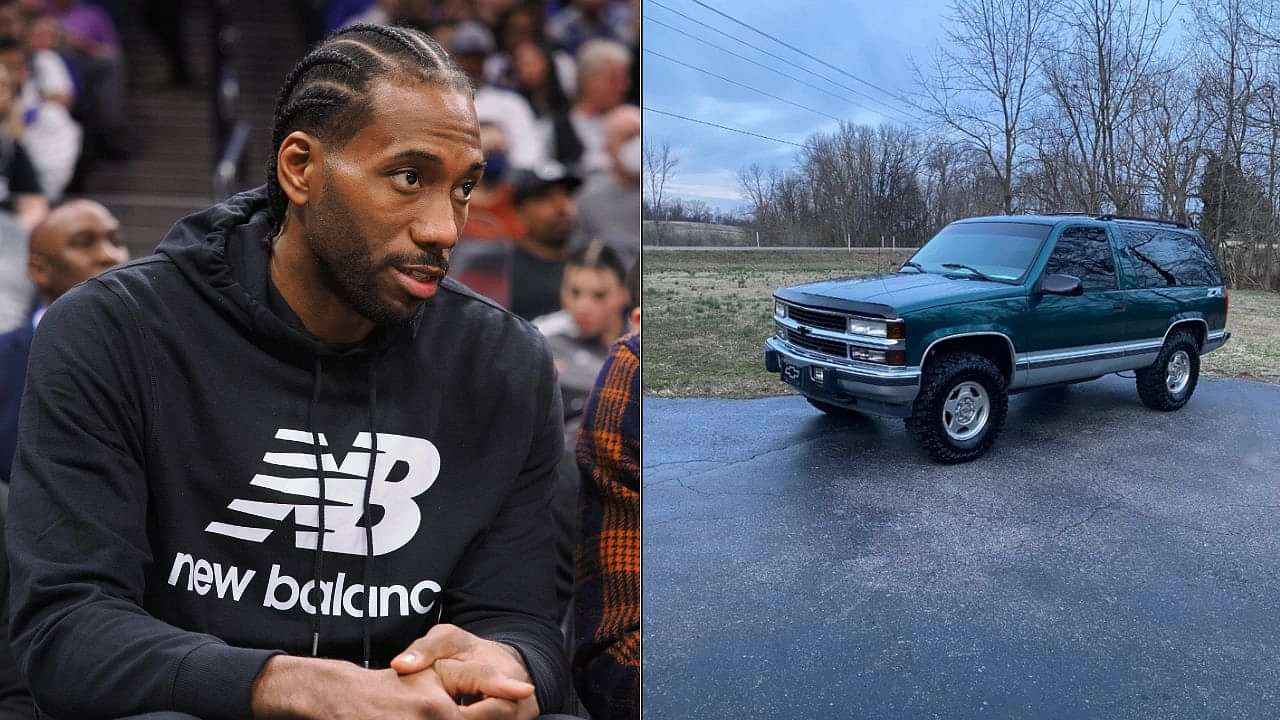 Kawhi Leonard keeps perhaps the lowest profile among all NBA superstars to this day. In fact, he even drives himself around in a pretty old car.
The Klaw is one of the most revered, beloved stars in the NBA today. Much of this can be attributed to him wilfully staying away from the spotlight. Even though he's 'entitled' to a massive ego, Leonard always maintains a team-first attitude when speaking to the press.
His quiet nature have led to the origin of a few NBA inside jokes. No moment was funnier than when the internet memed him for his laugh at his Raptors introduction.
Loading embed tweet https://twitter.com/ClutchPointsApp/status/1573688710532562951?ref_src=twsrc%5Etfw
Also Read – "Kawhi Leonard used promotional codes to order Wingstop for the longest time": The Klaw cannot resist free food
Kawhi Leonard also birthed a universally beloved basketball phrase – 'Board man gets paid'. Though he'd been using this expression since his college days, it became popular when an in-depth piece by The Athletic during the 2019 NBA Finals brought it to public notice.
Loading embed tweet https://twitter.com/MrMichaelLee/status/1136654293505794048?ref_src=twsrc%5Etfw
Kawhi Leonard drove around in a 97 Chevy Tahoe despite being named an All-Star
Leonard rose to prominence as a serious threat in the league by his 3rd year in the playoffs. The then-23-year-old did a great job of guarding LeBron James in the 2014 NBA Finals. He also averaged 23 points per game in the final 3 games, winning Finals MVP honors.
Kawhi backed this up with a Defensive Player of the Year win in 2014-15. Thus, he signed a lucrative contract worth $94 million in the summer of 2015.
Sports Illustrated did a profile on the first-time All-Star the following season. In their article, they revealed that despite his $16 million salary that year, Leonard still drove a 1997 Chevy Tahoe.
Loading embed tweet https://twitter.com/UPROXXSports/status/709841107639799808?ref_src=twsrc%5Etfw
Also Read – "Kawhi Leonard Is the Most Poised!": Paul George Describes Surviving Stephen Curry's 50-Burger, Praises Russell Westbrook
When asked about his reasons for doing so, Leonard didn't have much by way of explanation. The vehicle, which he's nicknamed Gas Guzzler, 'runs and is paid for' according to the 2-time Finals MVP.
This 4-door model, now 26 years past its release date, is listed for as low as $1142. However, some listings for enhanced versions of this same model have been listed at as much as $15,000.
What is Kawhi's legacy?
Despite already having a Hall of Fame-caliber career, Kawhi's career is full of what-ifs. Injuries have deprived us fans of much of his athleticism since 2016-17.
Despite his decline in explosiveness, Leonard has become one of the most reliable scorers in the NBA. This would seem improbable to most NBA fans a decade ago when he did a good job of guarding LeBron in the Finals but had some bad offensive moments.
Staying low profile and maintaining an unwavering work ethic has led to the SDSU product improving all facets of his game. Leonard is a true student of the game and his monumentally improved jump shooting mechanics prove this.
A few experts also consider his peak to have been top-20 in NBA history.
---