"Kawhi Leonard Is the Most Poised!": Paul George Describes Surviving Stephen Curry's 50-Burger, Praises Russell Westbrook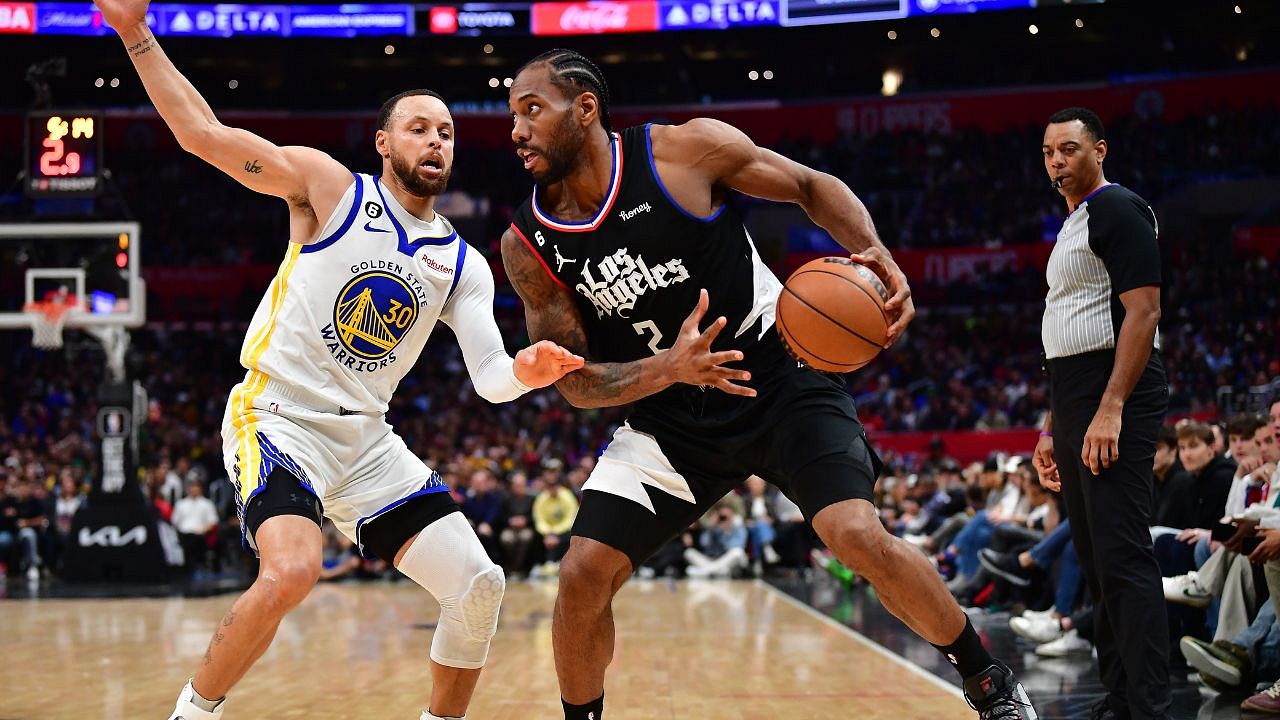 The Los Angeles Clippers won a very crucial contest tonight. Taking on the Golden State Warriors at home, both teams were tied at 36-33. It wasn't only a fight for the 5th seed, but also a chance to level the season series, taking away the advantage from the Warriors. Kawhi Leonard and co. made sure they did just the same.
Stephen Curry erupted for 50 points, trying his best to carry the Warriors over the line and snap an eight-game road losing streak.
Steph has 5️⃣0️⃣ pic.twitter.com/dwYBgn725B

— Warriors on NBCS (@NBCSWarriors) March 16, 2023
However, Kawhi and the Clippers had other plans. Leonard scored 30 points and led the Clippers to a 134-126 win over the defending champions.
There were five other Clippers who scored in double-digits as they secured this important dub. After the game, Paul George spoke to the media about his teammates and Stephen Curry.
Also Read: WATCH: Kawhi Leonard Gets Unimaginably Funny After Getting Tired of Teammate's Lies to the Officials
Paul George applauds Kawhi Leonard for holding Stephen Curry off
The Los Angeles crowd was treated to a spectacle today. Tonight was the first time that Kawhi Leonard and Paul George were playing against Stephen Curry and Klay Thompson. The game did not disappoint. Steph exploded for a 50-burger. On the other hand, Kawhi and the Clippers delivered timely buckets and beat the Dubs on the boards and turnovers to take control of the game.
It was a very welcome result for the Clippers, who have now won four games in a row. After the game, Paul George was asked about surviving a 50-point game by Steph. This is what he said,
Paul George on the Clippers surviving a 50 point Steph Curry game: "We're gonna be good. We got 2 on our side. You wanna talk about poised, that's the most poised guy in that situation."

— Farbod Esnaashari (@Farbod_E) March 16, 2023
Praising Kawhi a day after ranking himself above the Klaw is incredibly hilarious. However, Kawhi deserves all the flowers tonight. Along with Leonard, PG also spoke about Russ.
Paul George on Russell Westbrook's performance against the Warriors:

"He was just great. He was great. He took what they gave him, and he played towards his second side. He played towards his strength." pic.twitter.com/HlhgpvXVOd

— Farbod Esnaashari (@Farbod_E) March 16, 2023
It's great to see the Clippers clicking and moving past their five-game losing streak.
Also Read: "10,000 Points on 3s Alone?!": 35-year-old Stephen Curry Keeps Making History, Starts an Elite Club for Himself
Stephen Curry praises Kawhi
After the game, Stephen Curry was asked about Kahwi and his return from the injury. This is what he had to say,
Steph Curry on Kawhi Leonard's return from the ACL injury:

"30. 8. and 5. In 36 really tough minutes. Speaks for itself." pic.twitter.com/K1njPPqdAw

— Tomer Azarly (@TomerAzarly) March 16, 2023
Making such a return from an ACL injury isn't a small joke, and Steph knows all about it. After all, he witnessed his own Splash Brother, Klay Thompson, do the same as well.
Also Read: Stephen Curry Surpasses Michael Jordan, Ties Wilt Chamberlain With 50-Point Effort in 126–134 Loss to Clippers
---
Share this article