"Trae Young nutmegs Kristaps Porzingis twice in the same game": Hawks point guard puts the ball between Mavericks star's legs twice in their loss tonight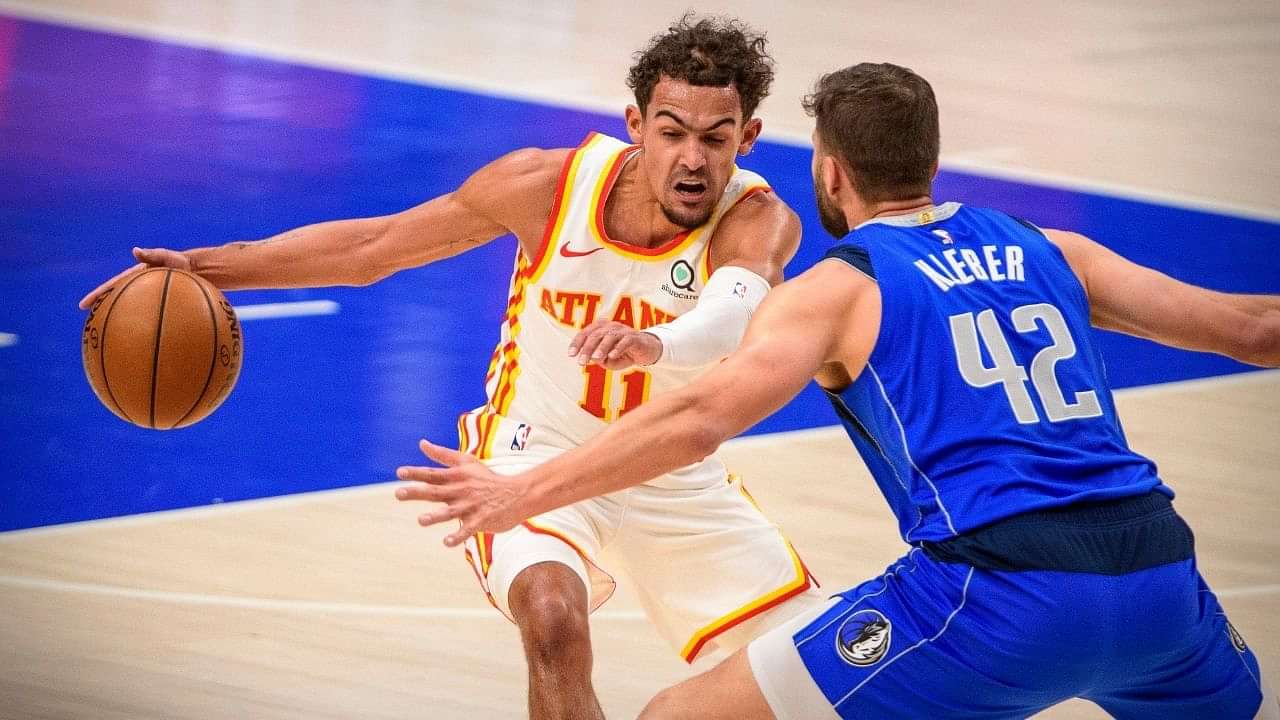 Trae Young nutmegs Kristaps Porzingis twice for the Atlanta Hawks against the Dallas Mavericks in their game last night. 
The Dallas Mavericks faced off against the Atlanta Hawks in a thriller last night, with the Mavs coming out on top 118-117. John Collins, Trae Young, and Kevin Huerter combined for 81 points but it wasn't enough to topple the Mavs off the back of Luka Doncic's 28 point triple double. 
Neither team could buy a bucket in the last minute of the game as the final score was decided at the 1:05 mark with Trae Young making a shot from the beyond the arc. The 118-117 score remained stagnant till the end of the game. 
Also Read: "Stephen Curry is playing like Michael Jordan": Warriors star becomes first player since Bulls legend to total 741 points in the first 25 games of a season at 32 or older
Though Trae Young and his squad did go home with a loss on their hands, the young point guard did produce some amazing highlights to cap off his 25 point night. 
Trae Young nutmegged Porzingis two times in the same ballgame
Not only did Trae Young nutmeg Kristaps in the same game, he nutmegged the Latvian big man in two consecutive possessions. At the start of the 3rd quarter, Trae Young delved deep into his bag of tricks and put the ball between Kristaps' legs to dish the rock to Clint Capela for the easy lay-up. 
After a botched possession from the Mavericks on the other end of the floor, Trae Young took to the right wing and nutmegged Porzingis again to get the ball to John Collins for another shot in the paint. 
Loading embed tweet https://twitter.com/ProCityHoops/status/1359688546890702853?ref_src=twsrc%5Etfw
Also Read: "Nets Big 3 need to sacrifice some crucial shots": Ray Allen calls on Kyrie Irving, Kevin Durant and James Harden to involve teammates more
Trae Young is notorious for nutmegging players as the 3rd year player has put the ball between several players' legs over the course of his young career. Some players however, don't take this all too well as he did end up in his hot water last season in a game against the Portland Trail Blazers. 
Trevor Ariza of the Blazers didn't take too lightly off Young's flashy passes through his legs, stopping the game to confront him. They did eventually hug it out at the end of the game. 
---