"F**k Duke": Grant Williams Toys With Jayson Tatum After Duke University Crash Out of NCAA's "March Madness" Tournament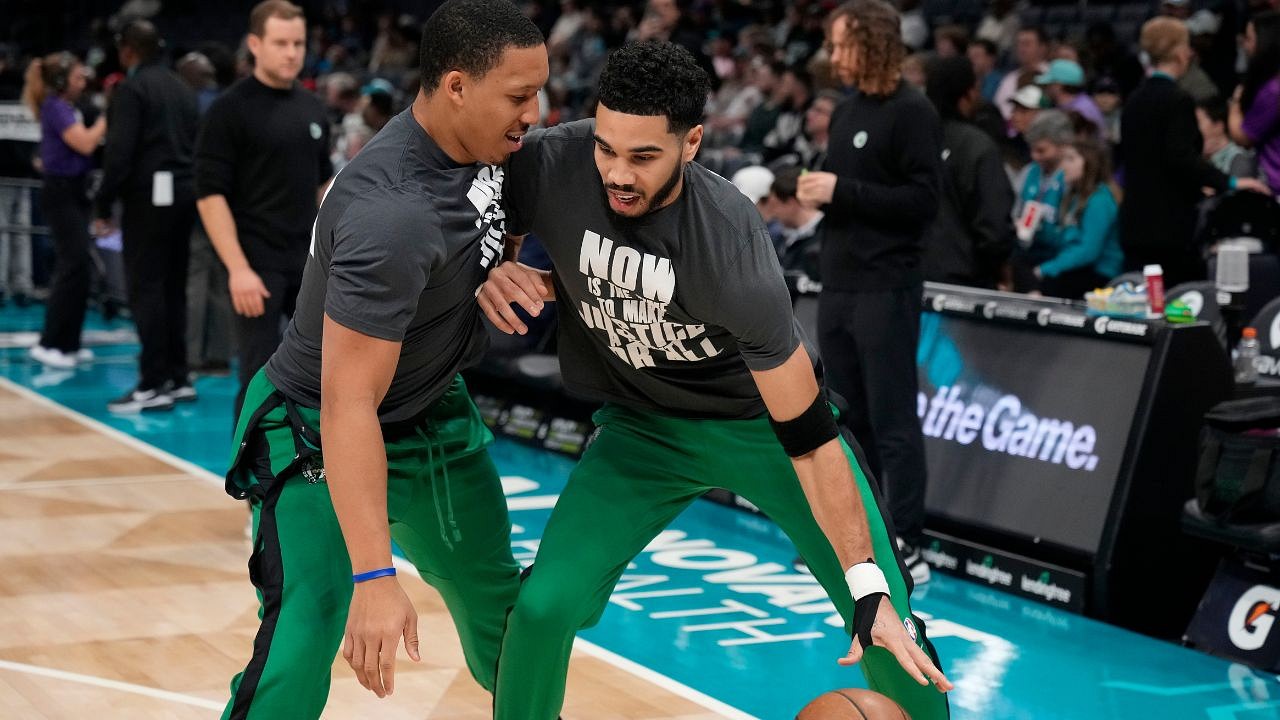 College basketball will forever be interlinked with the NBA. It is often seen as the nursery for some of the best talent we have ever seen. And the connection couldn't be stronger than in March. The time when NCAA's annual tournament kicks off. The tournament we call, March Madness.
It is perhaps the one time we all tune into college basketball. But for graduates and former alumni of colleges, this is a time when they become cheerleaders. Tonight, Jayson Tatum was cheering on his team, Duke University.
Duke University has one of the most coveted programs when it comes to basketball, the Blue Devils as they are known, are one of the NCAA's legendary teams.
And of course, expectations were high this year. However, they like the other big-seeded teams were knocked out in spectacular fashion tonight.
But one teammate of Tatum had more against him tonight than perhaps anyone else, even his opponents, the Utah Jazz!
"F**K Duke!": Grant Williams toys with Jayson Tatum and refuses to leave him as Tennesse beat Duke University in March Madness
A natural part of rivalry is taunting your opponent. Of course, in this case, it was more friendly camaraderie than rivalry. But it was still fun to watch unfold.
Jayson Tatum is a huge fan of Duke's basketball and Grant Williams is also a big fan of his university, Tennesse's basketball team. Tonight, Tennesse beat Duke 65-52 and Williams was sure to remind JT.
"Fuck Duke."- Grant Williams told Jayson Tatum to hold the L pic.twitter.com/pV9Lzmgenl

— Barstool Sports (@barstoolsports) March 18, 2023
Of course, Williams had to taunt him on the team bus too.
Grant making sure Jayson Tatum knows who won today pic.twitter.com/bX4N6yZbFK

— More Important Issues (@More_Issues) March 19, 2023
And not like JT didn't say anything. He did tweet out his displeasure but then again, it is what it is.
These calls getting out of hand lol

— Jayson Tatum (@jaytatum0) March 18, 2023
On to better things we suppose!
Jayson Tatum is the first player this season to cross the 2000 points mark!
Well, in the ongoing game against the Utah Jazz, Jayson Tatum became the first NBA player to cross the 2000 total points mark this season.
The First Player in the NBA with 2,000 Points: Jayson Tatum pic.twitter.com/yjYf6yVNY1

— CelticsUnite❶❽ (@CelticsUnite18) March 19, 2023
He is also only the 4th player in Celtics history to have multiple 2000-point seasons. Elite company.
Only 4 players in Celtics history have multiple 2,000+ point seasons:

2x – John Havlicek
4x – Larry Bird
4x – Paul Pierce
2x – Jayson Tatum

Watch live on the NBA App
📺: https://t.co/1pomQZMAZK pic.twitter.com/lwdgwMK2KN

— NBA (@NBA) March 19, 2023
While the Blue Devils may be out, Jayson's journey continues. How far will the Celtics go in the season? Only time will tell
---
Share this article