"Hakeem Olajuwon Was Blocking Everything": Magic Johnson Narrates Amazing UCLA Pickup Game Story About The Dream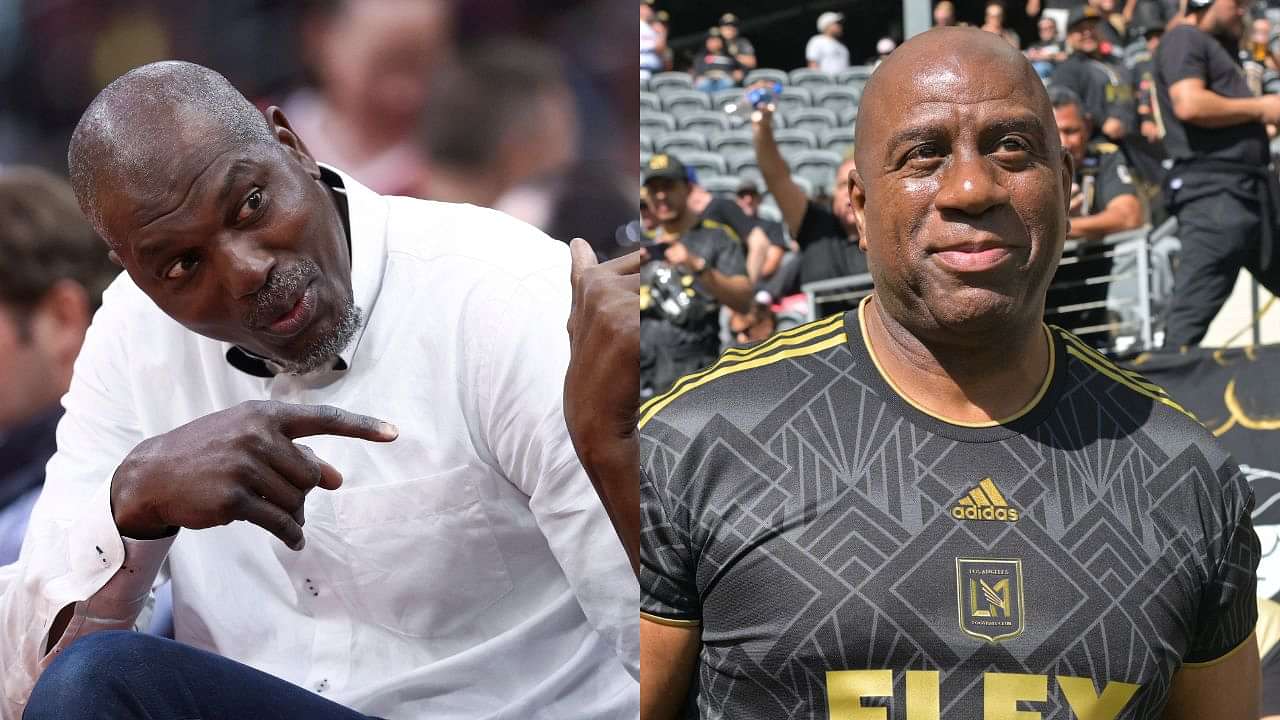 Hakeem Olajuwon's defensive prowess was the stuff of legends. The Dream's ability to block shots and defend was nearly unparalleled in basketball history. And that same ability was centerstage in an anecdote Magic Johnson narrated on an episode of All The Smoke podcast. Magic spoke about how an angry Hakeem had turned in a defensive effort that was near unbelievable. In a game filled with NBA stars, Hakeem would block about 20 shots. All because he hadn't been allowed to play the previous day.
Hakeem's Miraculous Game
It was at UCLA, where every great player came to play, including legends like Moses Malone, Isiah Thomas, and others. There were so many NBA stars that if you were late, you couldn't play that day. And as you can guess, one day, Hakeem turned up late, which meant that Magic had to tell him that he couldn't play. Remember this was a prime Hakeem Olajuwon and despite that, they didn't let him play.
The next day Hakeem came and it was soon apparent that he was out for revenge. "The next day he came, he must've blocked about 20 shots," said Magic. Hakeem was a defensive force like none other.
And that day at UCLA he used his defensive genius to incredible effect, something we doubt any NBA star that witnessed it will ever forget in a hurry.
The Dream's Genius
Hakeem played like a man possessed because he felt slighted by Magic and the others not letting him play. As a rule of thumb, it's best not to provoke one of the most talented players to ever play the game. And because that rule was broken, the Dream turned into a nightmare at UCLA that day.
Magic is an incredible storyteller and as you listen, you can almost see it. An angry Hakeem blocking everything and anything, and a court full of NBA players ruing their decisions.
Basketball fans have a tendency to undervalue and dismiss past players, and stories like these are a corrective. Hakeem is undoubtedly one of the greatest defensive players in NBA history and Magic's story is a testament to that fact.
---