"I Didn't Call Him a Bi**h": LeBron James' Teammate Mario Chalmers Clarifies Comments During Miami Heat's Infamous 'Huddle'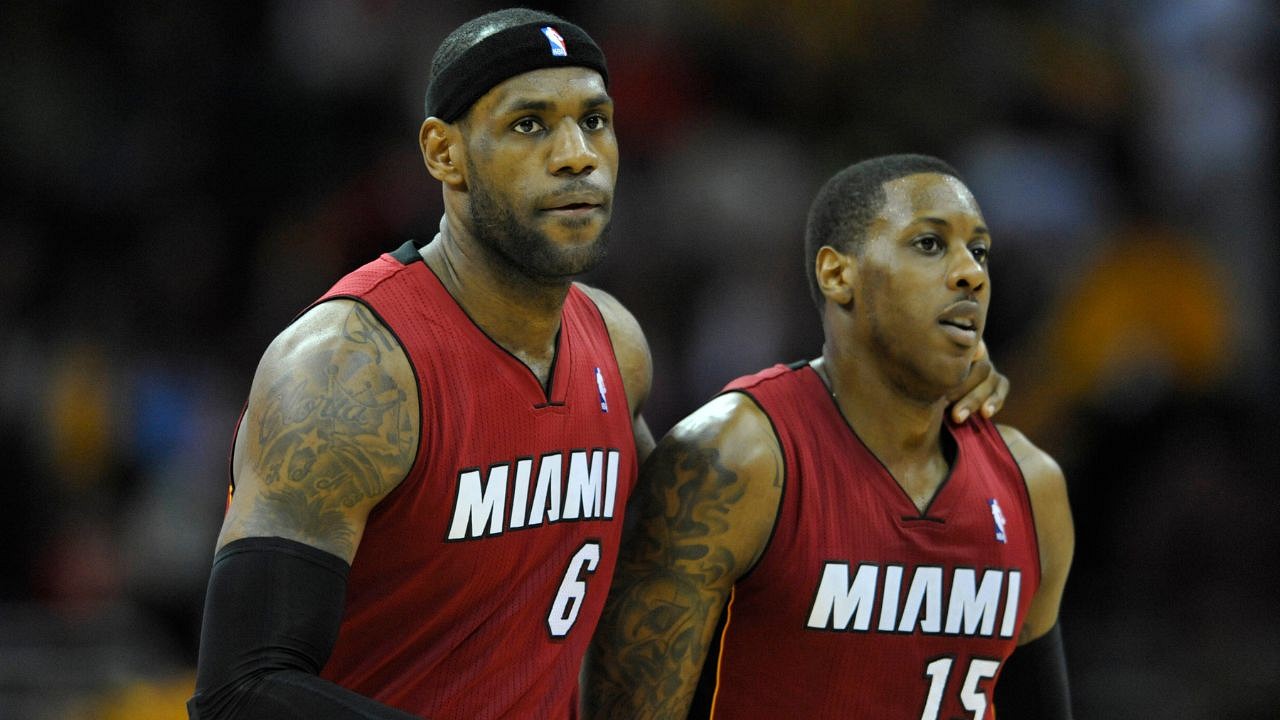 To take ownership of your wrongdoing is praise-worthy. It takes a lot of courage to open up about the truth. And especially more so if you need to talk about the truth about something you did in front of the camera. Just ask Mario Chalmers, his whole NBA legacy is based on one clip alone! That is a lot of judgment to be made from just a few seconds of video.
If you are still wondering, we are referring to the incident on the bench during LeBron James' Miami Heat era. The same one where he almost pounced on Mario Chalmers.
Mario Chalmers told Lebron "Stop acting like a bitch and play" pic.twitter.com/dkkdTNtNV6

— Ziggy B🐐 (@therealziggyb23) August 22, 2022
But when asked about what Mario actually told LBJ, he chose to clarify his comments and it is endearing.
Also read: "Kobe Bryant!": Ja Morant, Paul George, And Tyrese Haliburton Name The Black Mamba's Nike Sneaker Line as Their Favorite Hooping Shoes
"I Didn't Call Him a Bi**h": LeBron James' Teammate Mario Chalmers tells the truth about scuffle incident during Miami Heat days
Not often that we see a player own up to an incident as big as this. At the time and still, we have covered it from time to time. LeBron being furious was a sight. And to see a player stand up to him was an even bigger deal.
But what exactly happened? Chalmers finally clarified it on the Playmaker podcast.
Mario Chalmers told LeBron James to
"stop playing like a b*tch" 😳

Check out @PlaymakerGarf &@PoloKerber's exclusive interview with @mchalmers15: https://t.co/JKHxbCCYPq pic.twitter.com/yU1xPhdSAI

— Playmaker (@playmaker) March 17, 2023
He didn't call him the "B-word" instead he said he had to stand up to LeBron how a younger brother would. And we definitely respect him for that.
Chalmers elucidated on why he had to step up, citing that the team was playing rather poorly before that time out. LeBron himself had later acknowledged that Chalmers calling him out was spot on.
Also read: "LeBron James Excelled Despite Jealousy": How The Lakers Superstar Was Undermined By His Own Teammates as a Rookie
LeBron James's epic time with the Miami Heat
It is no secret LeBron James' impact on the Miami Heat was significant. Both on and off the court, he made his presence felt and to a certain extent even changed the course of history for the franchise.
James' on-court impact was felt in many ways. He was a dominant scorer and playmaker, averaging 26.9 points, 7.6 rebounds, and 6.7 assists per game during his time with the Heat. He also brought a level of intensity and leadership to the team that helped them perform at their best in high-pressure situations, just ask Dwyane Wade.
Off the court, his impact also resonated throughout the community. He was involved in various charitable endeavors and helped raise awareness for important causes.
Reasons like this are why he remains the Heat's greatest player. Ever. He is looking to make a name for himself in Los Angeles now. So far, he has done well.
As his return from a foot injury is closer than ever, expectations are high. How far will the Lakers go? Only time will tell.
Also read: "Never Fear, Magic Johnson Is Here": The Los Angeles Lakers Coaches And Players Were Stunned By The Legend's Confidence Even When Kareem Abdul-Jabbar Was Injured For Game 6 Of The 1980
---
Share this article