"I Only Need to Try 3 Times a Year!": Pompous Hakeem Olajuwon Only Considered Shaquille O'Neal and 2 Other Big Men as Worthy Opponents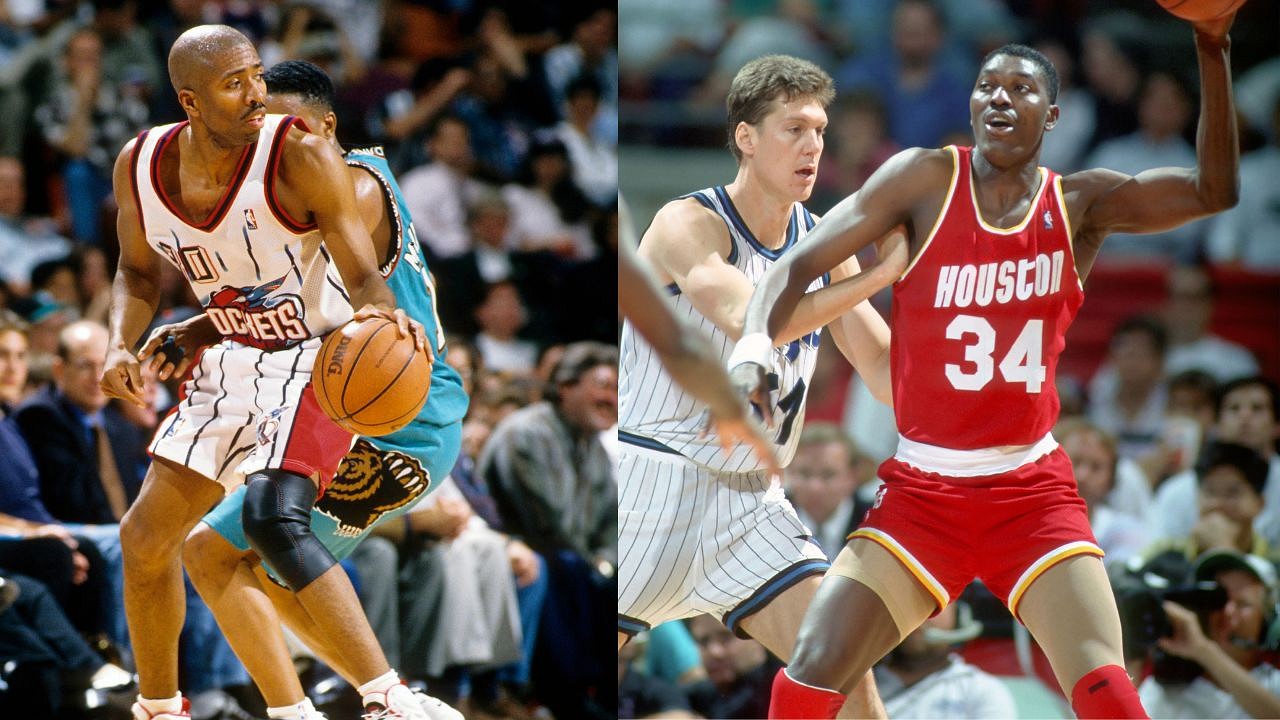 Hakeem Olajuwon is a no-brainer on the Mount Rushmore of NBA centers. The #1 pick from the 1984 NBA draft quickly established himself in the league as one of the most complete big men ever and made his Houston Rockets teams perennial contenders.
The Rockets center practically won everything there had to be won during his time in the league. The Dream and his magical post moves became the envy of the league and his skill set is arguably the most coveted skill set among big men in the league.
Also read: "Hakeem Olajuwon Felt 350lbs, But He Moved Like He 150": Jermaine O'Neal Got His 'Welcome to NBA Moment' From The Dream
Naturally, with that sort of dominance, came a certain bit of arrogance too. While not apparent to the public, Hakeem's belief in his own abilities to trump rivals was no secret to his teammates, it would appear.
Kenny "The Jet" Smith, while talking about Hakeem to Draymond Green, elaborates on the same.
According to Smith, there were only three opponents who even bothered Hakeem – Patrick Ewing, David Robinson, and Shaquille O'Neal.
Olajuwon reportedly stated that he would kill any other opponent barring Ewing, Robinson, and O'Neal.
Draymond Green brought forth the revelation by asking Smith if he believed his former teammate could thrive in today's iteration of the NBA. While elaborating on the same, Kenny revealed how easy the game came to Olajuwon. Hakeem wasn't the "Dream" without good reason.
Smith revealed how Hakeem was skilled enough to take the game to the three-point line too. It was only a matter of Olajuwon not needing to do it in his era as he would "kill" everyone not named Robinson, O'Neal or Ewing.
"I only have to play 3 times a year: Patrick Ewing, David Robinson, and Shaq. That's it. Everyone else, I kill."

Kenny Smith shares a quote from Hakeem Olajuwon regarding his offensive mentality.

(@TheVolumeSports) pic.twitter.com/kmPaGVQbZD

— ClutchPoints (@ClutchPointsApp) January 25, 2023
"He would kill this era, only because he was the king of the mid-range too. His whole thing was, 'I'm going to face you'. He would do all guard moves. He would always get into three shooting contests (with Kenny). And he made five out of eight threes from his spot. But in a game, he was like 'Why would I go shoot threes? I only have to play three times a year. Patrick Ewing, David Robinson, and Shaquille O'Neal. That's it. Everyone else, I kill'" revealed Kenny of Olajuwon's approach to the game.
Why fix what isn't broken?
Olajuwon was putting up monstrous numbers without expanding his range or even feeling the need for the same. Beyond the absolute elite, (read: hall of famers), no contemporary even fazed him. To only identify three players as preparation worthy is some level of confidence.
And Hakeem did talk the talk while walking the walk. Justified confidence, by all means.
Hakeem Olajuwon had a true shooting percentage of 55.3% for his entire career.
Kenny Smith had a point too when it comes to the Dream's efficiency. Hakeem was better known for his snaking moves at the post, but his game was by no means limited to that.
Despite being taller and stronger than most opponents, Olajuwon did extend his range to the mid-range too. Having that flexibility in his arsenal certainly served him well.
And unlike other centers of his era, Olajuwon wasn't completely averse to chucking up an occasional three-pointer either. While he may not have matched the 5/8 efficiency Kenny described, Hakeem was still getting three-pointers in.
Having a 55% true shooting efficiency for your career while not restricting yourself to just the paint is quite an achievement indeed. The Dream was an incredible talent and is most definitely suited to the modern game too.
Also read: "Hakeem Olajuwon, I Can't Kill You, But I want to Catch Up to You One Day": Shaquille O'Neal Gives Fomer Big Men Their Flowers
---
Share this article