"I would have loved being in that same role": Utah Jazz Owner Dwyane Wade is all Praise for Russell Westbrook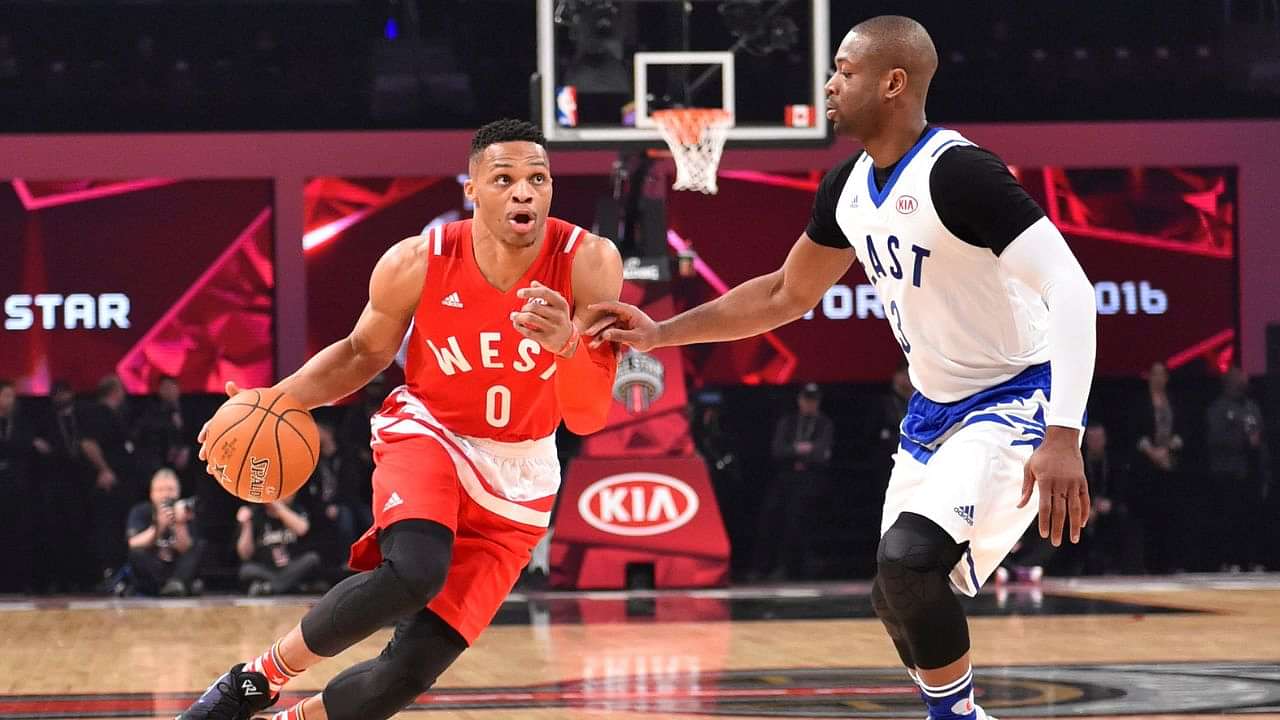 If you ask any retired NBA player what they wish to do, they will say they would have liked to prolong their career. And as we see a lot of superstars from the previous generation reach their twilight, the only thing on their minds is to extend their careers. One example is Russell Westbrook. Mr. Triple Double might not be made of the same mold anymore but he is still playing a huge role.
And sure he may not give you a triple-double every night but he is facilitating a different role now. As the leader of the Lakers' 6th unit, Russell is among the league's best players off the bench. And one certain Miami Heat legend is absolutely loving this.
Dwyane Wade, who retired not too long ago has given "Brodie" his thumbs up.
Also read: "You Want me to Mentor This Young Flashy Philadelphia Kid, Kobe Bryant?": Reggie Miller Once Revealed Common Agent Arn Tellem's Request
Russell Westbrook has been resurrected
Throughout the start of the season, a lot of questions have been raised about Russell Westbrook. His ability to deliver has dropped off and his impact since the last year has been abysmal. Not this year though.
In the 2022-23 season, Westbrook has been tremendous. A new role. A new Brodie. But the same old flair. His passing range has been stellar. Just take a look at these plays.
Loading embed tweet https://twitter.com/Beastbr00k0/status/1599801539916201985?ref_src=twsrc%5Etfw
Loading embed tweet https://twitter.com/hoopswontstop/status/1602099420136357888?ref_src=twsrc%5Etfw
Dwyane Wade, who is a part owner of the Utah Jazz, recently talked about this change to Sports Illustrated. He was one of the few players who extended his shelf life in the NBA by coming off the bench.
Also read: "LeBron James' Name Should Be Permanently Attached To The Longevity Award": Skip Bayless Heaps Praise On The King After Michael Jordan's Special Award Was Announced
Dwyane Wade gives his full approval
Wade who played 70 games off the bench in his last season, had this to say,
"If I wanted to keep playing another two, three years, I would've loved being in that same role, I would've had an amazing last three years of just having fun in that role. Coming off the bench playing 20 to 25 minutes a game … [Russ] made a great decision to prolong his career."
Loading embed tweet https://twitter.com/SInow/status/1602861000797061120?ref_src=twsrc%5Etfw
And as the Lakers star reaches the twilight of his career, this new role might help him be effective in more ways than one. But with huge questions surrounding the LA franchise, it will be hard to see if  Russell will find utility on the West Coast.
Also read:  6ft 6″ Michael Jordan's Idol, Julius "Dr. J" Erving, Earned His Nickname After Turning Pro, Thanks to a Trainer
---