'If it was LeBron James, they'd have stopped the game': NBA Twitter criticizes Lakers star for dangerous play on Mikal Bridges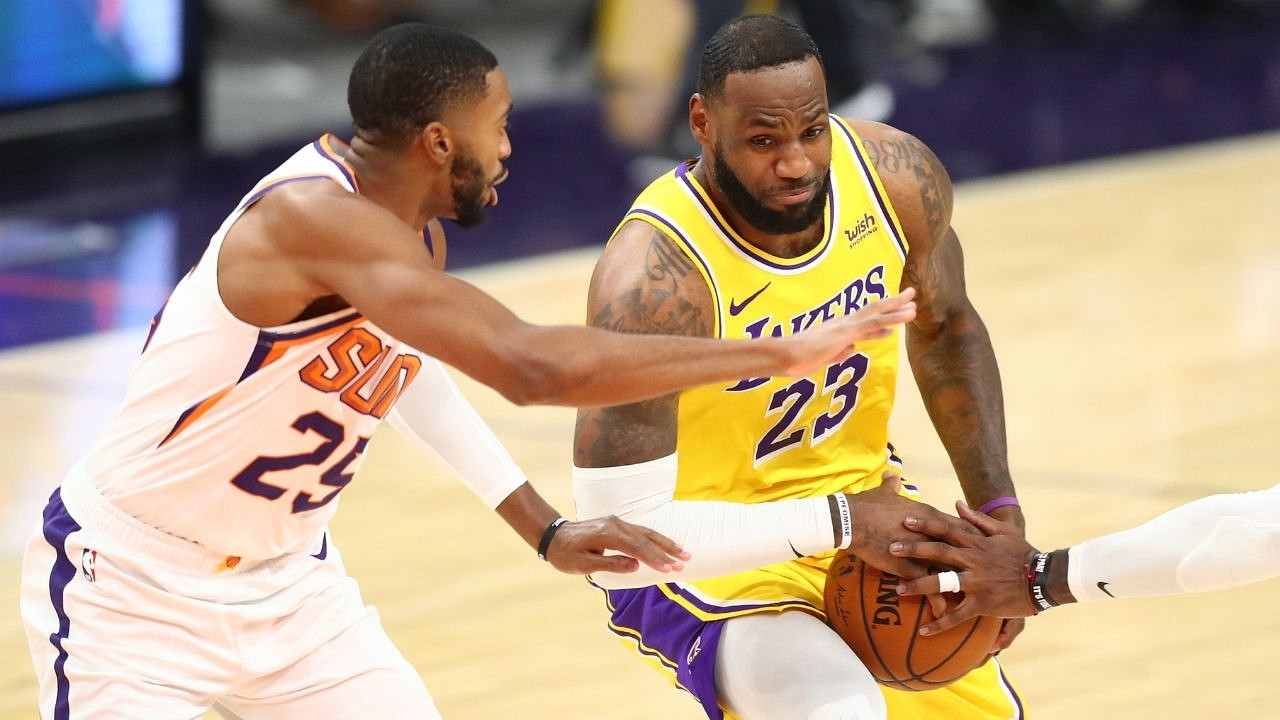 LeBron James appeared to affect Mikal Bridges while landing after a layup, causing a lot of consternation on NBA Twitter.
The Lakers have started off the season in great fashion, sealing 4 straight preseason wins, with 2 coming over the Clippers. The third win was a bit more of a contest against the Suns led by Chris Paul.
The fourth game was easily the toughest of the lot. The Lakers went into their locker room at halftime down by double digits. Despite benching Chris Paul, the Suns were running riot on the Lakers' interior.
Also Read: 'No one wants LeBron James to shoot the game winner': Lakers star shockingly receives zero votes in GM survey about most clutch player in NBA
It took Anthony Davis playing 30 minutes and going off for 35 points – most of them coming in the second half – for the Lakers to stage a comeback. The Suns sat their starters out for most of the second half.
LeBron James accused of undercutting Mikal Bridges on layup attempt in 1st quarter
Midway through the first quarter, the Lakers were already down by double digits when Mikal Bridges went for a layup. He got past James and laid the ball in on the other side of the rim.
During the play, it appeared as though James had extended his elbow as Bridges went into the air. This changed the youngster's orientation mid-air, causing him to fall heavily on his back.
Mikal Bridges appears to get undercut by LeBron James on his landing and took a very scary fall.pic.twitter.com/wgkbqUjn0c

— ClutchPoints (@ClutchPointsApp) December 19, 2020
Also Read: 'Kyrie Irving sages his room before playing NBA 2k too': Kevin Durant reacts to Nets star's antics before game vs Celtics
This comes in the wake of James fouling Bridges on a corner 3-pointer attempt in their previous game.
If Mikal did this to Lebron though. pic.twitter.com/Kn6GEd84B6

— Mike Vigil (@protectedpick) December 17, 2020
The criticism for James piled on after the incident.
Lebron has played the game long enough to know not to pull some shit like that and especially in preseason. Hope Mikal is okay. This is why its hard to like Lebron.

— Frankie Carrasco (@F_Carrasco23) December 19, 2020
LEBRON JAMES U R A FUCKING BITCH FOOL

Get good soon my man mikal bridges pic.twitter.com/zJqF4rBkY7

— ️ ️ ️ ☀️ (@DpoyBridges) December 19, 2020
Damn it dude. I love Mikal Bridges. Been one of my favorite players since he was at Nova.

Fuck LeBron James fr https://t.co/oYzenEzoSY

— (@Common_Wack) December 19, 2020
The Lakers will start their regular season campaign at the Staples Center against the Clippers.
---