"I'm Going to Work! Kobe!": Joel Embiid Embraced the Mamba Mentality as Teenager to Become Great at Basketball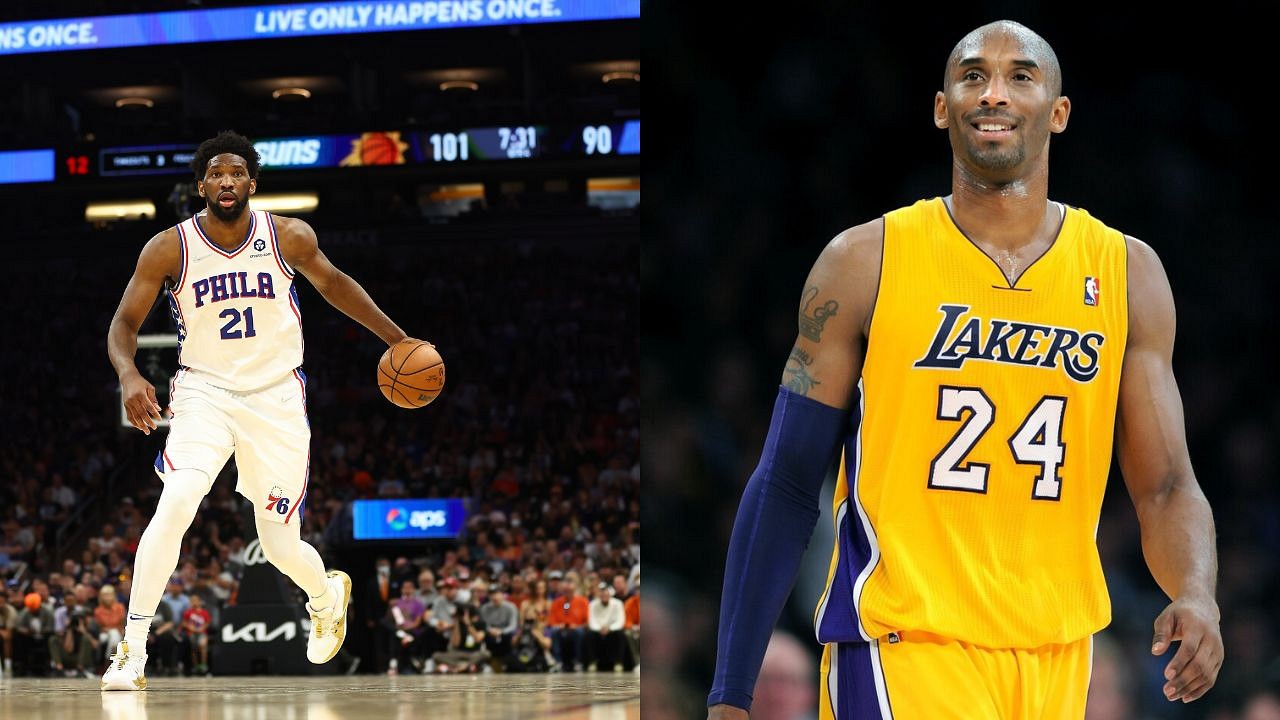 Joel Embiid became very good at basketball in a very short span of time, and the Cameroonian credits Kobe Bryant for being his inspiration.
Basketball is a global sport today, but it wasn't nearly as popular worldwide over 15 years ago. Grassroots basketball programs weren't good enough to encourage the taller guys in Africa to pursue the sport.
Embiid, who was 6'10" at 17 years of age, hadn't really picked up basketball at that point. Due to his height, he was selected to attend a camp by NBA player Luc Mbah a Moute. Mbah a Moute was only the second Cameroonian player to make it to the NBA.
The NBA veteran spotted something in Joel Embiid that convinced him to speak to Jojo's parents. His father, Mr. Thomas Embiid, nudged his son to stick to volleyball, for which Joel had earned a 3-month training program in Europe.
However, Mbah a Moute managed to convince Thomas that his son could make it in basketball. Joel soon earned a scholarship to play high school basketball. He transferred to the powerhouse Montverde Academy, which produces NBA talent on an annual basis.
Having seen Embiid from the start, Mbah a Moute weighs in on the big man's journey.

[ 📓 » https://t.co/YaoCSNLpnS ] pic.twitter.com/aKqBVNZZkn

— Philadelphia 76ers (@sixers) January 27, 2017
Joel Embiid idolized Kobe Bryant, channelized his Mamba Mentality and copied white guys' jump shots
The 2021-22 NBA scoring champion revealed in a 2018 article that he hadn't watched basketball till 2009. He watched Kobe Bryant and his Lakers win the NBA Finals that year and was inspired by the Black Mamba.
"The first time I ever watched an NBA game was the 2009 Finals. Lakers vs. Magic. Dwight. Pau. Odom. KOBE."
"I had never seen anything like that. I was watching those dudes shoot like 100% from the floor. Everything was going in. The way they moved, and the athleticism, I thought it was the coolest thing in the world."
Later, when he was playing high school basketball at Montverde, Embiid was not a good shooter. He was so bad, in his own words, that his entire school mocked him and joked about him.
He went to his dorm and cried. And in this process, he decided to up his game, thinking 'Alright, I'm literally just going to work and work in the gym until I'm good. KOBE.'
No matter what he tried, he couldn't achieve a consistently reliable jumper.
Troel decided to abandon the conventional approach and instead, took inspiration from random white guys. He consulted YouTube videos of various white people playing recreationally, adapting their techniques and copying their shooting form.
Embiid is hilarious pic.twitter.com/DoKwGcvj9i

— Amulya Shekhar (@tweet_amulya) March 18, 2023
Embiid is the best shooting 7-footer since Dirk Nowitzki
Through 6 full seasons of play, Joel Embiid has been a 6-time All-Star. He's also made it to 4 All-NBA teams, and is all but certain to make a fifth. Embiid is currently the odds-on favorite to win MVP honors.
His stats this season are staggering. The 29-year-old is making 49.1% of his shots from 10-16 feet and 50.3% of his attempts from between 16 feet to the 3-point line.
If it wasn't for the existence of De'Aaron Fox, Jojo would be a runaway favorite for Clutch Player of the Year. He's at his prime and is producing at a historic rate.
---
Share this article