"Isiah Thomas Had No Flaws At All": Andre Iguodala Calls The Detroit Pistons Point Guard A Perfect Player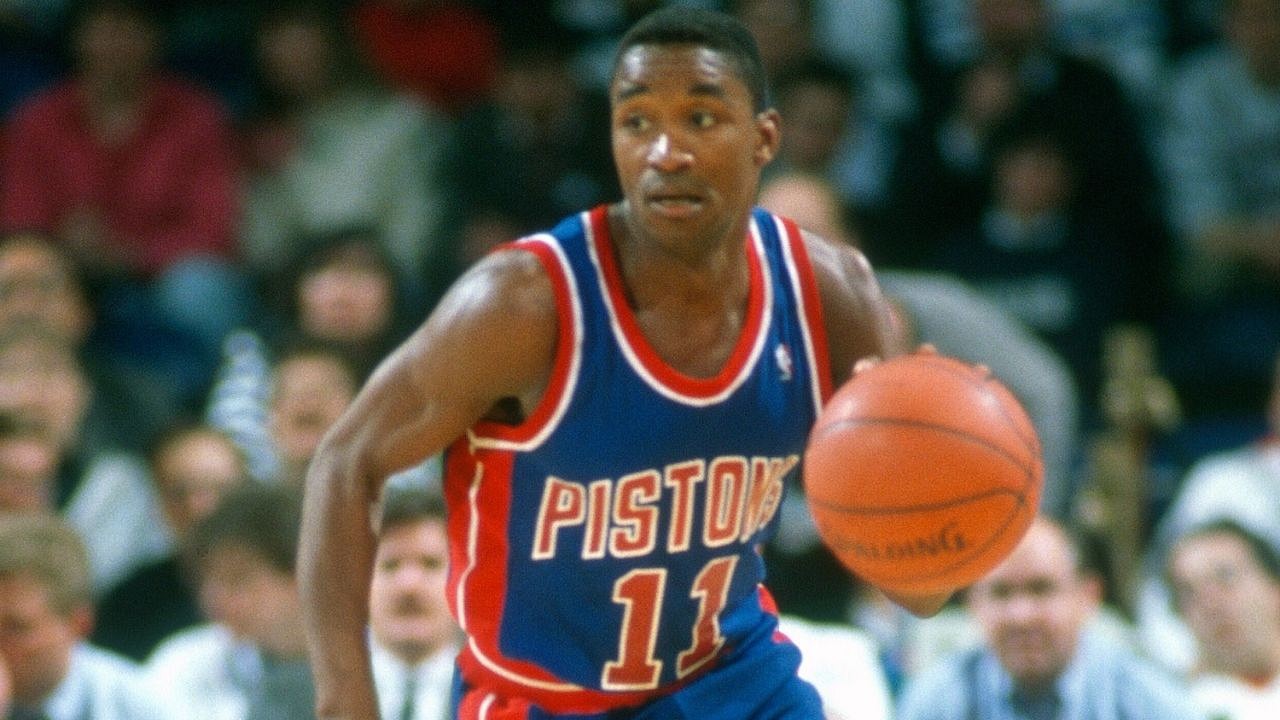 Isiah Thomas – the Bane of Michael Jordan's existence. He and the Pistons harangued the Chicago Bulls star from 1984 to 1991 – for 7 years he struggled to go past the Celtics and the Pistons. The Bad Boy Pistons and Thomas were dirty – but got the job done.
For the 12 years that the Baby-faced Assassin played in the league, there was not much he did wrong. He played like the quintessential Point Guard. If Magic Johnson was a flashy Guard in the west, Isiah was the fundamental guard in the east.
For the time, Zeke was a tremendous ball handler and shooter. He was a short guard with a low center of gravity – almost Allen Iverson-like. The game then focused a lot on the mid-range and the post, IT could do both of those roles well.
How well you ask? He never dropped below the 43% mark on shooting in his career. Isiah Thomas earned his infamy through association. The Bad Boy Pistons took every game by the scruff, and none of them on the team were afraid to take swings.
Also Read: "We got 53 Cents for every Dollar": Former Knicks GM, Isiah Thomas Appreciated Michael Jordan for Bringing The NBA Business
Andre Iguodala did not see him as a peer player – but he grew up watching Zeke
Andre Iguodala was born after Isiah was drafted – he was only 10 when Zeke retired. An untimely ACL injury mid-season in 1993-94 meant that he had to retire at 32. A tragedy struck down one of the best point guards of that era too soon. To put it into context, Iggy, born after his debut, now has more seasons in the league than Thomas.
As kids, people watched Michael Jordan, Magic Johnson, or Hakeem Olajuwon – all because of their gravitas. Nobody wanted to be like one from the Detroit Pistons – but they all were brilliant players.
So much so that it is still spoken in hushed tones that the Dream Team did not have him, only because MJ told the coach not to pick him.
Also Read: "I just like Rick better than I like you!": Larry Bird Once 'Explicitly' Fired Isiah Thomas Over Pacers Job
Isiah Thomas was a brilliant player with no flaws – his coaching career, however, was less than passable
After retirement, Isiah Thomas donned various hats around the league and outside. He was a part owner of the Toronto Raptors for a while. He owned a full league for a bit. He joined as Head Coach for the Indiana Pacers, but with little success. Larry Bird had guided the team to a conference title, and Thomas could not get out of the first round.
He lost his job as soon as Bird returned to the organization, where he moved to the New York Knicks. The car crash did not end there, where he traded away multiple picks and compounded the salary cap problems.
He was a brilliant player no doubt – but his man-management skills had more holes than swiss cheese.
Also Read: "No, it made me want to beat you more": Isiah Thomas, former Knicks GM, Talked about Destroying Michael Jordan and the NBA
---
Share this article