"Jalen Brunson, a steal of free agency": $104 Million Bound Knicks Guard Gets Massive Praise From Kevin Garnett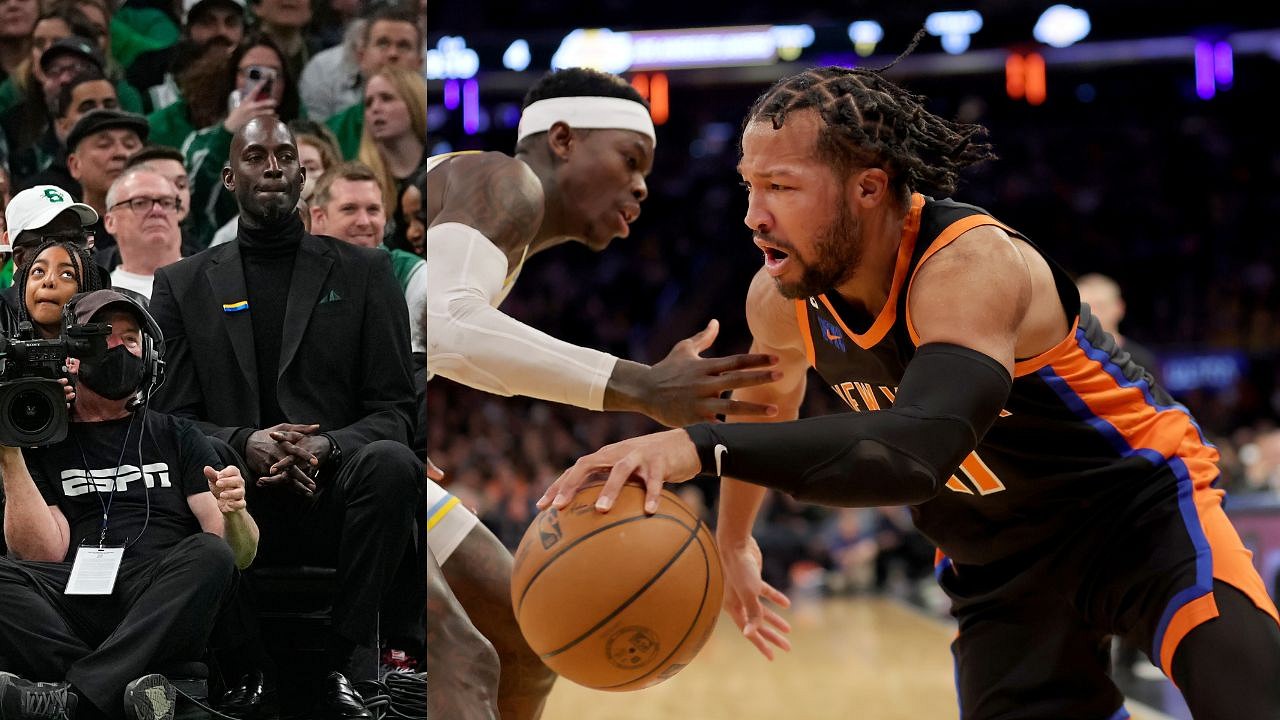 During the free agency, the New York Knicks had many people wondering whether Jalen Brunson was worth a $104 million contract. The Knicks valued him much more than that. It's why they didn't mind tampering with league policies soon after seeing him dismantle the Phoenix Suns in the Playoffs.
51 games in, he is showing on a nightly basis why that wasn't wrong or as desperate a decision as it looked. And as the Knicks took on the Los Angeles Lakers on Tuesday, Kevin Garnett took time off to complement the former Mavericks guard for being the steal of the free agency.
Also read: "Julius Randle & Jalen Brunson Were the Better Duo in Garden": Former Celtic Takes Shot at Jayson Tatum & Jaylen Brown After Knicks Loss
Jalen Brunson gets high praise from Kevin Garnett as he deals with LeBron James and Co
One has got to be magnificent when The Big Ticket is considering them in his regards and even making a Tweet about them when LeBron James and the Lakers are playing. But the Knicks point guard, showing why he got the bag in the off-season early in the game, made KG do it.
Lakers Knicks! Checking out @jalenbrunson1. Steal of free agency.. won at every level where he was a leader, pops was a pro.. Him and Randle are on one… 🔥🤷🏾‍♂️

— Kevin Garnett (@KevinGarnett5KG) February 1, 2023
The #11 already has a game-high 24 points as we speak, with New York leading 79-78 with under 3 minutes left in the 3rd quarter. It is promising to be a terrific game as James would also try to do something in the Madison Square Garden that he couldn't do in TD Garden last week.
But with the first-year guard of New York dictating terms in his home court, it'll be difficult for James and his team to get a win tonight.
Also read: $27 Million Point Guard Surpasses Walt Frazier and Stephon Marbury As Only Knicks PG To Average 20+ PPG
Brunson's fundamentals have been praised by coaches as well
It is not just KG who the former Villanova guard impressed with his terrific pre-NBA resume. It's rare for a point guard to lead his high school as well as college teams to the ultimate glory. Jalen did it with Stevenson and then twice with Villanova. And so, the brilliant minds of the game know that his rise to significance against the Suns in last year's Playoffs was no fluke.
"He's fundamental," said Suns coach Monty Williams, according to the New York Post. "But he still has an edge, and he still has some playground in his game. You have to have a pretty steady demeanor, a big-time backbone, to incorporate that kind of program like Villanova had and still be able to play your game, which I'm sure came from his dad, too. I just think he's a really, really good basketball player. He plays at an All-Star level most nights."
That's something huge coming from an opponent whose title hopes were shattered by you. So, Jalen would surely be the reason if the Knicks come up with a lot of meaningful postseason runs, which the team hasn't had since Patrick Ewing's days.
Also read: "Give LeBron James benefit of doubt": JJ Redick's Suggestion For NBA Referees' Wretched Officiating
---
Share this article