Joel Embiid, Who Told Kevin Durant To 'Suck It', Loses $25,000 After His Obscene Gesture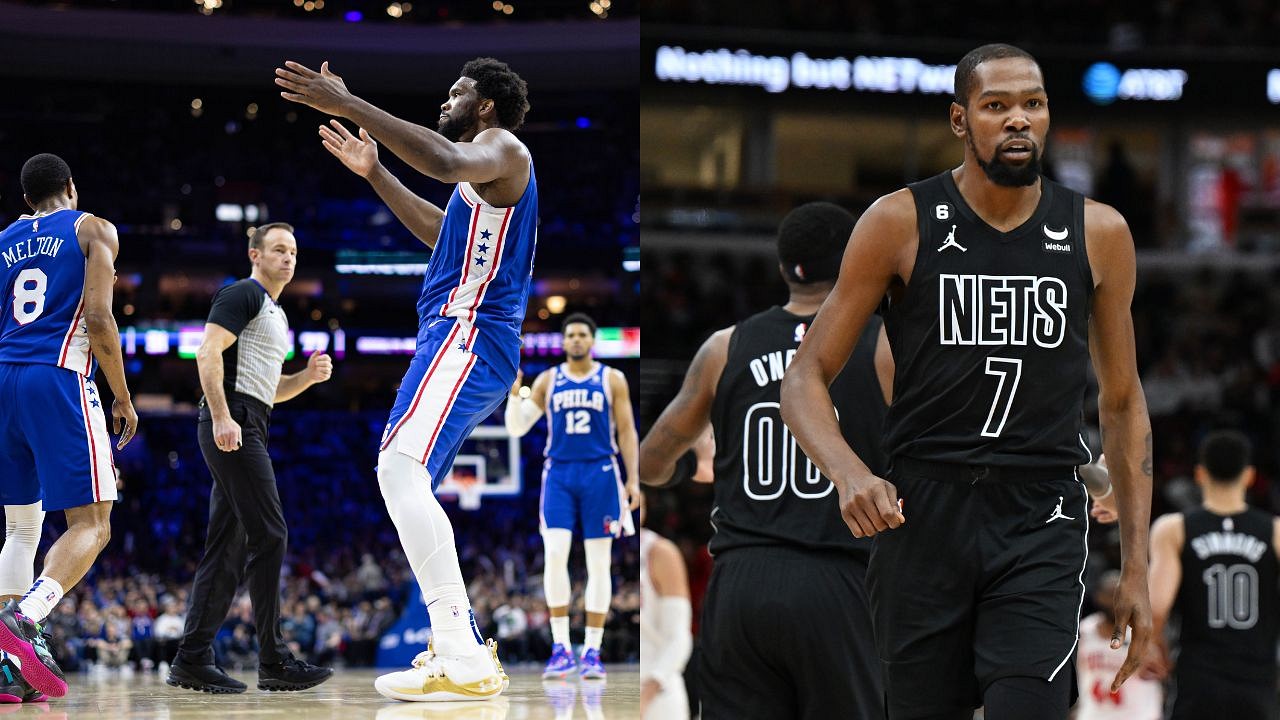 Joel Embiid has never been afraid to talk smack to his opponents on NBA hardwood. He's gotten into it with nearly every single title contender in the Eastern Conference, having gotten tangled up with the likes of Eric Bledsoe, Marcus Smart, and John Collins. 
One team that he hasn't faced in the Playoffs however, are the Brooklyn Nets with Kevin Durant and Kyrie Irving on the roster. Though, whenever they do have games against one another in the regular season, it feels as though the bout has a Playoff atmosphere around it. 
This is what transpired between the Philadelphia 76ers and the Brooklyn Nets when they squared off at Wells Fargo center a couple nights ago. This was quite the drama-driven game as it was James Harden going up against his old team, the Nets, and Ben Simmons returning to the Sixers' home arena to thousands of boos.
Also read: Joel "Troel" Embiid's Response to Kevin Durant on Twitter While Doing his Press Conference Is Absolutely Savage
Joel Embiid and Kevin Durant got into it on Twitter
Joel Embiid was the main story for that game given just how much exposure he got from it. During the game, Kevin Durant tweeted out that he missed talking trash to Embiid as he wasn't out on the floor due to his MCL sprain. He would then give kudos to Nic Claxton for his monstrous block on the former no. 1 overall pick. 
In one instance, Joel would get fouled on the way to the rim, leading to an and-1 opportunity for him. Following the made bucket, he would do the classic 'suck it' celebration that was popularized by D-Generation-X, a wrestling duo comprised of Shawn Michaels and Triple-H. 
Unfortunately, while this 'obscene' gesture was entertaining, it has led to him being hit with a $25,000 fine.
During his postgame availability, Embiid even tweeted out an edit of himself compiled with D-Generation-X to Kevin Durant after the Sixers had beat the Nets.
Joel Embiid has lost a lot of money in fines
Joel Embiid has already lost $6,000 in technical foul fines since the start of the 2022-23 NBA season. The most he's ever lost was when he had to pay up close to $380,000 for the Philadelphia 76ers-Minnesota Timberwolves brawl that had broken out on October 31st, 2019. 
In total, Joel has lost $602,000 in fines and suspensions throughout his career in the NBA. This is more than most of the players in the league.
Also read: "Nets should consider trading Ben Simmons": Kendrick Perkins Has a Trade Deadline Suggestion For Kevin Durant and Co
---