"Just Say You Miss Me": Kevin Durant Hilariously Teases Nets Fan For Questionable Nets Take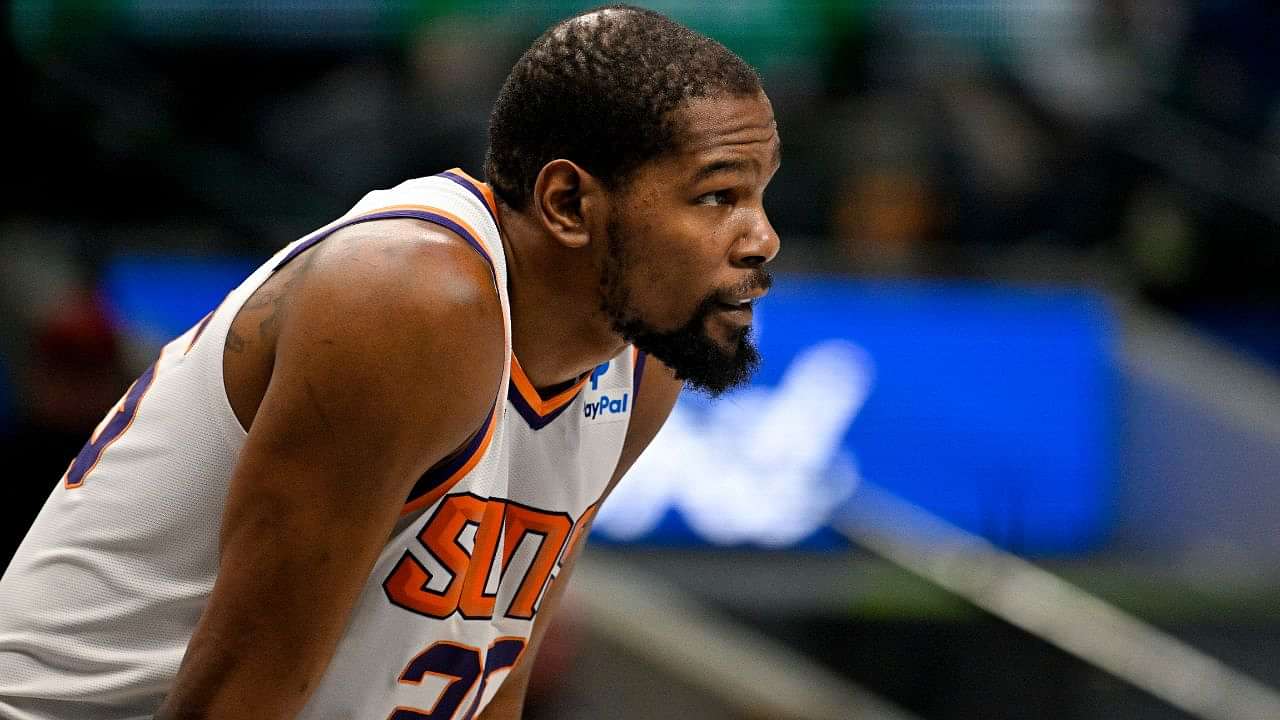 Kevin Durant being traded from the Brooklyn Nets to the Phoenix Suns in the waning moments of the 2023 trade deadline will forever be a moment etched into NBA history. The deal is quite nearly one of its kind as no player of KD's magnitude has ever been traded mid-season, especially from one title contender to the next. 
It felt as though after Kyrie Irving had requested a trade and was subsequently traded to the Dallas Mavericks, that there was a sliver of hope Durant would stay. He would be the lone superstar on the Nets surrounded by a litany of solid role players who all compliment his game perfectly. 
Unfortunately for Nets fans, the 'Slim Reaper' wanted out. He did so quietly as well as he didn't want an uproar from NBA fans as he leaves yet another situation.
Also read: "Stephen Curry Begged Kevin Durant to Come Save the Warriors": Skip Bayless Attacks 2x MVP for Trash-Talking Chris Paul
Kevin Durant hilariously goes at fan on Twitter
It's no surprise that Kevin Durant is incredibly fond of Twitter. He uses the social media platform quite freely and interacts with accounts regardless of their positioning on the 'totem pole of relevance'. Durant has gotten into it with other athletes and fans of the sports with the same energy. 
Nothing's changed this time around as well as a certain Nets fan account went on to state a reason for why Durant left the Nets. He claimed that KD left because he hated how they couldn't win without him out on the floor and now that he's sprained his ankle with the Suns, the Suns can't seem to string together wins.
Loading embed tweet https://twitter.com/BKNetsTweets/status/1636005534024314880?ref_src=twsrc%5Etfw
KD responded to this tweet by simply telling him that he missed him being on the Nets. However, soon after tweeting this out, he would delete it. It hasn't been confirmed as to why he deleted the tweet but perhaps he felt a bit of remorse for the fan who clearly has not gotten over the fact that one of the greatest scorers in NBA history left the team he roots for.
Loading embed tweet https://twitter.com/Durantmuse/status/1636061680701431808?ref_src=twsrc%5Etfw
When will Kevin Durant return?
Kevin Durant had an unfortunate ankle twist during warmups last Wednesday prior to the Phoenix Suns' game against the Orlando Magic. He would turn his left ankle to what seemed to be a near 90 degree ankle underneath the rim but luckily for Suns fans, he seemed to be alright as he warmed up for 10 more minutes afterwards. 
He was ruled out of the game and has not played a game since. The most recent update on KD's ankle injury is from 5 days ago that states he will need another 2-3 weeks to recover. It seems as though the earliest Durant could return would be some time in the middle of next week.
Also read: "It's Nuts": Warriors Head Coach Steve Kerr is Disappointed at Kevin Durant's Prolonged Absence From Warriors Home Games
---