"Stephen Curry Begged Kevin Durant to Come Save the Warriors": Skip Bayless Attacks 2x MVP for Trash-Talking Chris Paul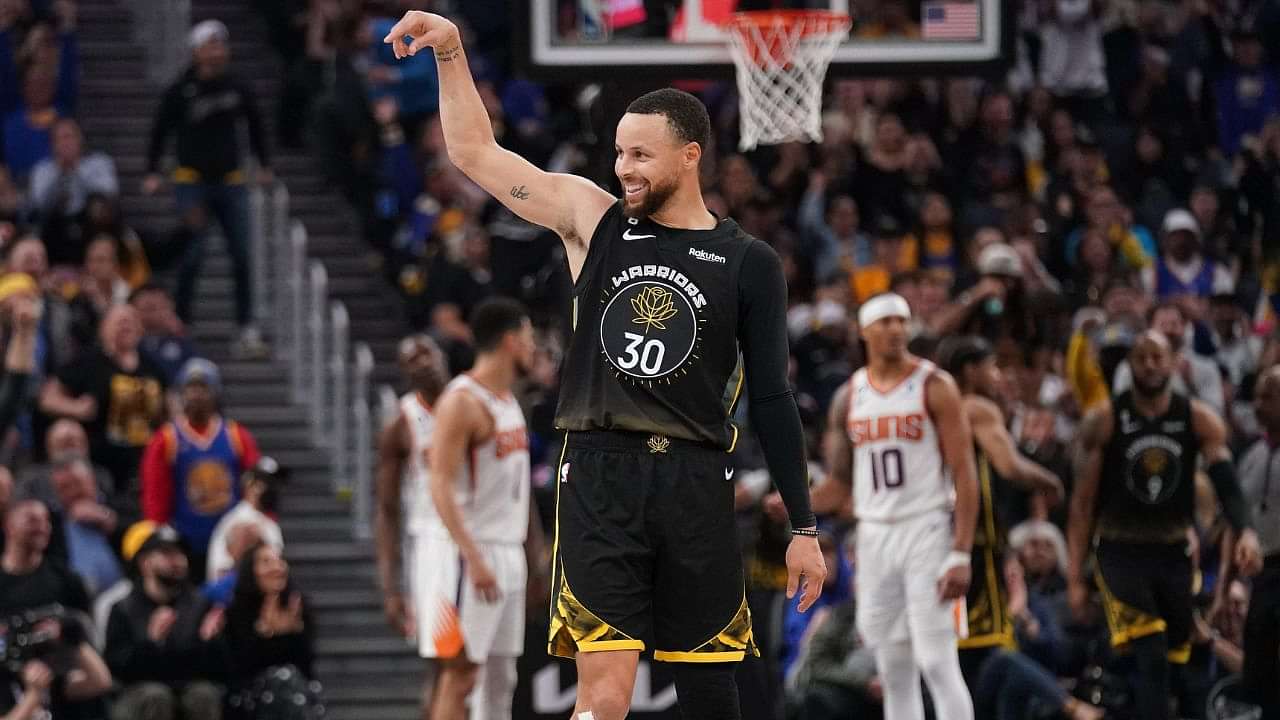 Despite Kevin Durant not suiting up for the Phoenix Suns, the contest against the Golden State Warriors was pretty well-fought. The All-Star backcourt pairing of Stephen Curry and Klay Thompson erupted for a combined 61 points while leading the reigning champs to a 123-112 win.
In red-hot form since his return from the leg injury, Steph was extremely chirpy throughout the contest.
During one point in the second quarter, The Baby-Faced Assassin would go on to finish a tough play despite Chris Paul's great defense. Immediately after getting fouled, the 2-time MVP trash-talked CP3.
Loading embed tweet https://twitter.com/TheHoopCentral/status/1635481031188029440?ref_src=twsrc%5Etfw
While this is very unlike Curry, given their beef, it's understandable why he would let his emotions out.
Also Read: Chris Paul Slyly Dodges Questions About His 2014 Playoffs After Stephen Curry's Trash Talk
Skip Bayless criticizes Stephen Curry for trash-talking
After the contest got over, several analysts and basketball enthusiasts gave their two cents on the incident that occurred in the second period of the clash.
While some had other views, Skip Bayless didn't actually appreciate the 6-foot-3 sharpshooter's doings. The analyst had taken it to Twitter and said:
Loading embed tweet https://twitter.com/RealSkipBayless/status/1635499444794949634?ref_src=twsrc%5Etfw
During the latest episode of "UNDISPUTED", the 71-year-old spoke about the same incident. Taunting Steph for trash-talking a Kevin Durant-less team, Bayless said:
"Yes, Steph can be a frontrunning hotdog cause that's who he is and has always been. And a lot of times it's more of a positive than a negative. But it irks me that he is front-running last night an hotdogging last night against a team without its best player. Without its newly acquired player, the same player that he went all the way across the country to recruit and beg to come save poor little Steph and the Warriors."
Loading embed tweet https://twitter.com/undisputed/status/1635654637847040002?ref_src=twsrc%5Etfw
Steph's form since his return
After missing out on 11 games due to an injury, Steph had an incredible 27/2/6 performance in his first game back. Unfortunately, despite the 2-time scoring champ averaging 32/5/5.6, the San Francisco-based franchise suffered 3 straight losses since his return.
Since then, the Warriors won back-to-back games, defeating the Bucks & the Suns. In these two wins, the 9-time All-Star lodged 29.5 points, 6.5 rebounds, and 4.5 rebounds.
Also Read: Stephen Curry "Hopes" to Play With Draymond Green and Klay Thompson Beyond 2022-23 Season
---