"It's Nuts": Warriors Head Coach Steve Kerr is Disappointed at Kevin Durant's Prolonged Absence From Warriors Home Games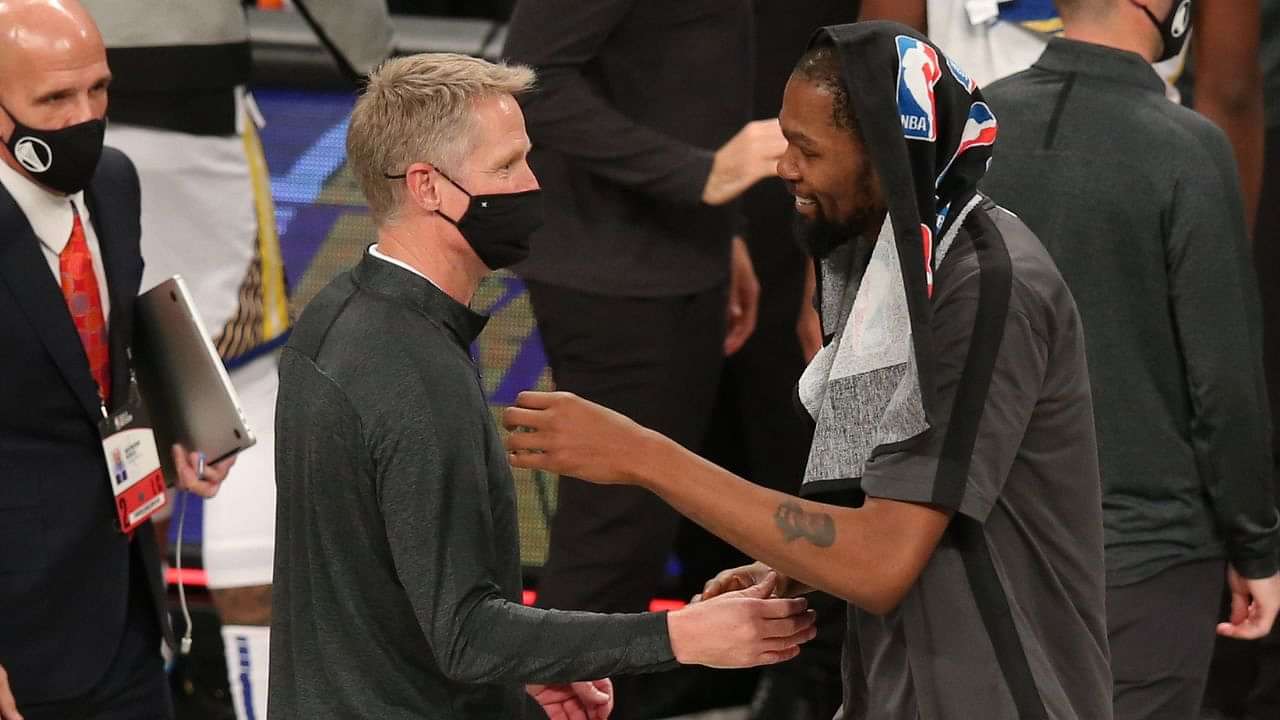 There is something bittersweet about the Golden State Warriors and Kevin Durant. The Slim Reaper won them two all-important titles in the last decade and yet, we haven't seen them put up a tribute. Steve Kerr is not happy about it either. Well, do you know why?
The reason is simple and yet baffling. In the last 4 years, Kevin Durant has not played in a single road game against the Golden State Warriors. The streak dates back to before the moment he left the Warriors in 2019.
Yes, as baffling as it may seem, it is true. The superstar of the game has never played in a game at the old Oracle Arena or the new Chase Center. And Steve Kerr, the Golden State Warriors head coach is quite furious about that.
Also read: "18 y/o Shaquille O'Neal Is The Best Player In The World": Larry Bird Once Snubbed Michael Jordan For LSU Superstar
"It's nuts": Steve Kerr expresses his anger
While Kevin Durant has appeared in games vs the Warriors in the Barclays Center, he has failed to appear in front of the Dub Nation crowd since 2018!
Yes, a span that stretches back 5 years and Steve Kerr wasn't happy about it. He had this to say:
[Kenney] Kerr said "it's nuts" that KD has yet to play in front of Warriors fans since his departure. "We've always anticipated his return and we've always had a planned welcome back video to thank him for everything he did for this franchise and literally every game something comes up."
by u/NokCha_ in nba
We understand Kerr's exasperation. A player of Durant's caliber should be honored and in fact, he should feature in at least one game so that the Warriors faithful can thank him for his servitude.
Also read: "Michael Jordan and Kobe Bryant Never Had NBA Friends": Giannis Antetokounmpo Revealed His Strategy To Maintain His Edge
The Phoenix Suns take on the Golden State Warriors
We are in for a thriller tonight. The Warriors have just beaten the Milwaukee Bucks in the last game and Stephen Curry showed flashes of his best self. There is no denying that he is the man of the moment.
But in Arizona, there is another man, Devin Booker. The shooting guard has been in red-hot form. Book has averaged 27.6 points throughout the season.
Who will win in this duel in the west? Will the Warriors continue their 7-game winning streak at home? Or will the Suns, without Kevin Durant prevail?
Also read: "I Like to Pop Wheelies": 'Daredevil' Michael Jordan Rode A '210mph' Ducati in His MotoGP Debut
---