"Kevin Durant hasn't seen someone choke like this in a game since last week": NBA fans troll the Nets superstar's reaction to seeing Angels pitcher Dylan Bundy throw up on the mound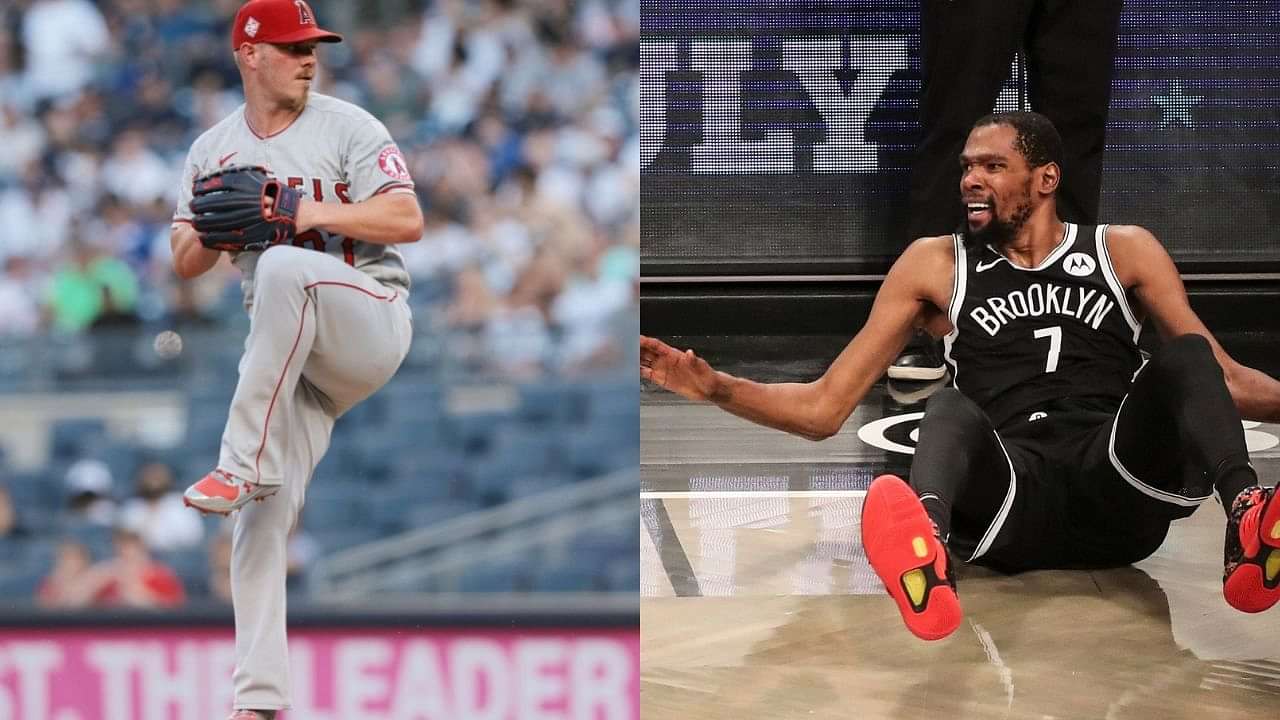 Kevin Durant had one of the best reactions after seeing Angels pitcher Dylan Bundy throw up on the mound; the internet trolls him for it.
With the Brooklyn Nets having been booted from the 2021 NBA Playoffs after a grueling 7-game ECSF series against Giannis Antetokounmpo and the Bucks, they will look to put all of their chips into winning it all in 2022. Kevin Durant, Kyrie Irving, and James Harden are all under contract next season so Steve Nash and his crew can essentially run it back. 
Kevin Durant played like how anybody would expect Kevin Durant to play. He carried an injury-riddled Nets team by averaging 35 points in those 7 games while James Harden and Kyrie Irving missed time. It's quite ironic that the man who ruptured his Achilles two years ago was the healthiest amongst the big 3 down the stretch.
Also read: "Patrick Beverley mocks Chris Paul while he was in pain": Clippers All-Defensive Team member indignant at CP3 for flagrant foul call in Suns vs Clippers Game 5
With his offseason starting earlier than expected, KD showed up to a New York Yankees game last night. However, his experience was hindered after Dylan Bundy unexpectedly threw up on the mound.
Loading embed tweet https://twitter.com/BengalYouTube/status/1409662653589454849?ref_src=twsrc%5Etfw
Dylan Bundy throws up on the mound and Kevin Durant is in shock.
In a game against the Yankees, Dylan Bundy took to the mound to pitch his 44th throw, but simply could not go on as he vomited right behind the pitchers mound. The 28-year-old was taken out of the game as it was ruled that he was suffering from an illness. What caught some eagle-eyed fans' eyes however, was Kevin Durant's reaction.
Loading embed tweet https://twitter.com/Yankeelibrarian/status/1409662790252470275?ref_src=twsrc%5Etfw
Also read: "Playoff P joins Michael Jordan, Kobe Bryant and Kevin Durant": Paul George achieves rare postseason feat as the Clippers beat the Suns to force a Game 6
It's clear from the video that the 2014 MVP is in absolute disbelief that Bundy, after pitching 43 times, threw up out of the blue. It's unclear what caused Bundy to throw up. It could've been the humidity in the air or perhaps a questionable meal prior to the game. 
It's safe to say that Kevin Durant, though did not see a conventional baseball game, was entertained nonetheless. 
---