"Kevin Durant is NOT Larry Bird": 4-time Champ Has KD as His Favorite Current Player, But Considers Celtics Legend a Class Apart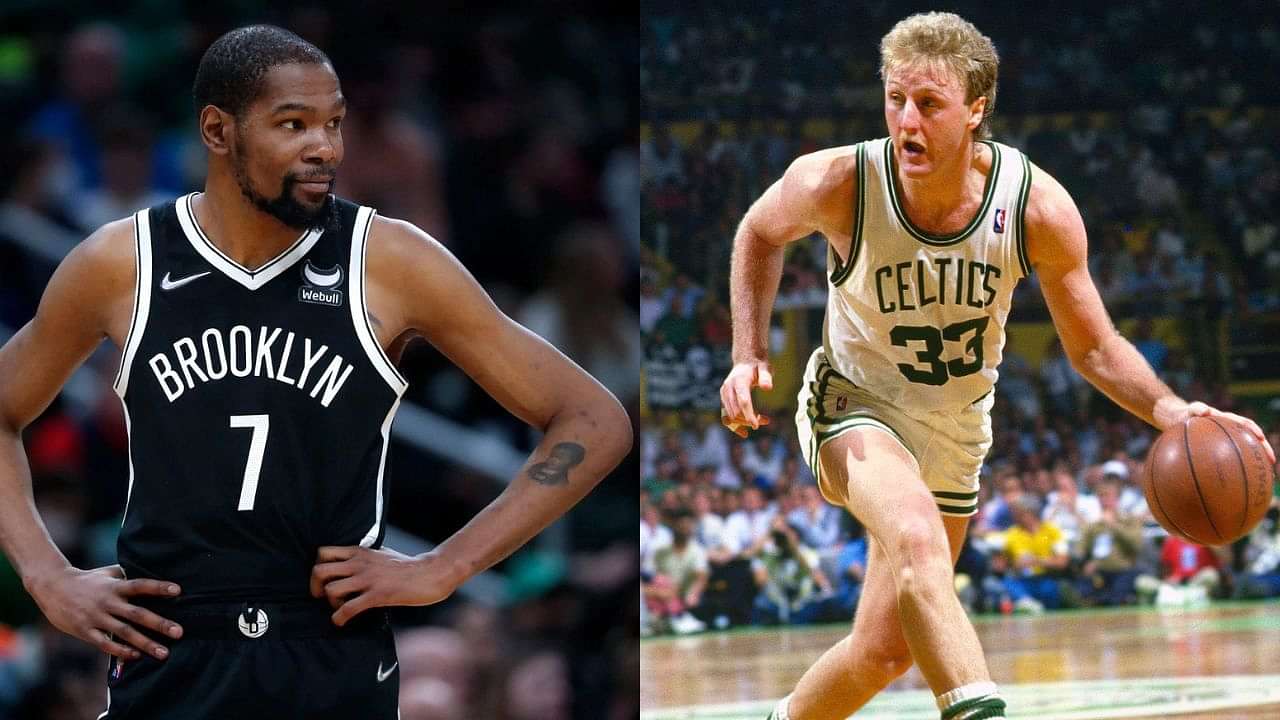 Kevin Durant is perhaps a top 10 player in the NBA right now. The 6'10" forward is a great scorer and has all the skills necessary to be classified as the best in the league.
Currently averaging around 30 points, six rebounds, and five assists, KD has been phenomenal. As he has been throughout his career. He is a player that has garnered attention from both the new basketball heads and the old ones.
For example, John Salley. The four-time NBA Champion loves the Slim Reaper. But, he strongly believes that Durant just cannot compare to an all-time great like Larry Bird.
Also Read: "What Happens When Stephen Curry Plays": After Humiliating the Warriors, Kyrie Irving and Kevin Durant Brutally Put Down Fan's Banter
John Salley claims that his favorite player Kevin Durant is "NOT" Larry Bird
Kevin Durant is by far one of the best players in the league. A bonafide Hall of Famer who has gained many fans along the way. Like John Salley.
Salley, a four-time NBA Champion has claimed on numerous occasions that KD is his favorite player in the current NBA. However, when asked to choose between the Slim Reaper and Larry Bird on the All The Smoke podcast, he had no choice but to choose Larry Legend!
"Kevin Durant is my favorite player in the NBA now. I've told that about a thousand times. But, Kevin Durant is not Larry Bird. He is 6'11" and shoots the ball above his head. But Bird was 6'9″ and shot the ball behind his head while talking sh*t to you!"
A fair assessment from Salley. Larry Legend was something special. Not to say that Durant isn't, but Larry's accomplishments speak for themself. His aura is too big to be matched by one guy.
KD was not happy when fans started claiming that Larry Bird was better than him
Kevin Durant isn't too good at taking criticism. Especially when it comes from Twitter. As seen when he became absolutely livid after some fans claimed that Larry Bird was far better than him.
Loading embed tweet https://twitter.com/KDTrey5/status/1513176232963321856?ref_src=twsrc%5Etfw
KD and Bird are two different types of players. They were hard to compare even though they play similar positions, and have similar accomplishments. There is no denying that Larry is better.
Also Read: Find Out How Nets Big Men Kevin Durant and Nic Claxton Make the NBA's Best Defensive Duo
---