"LeBron James Is The Best Talent I've Seen!": Earning $4,018,290, Cavaliers' Rookie Wowed 3x Champion Larry Bird on NBA Debut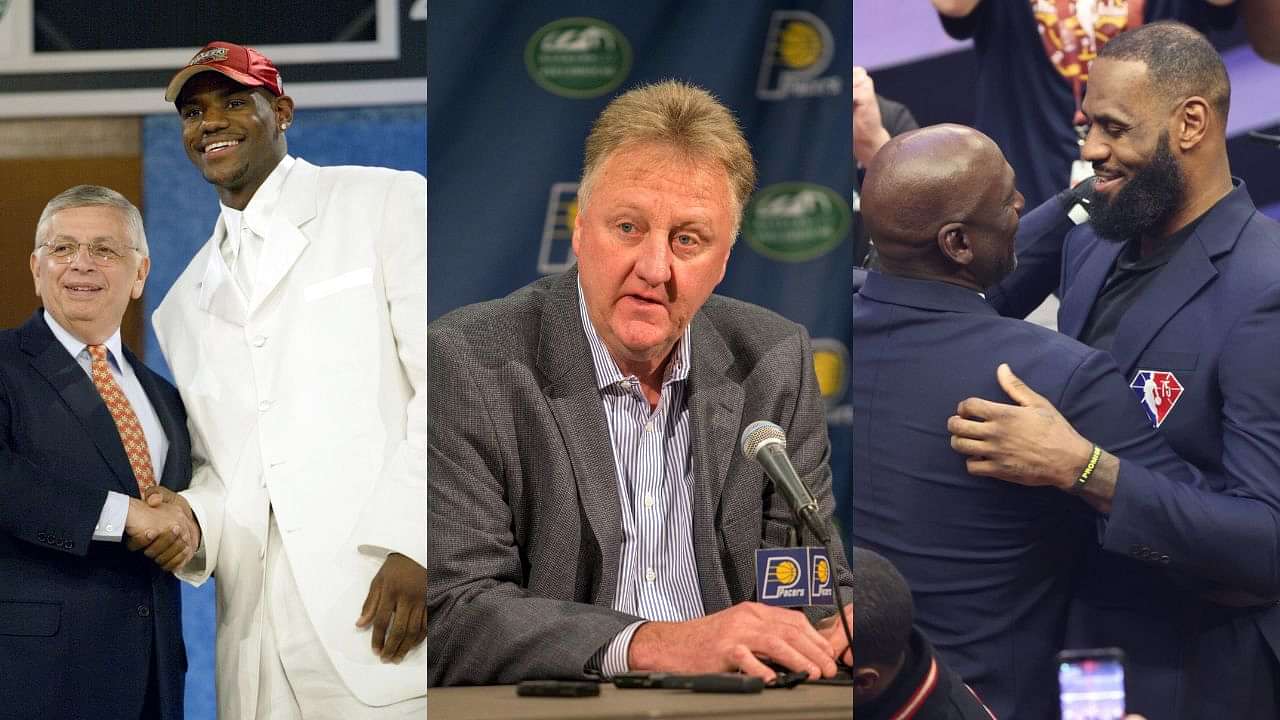 Exactly 20 years ago, LeBron James, an 18-year-old forward from Ohio, was the biggest name in high school basketball. 'The Kid From Akron' was by far the greatest basketball prospect, ever. He had plenty of supporters in and around the country who couldn't wait to watch him perform on the biggest stage. Doubters were no less, the ones who wanted to see him fail under such (never seen before) expectations. However, the 3x NBA champ, Larry Bird was among the former according to an article by Chris Broussard in 'NY Times Public Profiles: LeBron James'.
Coming in as the number 1 pick in the 2003 draft for his hometown franchise, the Cleveland Cavaliers, James' rookie contract paid him $18,788,540 across 4 years. And coming into the league with such massive hype and getting $4,018,290 in his first year as a 17 y/o had more cons than pros. His debut game had every basketball fan, current and former player, and expert's attention throughout the States. Several of them just waiting for that hype to die, but Larry Legend wasn't among them.
LeBron James wowed legendary Larry Bird in his debut
Knowing Larry Bird's personality and the mean character that he plays so well, Chris Broussard (working for the NY Times then) wrote about how surprising it was to see the Celtics legend smitten by James after his debut.
"After all, Bird, the Indiana Pacers' president, was a longtime rival and buddy of Magic Johnson's, a nemesis to Isiah Thomas, and one of the few players to foil the postseason plans of Michael Jordan.
So Bird would certainly put LeBron James's dazzling debut in perspective by reminding us all of the wisdom of the wait-and-see approach, right?
Wrong.
After watching James record 25 points, 9 assists, 6 rebounds, and 4 steals in Cleveland's 106-92 loss to Sacramento on Wednesday night, Bird was as smitten with James as everyone else. He has anointed the Cleveland Cavaliers rookie as the truth. Not the truth in a year or so, but right now," Broussard wrote in a New York Times article and then revealed his conversation with Bird.
"He's going to be one of the top players in the league by the time the season's over," Bird said in a telephone conversation. "These other players in the league, these veterans, can say all they want about him not being ready, but this kid is for real. "
"I've never seen anybody like this. He passes as well as anybody I've seen, and with his quickness, his size, and his strength — I hate to put a label on a guy, but if we're not talking about him being in the Hall of Fame within the next five years, something went wrong. He's the best talent I've seen come out in years."
That kind of response from Larry really must have been a surprise for everyone who had never seen him awed by anybody. And that man played against most of the NBA's Top-50 players of all time, beating many of them. And yet, despite all the surprise at his statement, he was clearly spot on.
Larry Bird made a very accurate assessment of LeBron
James would go on to be one of the greatest to play the game of basketball, making and breaking several records along the way. Having just lost the conference finals in 2023, it's been 20 years and he still goes strong in chase of the GOAT title.
The 4x NBA champ is now the all-time top scorer of the NBA, 4th highest assist-getter, and is still at the top of the food chain along with some great young talents of the league.
His journey which started as 'Kid From Akron', now has him as the undisputed 'King' of the game. But why should we be surprised? After all, how could he ever come short after Larry Legend laid out all his success after his very 1st Day at work?
---