"How Healthy is LeBron James": Shannon Sharpe Doubts Anthony Davis's Ability to Lead Lakers to the Playoffs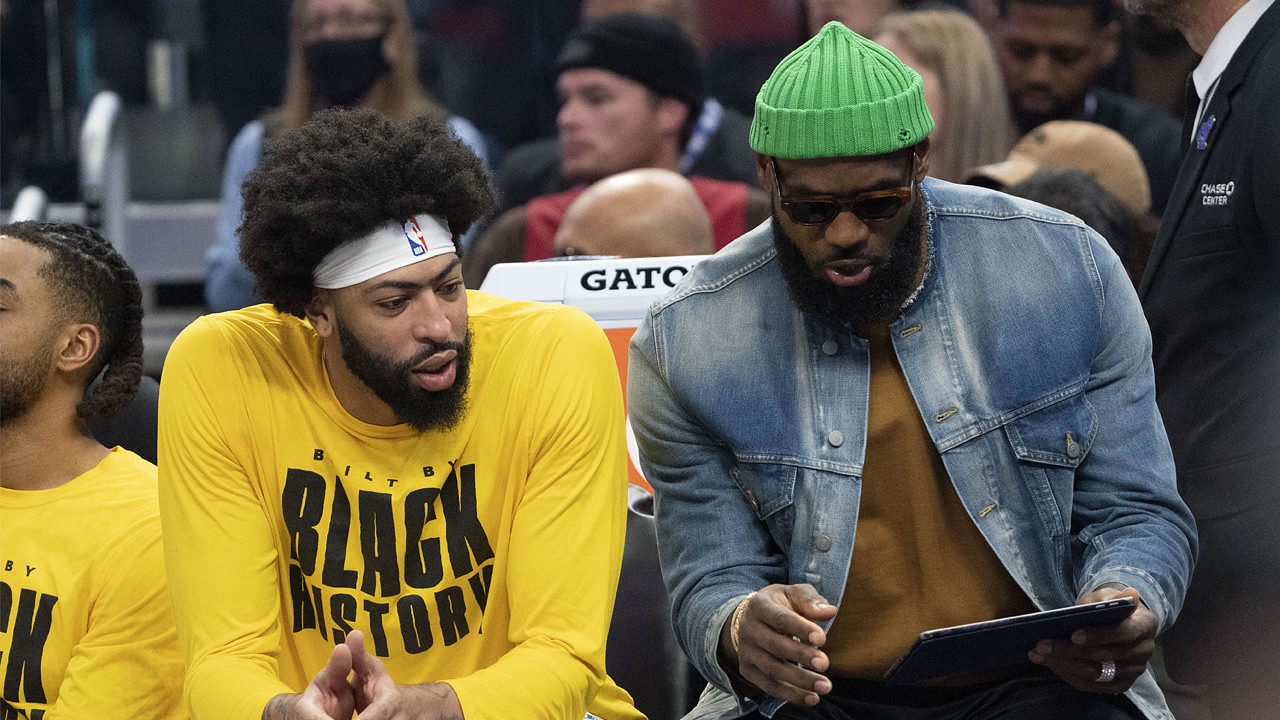 The Los Angeles Lakers were so close to becoming a good team—and then went three steps backward. Anthony Davis was making sure the fans did not feel the loss of LeBron James, and then their record fell to a once again troubling 34–37.
Since that fateful day when LBJ was injured against Dallas, fans have looked to AD to lead the way. It was his time now more than ever, and no more excuses were to be given. And for the most part, he did deliver. There were stumbling blocks, but they kept climbing steadily.
And then his performances began to waver. Role players had to step up extra hard to protect their alpha, and they could only do so much. When a superstar isn't consistent, there isn't much you can do. And that is what Shannon Sharpe feels too. He cannot believe that his Lakers have had such a torrid up-and-down and is beseeching Bron to come back sooner.
Shannon Sharpe is a Fervent Fan – He wears his emotions on his sleeve when it comes to his team
Sharpe speaks his mind like he sees things. He does not mince words, nor does he get over the top with his criticism. Maybe because it is his team, but an ex-professional always has some levelheadedness when it comes to these matters.
His compatriot Skip Bayless, on the other hand, is a laser-guided missile hell-bent on taking down one of the greats. But through some magic, he seems to have turned over a new leaf, supporting his friend and his team instead.
He agrees with Sharpe about AD being inconsistent, and this team can only be revived by one man. In a discussion that clearly happened before the losses against the Rockets and the Mavericks (watch the YouTube link above), Skip and Shannon were in complete agreement that the Lakers have a chance.
A chance for what? They think they have a chance to go all the way! As provided, one King James comes back. Bayless goes on to list everything wrong at the top of the leaderboard, and all signs point to the Lakers having a clear shot at the 4th seed.
Lakers fans will only dream of that day, but it is only a pipe dream. They all know the reality: that is not happening.
Sharpe thinks that even if Bron is 85% healthy, he should make a comeback for the final stretch. He is being evaluated on Monday, so he hopes the timeline for his return can be pushed forward. SS believes that AD is not the force he once was, and is very inconsistent to be called a leader.
Is LeBron James necessary for this Lakers team?
Here is the reality of the new-look Lakers squad. In the 13 games, since they got an update, the Lakers have won eight times and lost five. LeBron James only played three of these 13 games, and they won all of them. That is a sample size just large enough to say that he is needed for the team.
But look at it this way: The Lakers may have been undefeated with Bron on the court, but they have played better overall basketball without him. The offense has looked more fluid, the ball rotations have been faster, and it's not clear who will hold the ball during crunch time.
With Bron, it is much more obvious what the strategy is. Shut down the king, and the empire topples. It hasn't been hard for other teams to do that; they just force him to take poor shots from the 3. He is statistically one of the three worst shooters in the league this season.
Yes, LeBron James would be highly appreciated on this team, but he is not the savior. Neither is Anthony Davis. As a Laker fan, it would be more exciting if someone could take over the role Mo Bamba played. AD needs to be freed up in those minutes, plus you always need the length and the protection. The last play against Dallas showed exactly that—the shot could have been prevented if there was someone inherently more defensive-minded in the game.
---
Share this article