"LeBron James Should Get a Tech Honestly!": Austin Reaves Hilariously Pleads Scott Foster To Penalize Lakers Star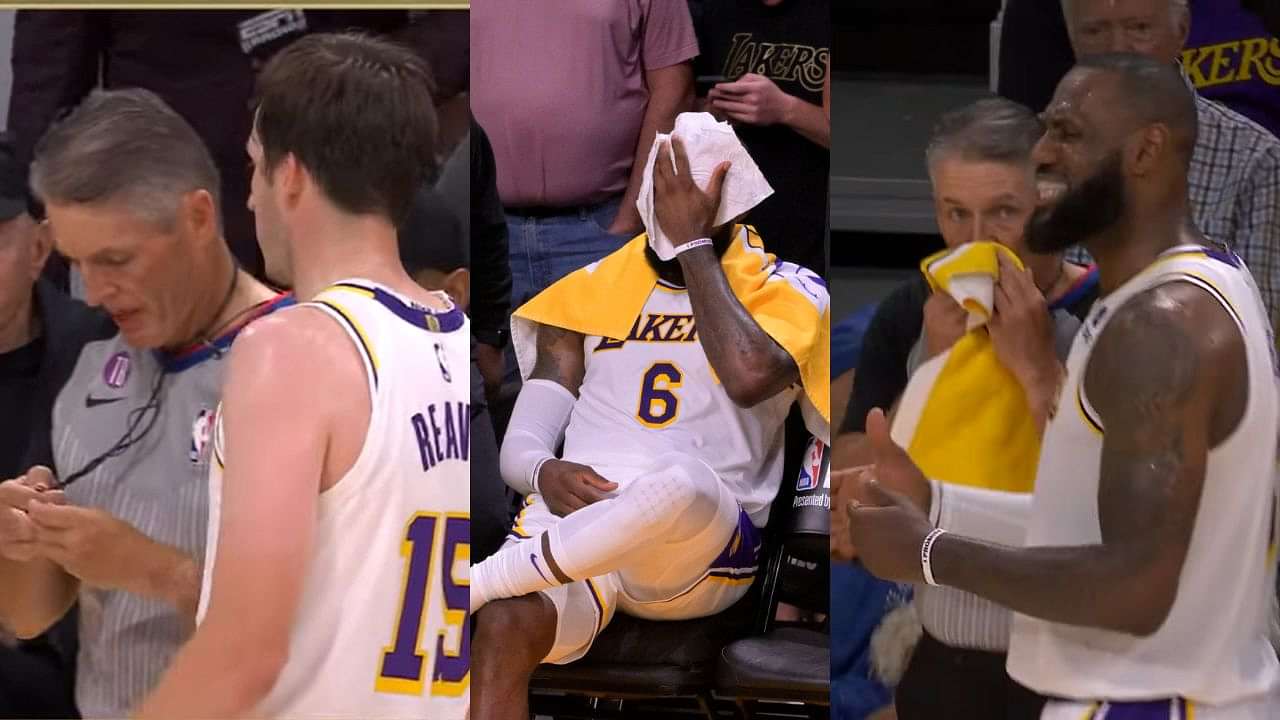 The Los Angeles Lakers continue their miserable streak in the Western Conference Finals. After LeBron James and co. went down 0-2 in Denver, everyone expected Game 3 would be a show of dominance on their home court. The same happened but by the Denver Nuggets. During the 4th quarter of the game, while the Lakers were fighting to get back in the game, ESPN revealed audio of an incident from earlier the game. We heard Austin Reaves jokingly tell Scott Foster that LBJ should be issued a tech.
In case you are wondering what happened, LBJ was charging to the frontcourt during the first half, trying to keep an eye on the ball. However, he did not see Scott Foster right in front of him and bumped into the ref. This left Scott with a bloody lip.
Loading embed tweet https://twitter.com/hoops_bot/status/1660097861621805056?ref_src=twsrc%5Etfw
ESPN released audio of chat between Scott Foster, LeBron James, and Austin Reaves
One of the best parts about the games is when the broadcast mics up some players and lets us get the sound of the game straight from them. This is one-way fans feel more involved in the game. While the clip that ESPN shared was not of someone mic-d up, it's something that might leave Reaves with some explaining to do.
After the incident with Scott Foster, we saw LeBron James go over to ensure the referee was okay. We heard him talk to Foster and ask if the senior referee was alright. However, right after that, they shared Austin Reaves's chat with Scott Foster. Reaves was heard saying,
"That should be a tech honestly"
Loading embed tweet https://twitter.com/NBA/status/1660116658860486657?ref_src=twsrc%5Etfw
Luckily for Reaves, Scott Foster did not penalize LeBron James for the whole interaction. He understood the bump was unintentional, and wasn't anybody's fault. However, if Austin had influenced Foster and had issued a tech, the sophomore would've had a tough time in the Lakers' locker room.
Can LeBron and co. escape this 0-3 hole?
In the 76 years of NBA History, there have been 149 teams who have gone up 3-0. Out of those 149 instances, the team down 0-3 has never come back to win the series. LeBron James and the Lakers have a chance to either create history and become the 1st to do so, or add to the tally and become the 150th team.
Game 4 at Crypto.com arena will be played on Monday, with the Lakers' season on the line. We'll have to see if the Lakers can finally take things seriously and secure a win. If not, it would be the end of their dream run.
---