LeBron James' Son, Bronny James, the Only Remaining Top-50 Recruit has Offers From 9 Colleges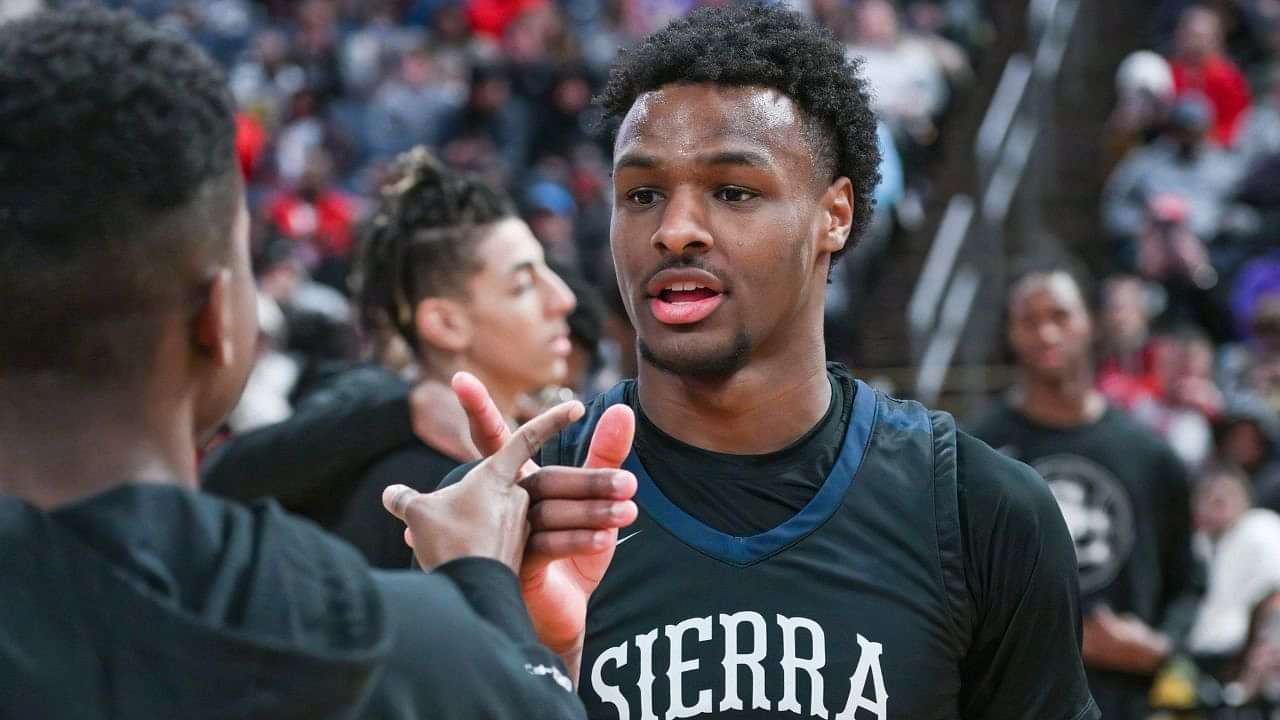 Bronny James is the name on the lips of all college recruiters. The last man standing, well, he is the last top-50 ranked recruit remaining, who is yet to declare for a college. It looks like the waiting has worked out in his favor.
Bronny has been stealing the spotlight thanks to the name, he is LeBron James' son after all. He has a big decision to make.
The young starlet needs to decide where he will attend college and he has to do it quickly. The good news is that there is a slew of colleges who wants his signature. Nine to be precise.
Also read: "First Klay Thompson, Now Jimmy Butler": Oklahoma City Thunder Falls Prey to Yet Another All-NBA Record
Loading embed tweet https://twitter.com/LegionHoops/status/1613059592719859712?ref_src=twsrc%5Etfw
Bronny James' signature is wanted by 9 colleges!
Bronny's signature is wanted by a lot of colleges. As per Adam Zagoria from Forbes, "The Sierra Canyon (Calabasas, Calif.) native has received official offers from Memphis, Ohio State, USC, Duke, Kansas, Kentucky, Michigan, North Carolina, and Oregon."
And it falls in line with the current 2023 recruiting rankings. The top colleges have offered Bronny a spot. Now it only remains to be seen which one he will pick up.
Loading embed tweet https://twitter.com/NCAABBallGuy/status/1612872845016633362?ref_src=twsrc%5Etfw
Also read: Is Bronny James as good as LeBron James at age 18?: A closer look at the prodigy out of Sierra Canyon High School
Bronny James is making his NBA highlight reel
In an ESPN interview, LeBron James once again stated that he would like to play with his son. And Bronny's most recent plays are certainly helping that cause.
Just take a look at these plays.
Loading embed tweet https://twitter.com/DailyLoud/status/1611727981814349824?ref_src=twsrc%5Etfw
And he even led his team in points.
Loading embed tweet https://twitter.com/SCNext/status/1611968397331566592?ref_src=twsrc%5Etfw
Young Bronny is taking off. And it will be fun to see how far he goes.
Also read: "Stephen Curry Looked Really Good in the 2nd Half!": Steve Kerr Praises 8x All-Star While Talking About 3-Game Warriors Skid
---