Nick Wright goes on national TV every day these days to talk about how LeBron James is the GOAT. But it wasn't always like this for the FS1 analyst.
There may have been a time, judging from his deleted tweets, when Wright didn't quite underestimate Kobe Bryant. In fact, judging from some deleted tweets, the man may even have had the Black Mamba in his top-5 of all time.
Now Nick Wright has only been a regular feature on TV for the past 5 years. But he's continuously pushed his agenda that LeBron James is the GOAT for basketball all this while. Why would that be? And why would he go against the grain so heavily?
Also Read – "Stephen Curry won Best NBA player and couldn't even lead his team to the playoffs": NBA fans react to the Golden State Warriors MVP winning the ESPY Best NBA Player
The notion that LeBron is the greatest of all time first got traction after the 2016 NBA Finals. We'd never seen a 3-1 comeback in the NBA Finals before this. It was a sight to behold, and many people became prisoners of the moment.
It was also the perfect time for media outlets to reignite a GOAT debate that had essentially been dead. Jordan was acknowledged as the sport's undisputed GOAT right after his very first retirement. But sports media felt it prudent to bring it to the top from the backburner.
LeBron James wasn't top 10 but Kobe Bryant was top 5 all-time for Nick Wright in 2012
James has made it to 3 more NBA Finals in the past 5 seasons since then. He won only one of those and lost one of those series by the greatest margin in NBA Finals history.
So these are pretty solid grounds for people to put him on their Mount Rushmore of basketball. However, the idea that Kobe Bryant doesn't belong on there wasn't very popular back in the day.
It's becoming more and more popular now that Nick Wright and Shannon Sharpe go on TV to talk down on Kobe. But there was a time when Nick didn't quite hold LeBron in the same regard. The tweet below proves this.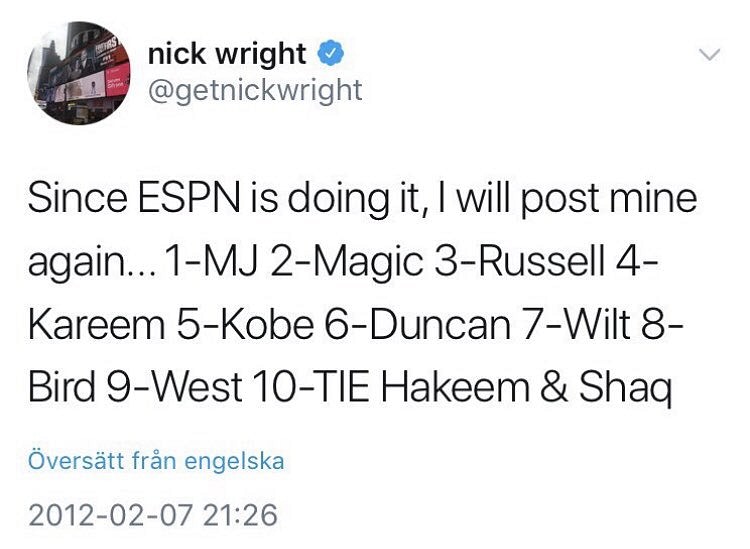 Also Read – "Michael Jordan, Larry Bird, Wilt, Oscar and Magic or Isiah": Jamal Mashburn names his all-time favorite NBA starting 5, snubs modern players like LeBron James and Kobe Bryant
Same with Nick Wright. He had Kobe top 5 and Lebron wasn't even top 10 back in 2012 lol pic.twitter.com/GGkiZtSuWM

— Ped (@OnPirre) July 11, 2021
These tweets are just further proof that you shouldn't let your sports talking head dictate your own top-5 lists.