"Lose a Few Games… Only the Real Ones Are Here!": Giannis Antetokounmpo Sarcastically Addresses the 3 Reports at Bucks Practice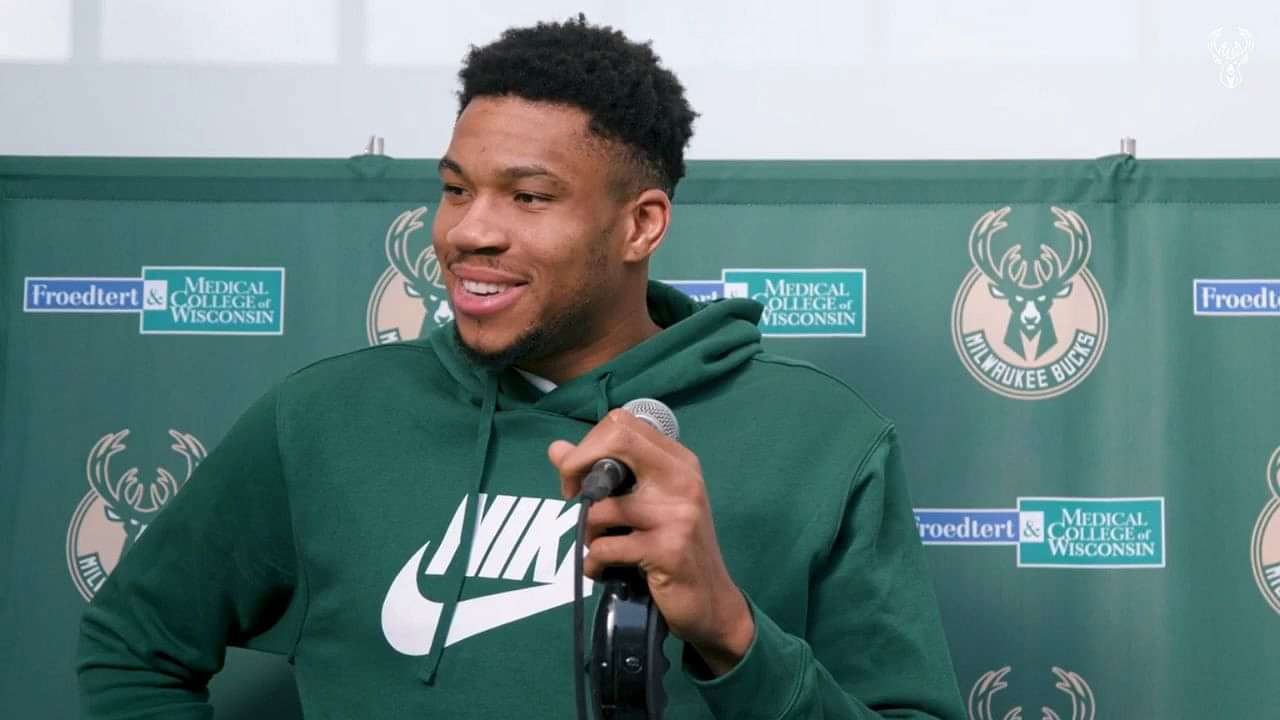 The Milwaukee Bucks are going through a rough patch. After starting the season 9-0, the Bucks fell to the Celtics for the top spot in the East. They've gone 4-6 in their last ten games and slid down to the 3rd spot. Giannis Antetokounmpo had a rough time in the last game the team played.
Hosting the Charlotte Hornets, the Bucks were held to 109 points while giving away 138. Giannis, who averages 32 points, 11.8 rebounds, and 5.2 assists for the season, was held to nine points, six rebounds, and just one assist.
Tonight, they're facing the Knicks in New York. Playing without Khris Middleton and Serge Ibaka, the team would hope that adding Jrue Holiday back would give them some boost. Currently, the  Bucks trail 46-51 at halftime.
Also Read: After 1000 Games, LeBron James Revealed the 'Secret' Behind Dropping his Iconic Headband From Cleveland
Giannis Antetokounmpo sarcastically addressed the low number of reporters
Since Giannis won his Most Improved Player award in 2017, he put the Bucks back on the map. After that, he won back-to-back MVP honors, followed by an NBA Championship and Finals MVP. With all the success came a ton of media attention and a flock of reporters at every game and practice.
However, a recent Bucks practice only had three reporters covering it. When Giannis saw the same, he did not hesitate to comment about it.
"What's this? I lose a few games. Only the real ones are here."
Antetokounmpo then proceeded to sing I believe I can fly.
"I hope it's this many people also when we win a championship."
Loading embed tweet https://twitter.com/Bucks/status/1611938612018380802?ref_src=twsrc%5Etfw
The Bucks MVP was clearly not very pleased about the lack of reporters showing up. He made it abundantly clear with his remarks throughout the media availability session.
Also Read: "I can't thank Bill Fitch enough": When Larry Bird Paid His Respect to the Legendary Celtics Coach For Showing Him His Way
Can Giannis steer the Bucks back to their winning ways?
The main issue with the Bucks over their rough spell has been the lack of availability of players. Injuries have taken a toll on their winning, but their players are slowly returning to the court.
While Khris Middleton may still not be back for a while, the others have returned to the lineup. Now it's just a matter of finding the same combinations and chemistry which was working for them early on in the season. With Giannis rallying the troops, they should get back to winning games soon enough.
Also Read: Dallas Mavericks Owner Mark Cuban Exposed "Basic" Skip Bayless Over 12 Years Ago
---