"Maybe we can move up from the parked cars": Bradley Beal hilariously quotes himself while praising Wizards defense following win over Chris Paul's Suns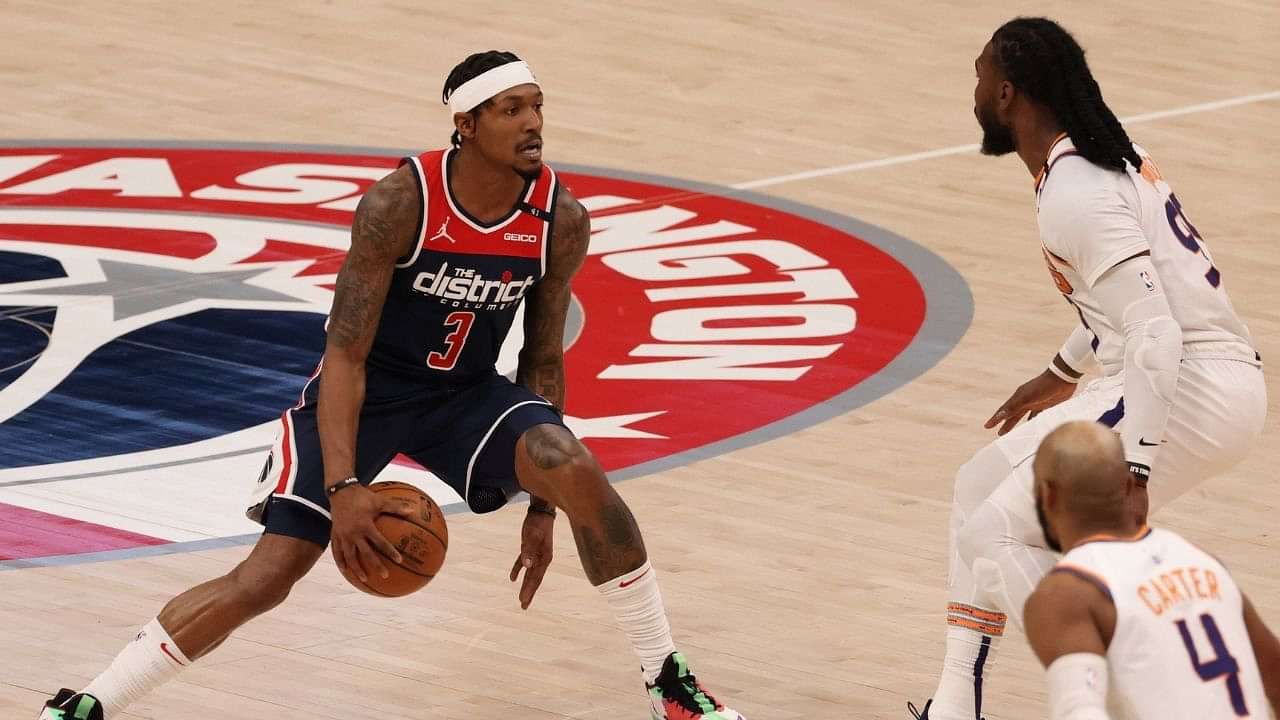 Bradley Beal was in great spirits after the Wizards' third W of the young season. He had himself 34 points in his team's first blowout win of 2020-21.
With news of Thomas Bryant's season-ending injury yesterday, the Wizards camp needed to regroup. Injury to their starting center meant the inclusion of Robin Lopez in the starting lineup, and there were clear differences. The defensive-minded Lopez played the role of defensive anchor amazingly well.
It was the first time this season that the Wizards had genuine control of a game from start to finish. Their stifling defense held the Suns to just 15 points in the first quarter. It didn't help Phoenix that they finished with just 4 made 3-pointers on the night. By pouring in 29 points of their own, the Wizards took a 14-point lead they'd never relinquish after that.
Also Read: "Michael Jordan didn't care to be honest": When Scottie Pippen broke down how Bulls legend scored differently from Rockets star James Harden
With Russell Westbrook out due to a quad injury, the Wizards fielded Raul Neto in the starting lineup. The Brazilian guard didn't disappoint, playing well off the ball and tallying 16 points on the night. 7 players scored in double digits for the Wizards in a nice all-round performance.
Bradley Beal upbeat about his team's performance against Chris Paul and the Suns
Following a 141-136 loss to the Sixers, Bradley Beal had lamented that a parked car defended better than the Wizards. Before this game, the fewest points the Wizards had given up in 10 games was a whopping 113.
He has reason to believe that things may have started to look up for the team on that end following tonight's display. In the post-game interview, he joked:
"Maybe we can move up from the parked cars."
Loading embed tweet https://twitter.com/FredKatz/status/1348831973926699009?ref_src=twsrc%5Etfw
Also Read: "Talen Horton-Tucker will be a prize free agent": Speculation suggests that Mavericks, Knicks could pursue Lakers guard and LeBron James' protege in the offseason
The Wizards need to sustain this energy on defense to stand any chance of making the playoffs. No team has ever been to the postseason with their defensive stats. There was a clear need for a change in energy, and injury to Thomas Bryant may serve as a rallying point for that.
---