"Michael Jordan cons his opponents": When Jeff van Gundy was paid back in kind by the GOAT for being called a 'conman' with 51 points in win over Knicks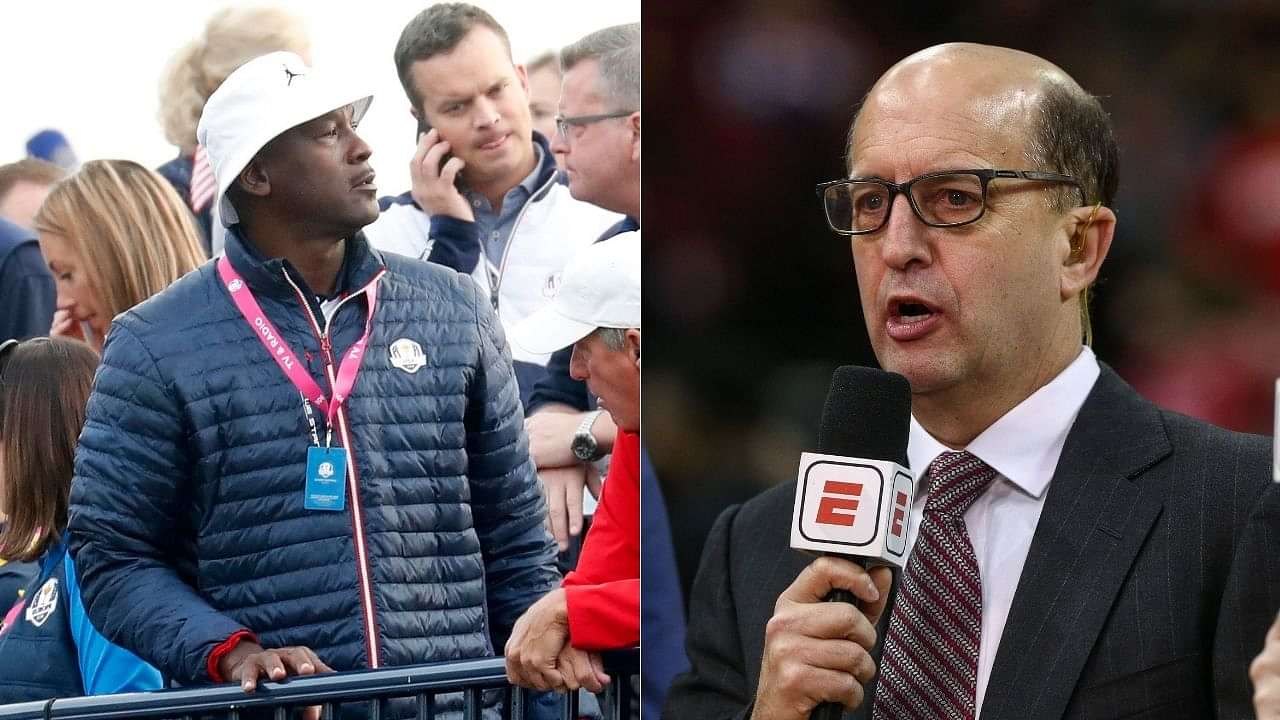 Jeff van Gundy once committed the cardinal sin of goading Michael Jordan, and it proved to be really costly for his Knicks team shortly after.
In a radio interview during the 1996-97 season, van Gundy went on a radio show and made the following statement about MJ:
"I think for some reason he's so good and he's done it for so long that there is such a mystique about him. Everybody wants to be like him, be as good as he is, make as much money as he does, be able to do all the off-court things."
"You watch him game-in and game-out and he sidles up next to guys and smiles at them, pats them on the a**, and then he goes out there and kicks their a**. And they hug him after the game like that was some great thing that he got 45 on them. I don't understand it."
Also Read: "James Harden will learn when to be aggressive and score": Kevin Durant equates former Houston star's arrival in Brooklyn to joining a new school
Even his Knicks team would have been aghast at JvG's comments. They'd learned the hard way not to cross paths with Michael Jordan.
Michael Jordan scored 51 points in his next game against the Knicks
The Knicks faced the Bulls at the United Center a few weeks after this fateful interview. Michael Jordan was a man on a mission in this game. His teammates offered precious little by way of support, resulting in MJ having to take over all by himself. He didn't disappoint.
While the rest of his team shot woefully (16-of-46), Jordan scored 51 of his team's 88 points. The Bulls triumphed 88-87 on the night, driven by the sheer will power of His Airness.
Loading embed tweet https://twitter.com/Oldskoolbball1/status/1352166962680516608?ref_src=twsrc%5Etfw
Also Read: "When LeBron James is in that mood, we just get out the way": Anthony Davis reveals the moment when he knew his Lakers co-star would dominate the Cavs
After the game, van Gundy was asked whether he regretted his comments. He stood his ground:
"I do not regret it. I told the truth. He had a great game. He is a great player. At the same time I believe in everything I said. You have to go on him as hard as he goes on you. He uses all weapons to gain an advantage. Some physical, some mental. I'm proud of our guys, they were right at him… he had a great night made some big shots."
Even years later, JvG's response is still unapologetic: "It wasn't like I was breaking new ground there, was I?"
---