"Michael Jordan wanted to humiliate Clyde Drexler": NBA Insider reveals how the Bulls legend tormented his rival during Dream Team scrimmages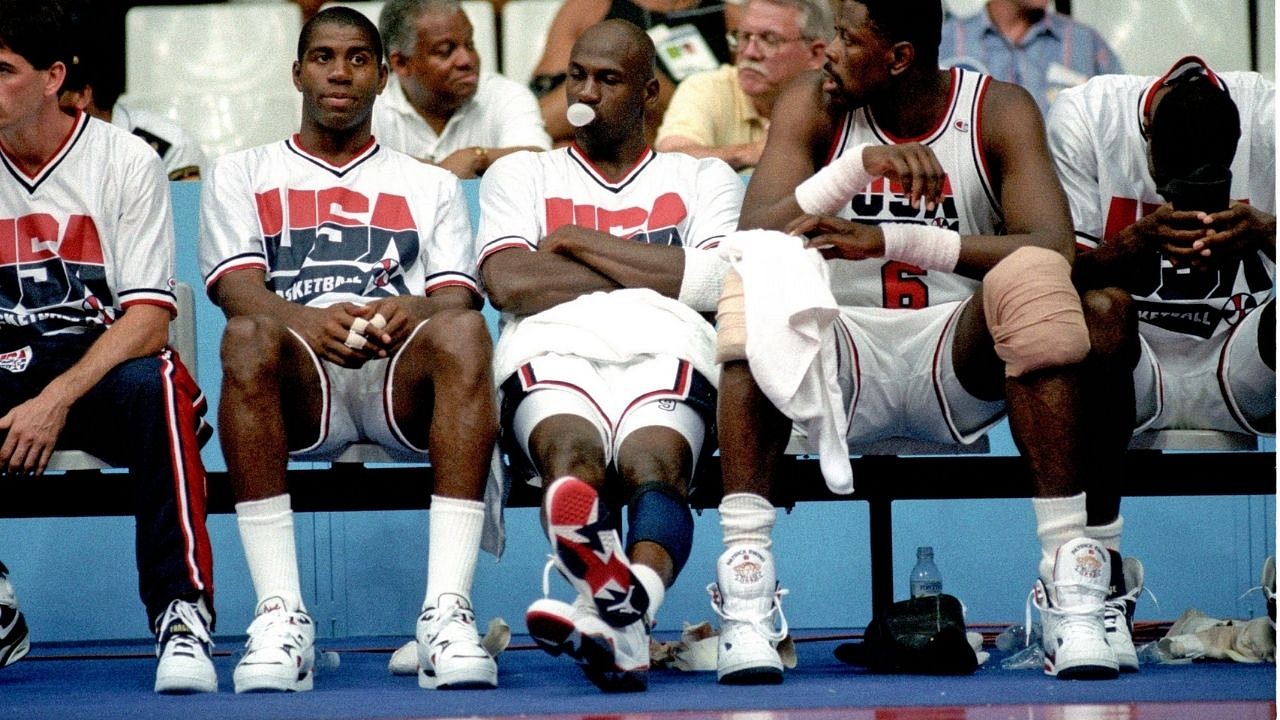 NBA Insider reveals a time when Michael Jordan made life hell for Clyde Drexler while they were on the 1992 Dream Team
Michael Jordan may have been the most dominant in the NBA during his time. But, he sure as heck wasn't nice about it.
To be fair to him, being polite wasn't exactly something he was trying to do. Especially in the era he played, winning it all required a dogged mentality. But man, his Airness just took it too far sometimes.
If you're a fan of the sport of basketball, it is likely you know the 1992 Dream Team as arguably the greatest of all time. But, there are little anecdotes about the team, that no outsider has been allowed to catch wind of. At least, up until very recently.
One such anecdote was finally released to the public. And taking a look at it would probably give Clyde Drexler some seriously traumatic flashbacks.
Also Read: NBA Analyst Stephen A Smith makes a bold claim about a trade package the Warriors can pursue
David Halberstam reveals how Michael Jordan made life hell for Clyde Drexler during Dream Team scrimmages
If this doesn't sound like prime MJ, we don't know what does.
To put things into context here, Jordan and the Bulls were coming off their second championship during this time. And who had the displeasure of experiencing defeat in the finals to them?
Clyde Drexler and the Portland Trail Blazers.
Ahead of the scrimmages, every player their mom probably knew what was about to go down. But, as David Halberstam reveals in his book 'Playing for Keeps', the man somehow managed to go above and beyond even those expectations.
"Jordan did not pass up the opportunity to talk some trash as he brought the ball upcourt. 'Didn't I just kick your ass? … Anything here look just a little familiar? … Think you can stop me this type, Clyde? … Better watch out for the 3s, Clyde.'
He continued.
"Eventually, some of his Dream Team colleagues suggested that Jordan cut back on the trash talk with Drexler because they were all teammates now, and there was no reason to reopen wounds so fresh. Back off, he did, but the coaches noted that every time Jordan guarded Drexler in scrimmages, he took the defensive level up more than anyone else."
Michael Jordan dishing it off to Larry Bird. pic.twitter.com/oPs4ERwjAR

— Hoop History (@HoopHistory44) July 4, 2021
Thank god almighty that Michael Jordan was a basketball player. Because with a mentality like that, who knows what kind of devil he could have become.
Jokes aside though, MJ did later show respect to Clyde Drexler. But, as the Last Dance documentary revealed, just never compare him to the master of taking things personal.
Also Read: Faizon Love boasts about having made out with Dwyane Wade's wife before him and the Miami Heat legend responds
---