"Michael Jordan, You Too Small": When 7-footer Patrick Ewing, On Street Shoes, Shut Down a Trash Talking MJ During UNC Visit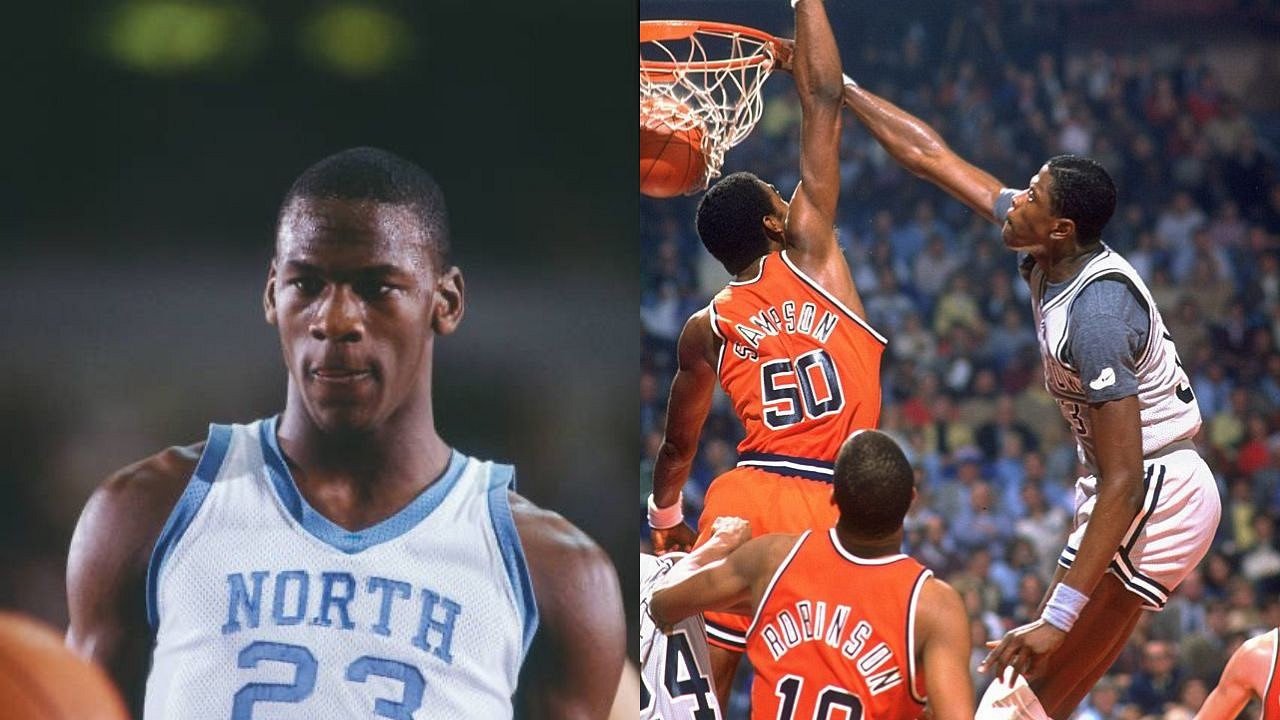 Legacies are often defined by your performance in comparison to your contemporaries. Michael Jordan and Patrick Ewing were two giants in the NBA sphere whose careers crossed similarly.
Jordan was the more successful of the duo and was often cited as a reason Ewing went ringless. As MJ racked up the honors and championships, Ewing became the infamous subject of the "Ewing Theory" even.
Also read: $75 million Patrick Ewing has more seasons as the highest paid player in the NBA than Micheal Jordan and LeBron James combined
Their journey goes beyond their rivalry in the NBA too. The 1981-82 collegiate season set up an epic contest between the future NBA Hall of Famers. Michael Jordan settled the contest and marked the first instance of him upstaging Ewing.
However, in their first interaction as prospects being scouted by North Carolina, Ewing did get one up on Jordan. That too, in streetwear. Maybe MJ took that "personal" and went on to use it as fuel against the big man?
When Patrick Ewing got one up on Michael Jordan in street clothes
Michael Jordan's trash talk led to this iconic Ewing – Jordan anecdote from their college recruitment days. A young and confident Jordan told the to-be Georgetown star that Ewing cannot dunk on him.
The much bigger Ewing, despite being plaid in street clothes, went at MJ. After dunking all over him, Big Pat called Michael Jordan "Too small". A valid statement when a 7-footer posterizes a 6'6 guard.
Ewing recalled the incident to Dan Patrick with visible satisfaction. After being taunted by his friend for decades for not beating him, the Knicks man was bound to revel his small moment of glory.
Any win counts when history paints a bleak image of you in comparison with your greatest rival. Jordan was, for all means and purposes, Ewing's biggest Kryptonite across his basketball legacy.
How did Jordan fare against Ewing in their meetings in the NBA?
The two Dream Team teammates were contenders for almost their entire careers from the Eastern Conference. However, his Airness floats well over Ewing when their records are compared.
MJ enjoyed a 30-13 record against his rival for their career. A considerable achievement, taking into account how the Knicks formed a formidable outfit at Ewing's peak.
Multiple 50-point games from Jordan also feature in these meetings. If that doesn't add salt to an already deep wound, one would wonder what could.
Various playoff encounters and humiliations also feature in the history between the two stars. Six Championships to none brings out the disparity in a considerably great light.
The former Knicks man can be forgiven if he chooses to gloat over his street cloth dunk over Jordan. The losses he accumulated and the taunts Ewing has suffered are bound to hurt.
Also read: Michael Jordan was almost lured in by a $25 million check from New York Knicks in 1996
---
Share this article