"Monty Williams Knows How to Talk to His Boys!": Deandre Ayton Gives Unconvincing Analogy After Public 'Screaming Contest'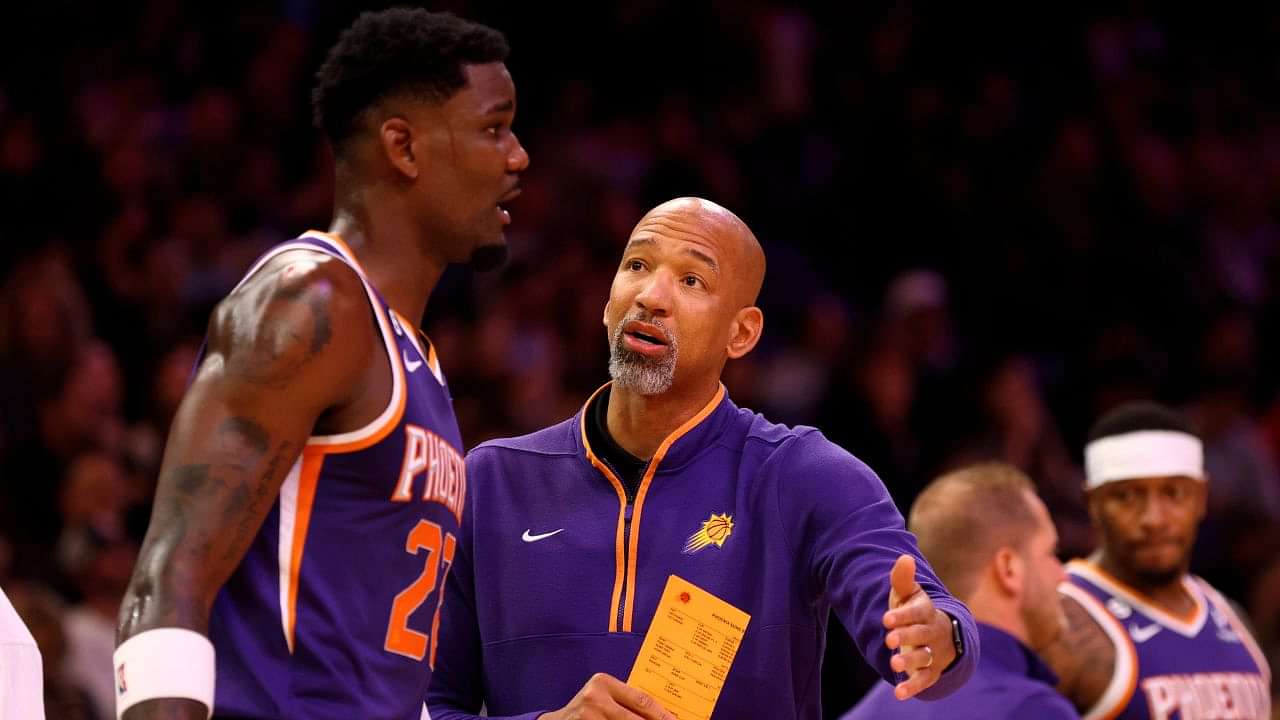 The Phoenix Suns aren't exactly having the greatest regular season of all time, right now. First, you have the entire NBA community calling them all kinds of names for their sulking ways.
But, to add to that, their record has been taking some massive hits. Sure, as things stand, they don't look too bad, standing at 4th in the West. However, with the team having won just 4 of their last 10, and the Clippers breathing down their neck, things could change very quickly.
But perhaps all those issues come secondary right now, especially after a certain little incident between Monty Williams and Deandre Ayton.
And while the player did later speak on the incident in an interview, his statement on the matter was far from a convincing one.
Also Read: "I Hate Y'all!": Charles Barkley Confesses 'True Feelings' on Inside the NBA After Getting Snowed on 'Let It Snow'
What happened between Deandre Ayton and Monty Williams?
Head coach Monty Williams is perhaps the most respected head coach in the NBA right now.
Other head coaches are jealous of him, most players admire him, and yet, Deandre Ayton has seemingly had enough of him.
Take a look at the clip in the tweet below.
Loading embed tweet https://twitter.com/ClutchPointsApp/status/1605426570453196802?ref_src=twsrc%5Etfw
In a vacuum, this situation would look pretty bad as it is. However, when the fact that Ayton reportedly wants to leave the Suns is considered, it starts to feel a whole lot worse.
As soon as it happened, this whole situation started to spiral out of control.
But have no fear, Deandre Ayton has come to quell all doubts, and make this satiation look good again… right?
Well, at least that was how it was supposed to be.
What did Deandre Ayton have to say?
Now, in these situations, an involved party's statement can be the making or the doom of the perception of the franchise within the NBA community. And it's fair to say, Ayton didn't quite accomplish the former.
Here is his statement on the matter.
Loading embed tweet https://twitter.com/KCJHoop/status/1605405815514488833?ref_src=twsrc%5Etfw
At first, the answer may seem sensible. However, fans within the NBA community aren't even close to being convinced. And that's only because the answer doesn't seem to go too deep.
Many suspect that this answer was simply a PR-manufactured statement. And frankly, we can't help but agree.
Also Read: "Slavic Lasagna!": Shaquille O'Neal Ignorantly Forgets Nikola Jokic's Nationality While Claiming He Would 'Torture' 2x MVP
---