Not Michael Jordan, not Larry Bird, not Even Magic Johnson, Isiah Thomas says his 'Bad Boy Pistons' drew 60,000 attendance to NBA stands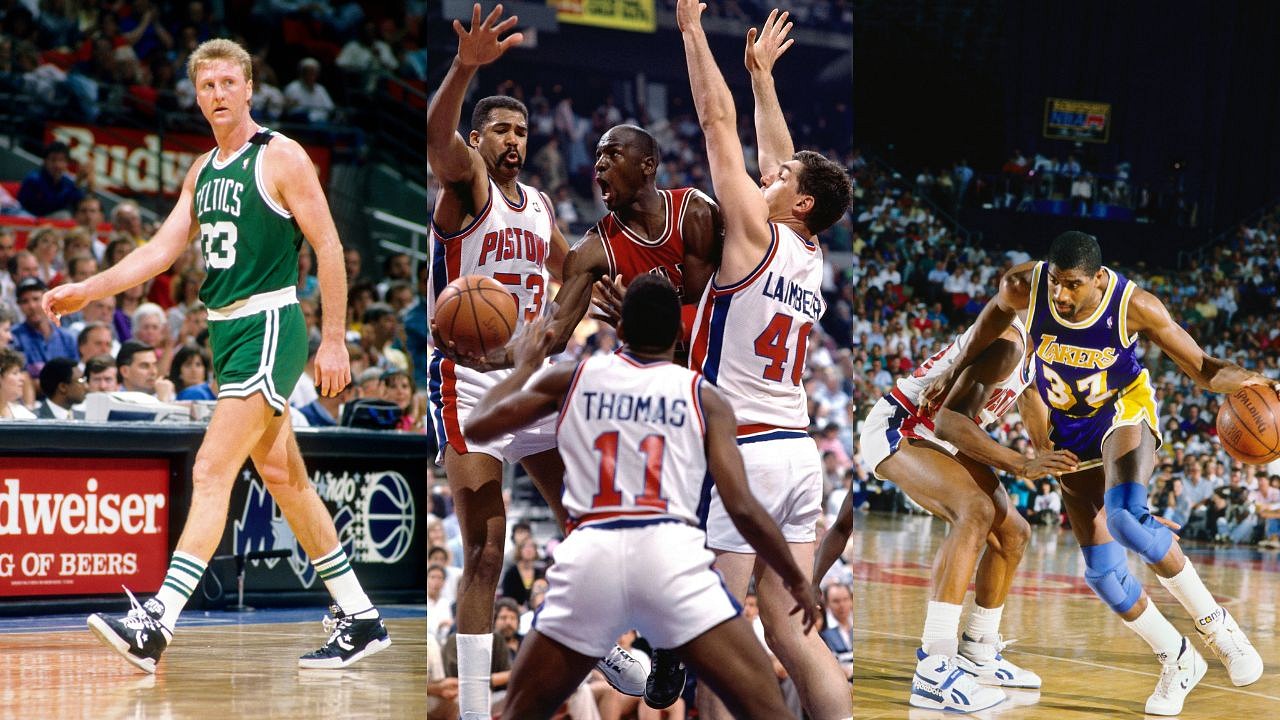 The 80s era in the NBA was to be solely dominated by its never seen rivalry between Larry Bird's Celtics and Magic Johnson's Lakers. And if something was left, a certain young gun by the name of Michael Jordan was to take over. However, Isiah Thomas and his crew in Detroit had other plans.
Led by players like Thomas, Joe Dumars, and Bill Laimbeer, the Pistons became a team to be reckoned with in the second half of the 80s. They rose to fame for their tough defense and physical play, and their rivalry with the Boston Celtics and Los Angeles Lakers added to the excitement around the team.
All of a sudden, they became very popular, due to their physical and aggressive style of play, as well as their new-found success on the court. The team's "Bad Boy" image went so popular that it became their nickname.
They had one of the biggest fan bases in the league even before they had won a championship. In fact, Zeke claims to have brought in more eyeballs in the stands than even the Celtics, Lakers, and Bulls in the 80s.
Also read: "Shaquille O'Neal, You've No Idea What You Did For Our Family": Isiah Thomas Thanks Lakers Legend For Heartwarming Gesture
It wasn't Michael Jordan, Larry Bird, or Magic Johnson who drew the highest attendance in NBA history
The Pistons gained a lot of notoriety among casual fans, and there were a lot of them at the time because of no social media. They won back-to-back NBA championships in 1989 and 1990 and made it to the Eastern Conference Finals in 1988, 1989, and 1990.
Most of those Playoffs series were against Larry Bird, Magic Johnson, and Michael Jordan teams, some of which brought in record-breaking fans on stands. And the 1989 Finals MVP believes his team was the common factor that did it.
Hate him and his teams all you want, but logic says Zeke is right. The truth behind it, you ask? Let's get down to it.
Also read: "Isiah Thomas Handles Were Like a Spaceship Coming Down": Jamal Crawford Gives Zeke His Flowers For Being Way 'Ahead of His Time'
How famous were Thomas' Pistons actually?
Isiah and the Bad Boy Pistons do have the record for some of the highest-ever NBA game attendance. But they are scattered among the Top-7 in history as per this article by
FanNation
.
Their highest number was 61,983 attendees in the Pontiac Silverdome hosting Larry Bird's Celtics in January 1988. It still is the second-highest in NBA history.
So, three out of top-7? Whereas, MJ's Bulls have two. Surprisingly (not for some nerds like us) Dominique Wilkins led Atlanta Hawks had three of the top-7 as well, including the #1 spot with 62,046 attendees.
Also read: "Kobe Bryant, Michael Jordan's Numbers Would Be On Steroids In Today's Game": Jalen Rose Dissects How Former NBA Legends Would Fare In Today's Game
---
Share this article