"Shaquille O'Neal, You've No Idea What You Did For Our Family": Isiah Thomas Thanks Lakers Legend For Heartwarming Gesture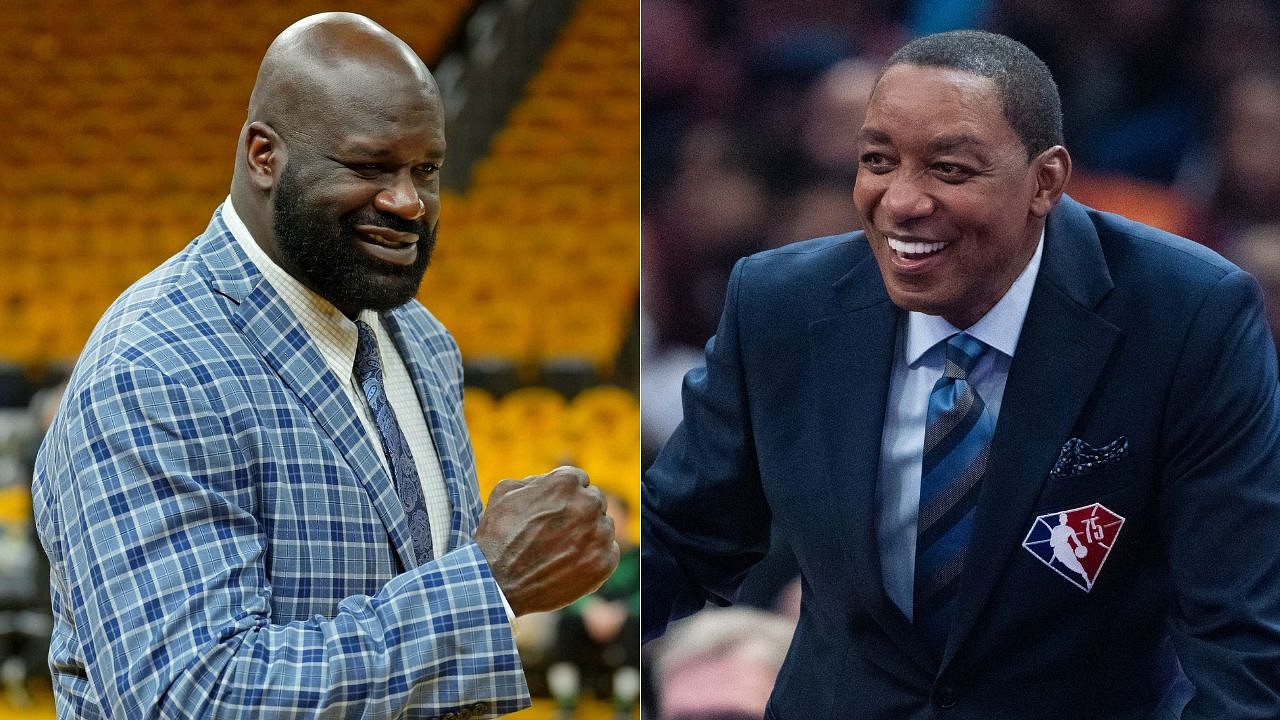 Shaquille O'Neal is by far the most intimidating on-court character the league has ever seen. Standing at 7-foot-1 and weighing a staggering 350+ pounds for the majority of his illustrious 19-year career, the Diesel managed to bully big men night in and night out.
Off the court, Shaq is one of the sweetest and most giving humans out there. We've heard numerous stories of the 4-time champ going out of his way to bring a smile to people's faces.
Also Read: Shaquille O'Neal Pulls Insane Prank on Inside the NBA Rookie as Welcome
However, being kind-hearted wasn't limited only to strangers. O'Neal once displayed this affectionate side of his to Detroit Pistons legend Isiah Thomas.
Isiah Thomas thanks Shaquille O'Neal for giving All-Star ring to his daughter
On the recent episode of TNT's Postgame show, The Baby-Faced Assassin revealed a story that displays the Lakers icon's true caring traits.
Isiah disclosed that the big man gave away his All-Star ring to Thomas' daughter without even knowing about her shattered knee. Zeke thanked the former 15-time All-Star for the memorable gesture and stated that it was a moment that Lauren Thomas always cherished in her life.
"Shaq gets his All-Star ring and my daughter had just come off a knee surgery where she had torn up her knees and everything else. It was questioned if she could ever play again. And Shaq didn't even know this. But he takes his All-Star ring and he gives it to my daughter. Just being Shaq, just being nice, just being the good dude. And that moment has been one of the most powerful moments of her life and of our family life. And we tell that story every time, Shaq.
So thank you, you have no idea what you did for her and what you did for our family on that day. It still resonates. So thank you, brother. Appreciate it."
This is such an awesome story that @IsiahThomas shared on TNT regarding how giving Shaq is

Give it a listen.#NBA pic.twitter.com/zriTUD5NJ7

— ' (@_Talkin_NBA) January 11, 2023
Shaq's selfless behaviour is nothing new
This is merely one of the many incidents that make us commend the Big Aristotle for his selflessness.
Among some of his most notable donations, a few iconic ones are – donating 10 pairs of shoes to a Georgia mother for her son, paying for a young man's engagement ring, tipping $4,000 to a waiter, and has raised over $2 million.
Clearly, Shaq is much bigger than himself. Truly, athletes like O'Neal don't come around that often.
Also Read: Shaquille O'Neal and Candace Parker Have Contrary Opinions About the Greek Freak
---
Share this article