"Not Playing Behind LeBron James and Anthony Davis Helped": Kyle Kuzma Relishes In His Growth Following Lakers Departure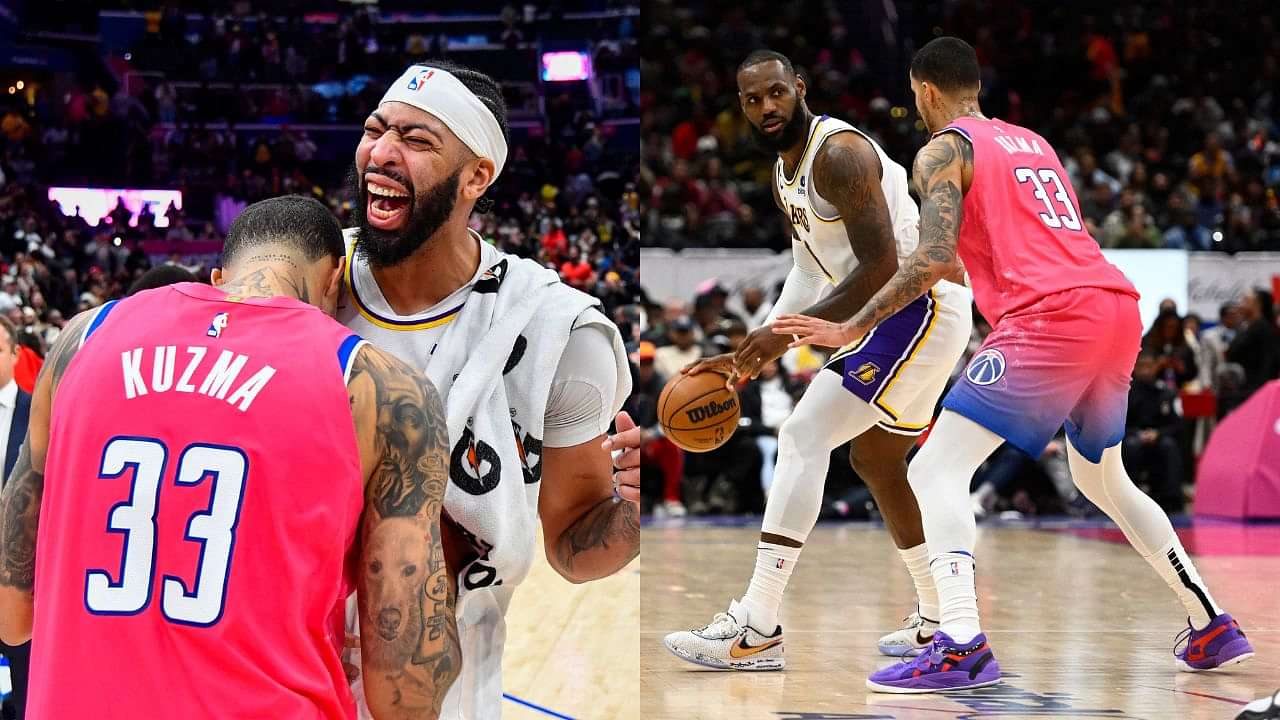 It was merely 2 years ago that LeBron James and the Los Angeles Lakers hoisted the Larry O'Brien trophy in the NBA Bubble. With Anthony Davis playing like a pure 1B to James's 1A and guys like Kyle Kuzma, Alex Caruso, Kentavious Caldwell-Pope, and Rajon Rondo all playing their roles to perfection, the Lakers were undoubtedly the best team in the NBA. 
Fast-forward to today and not a single one of the ancillary pieces from that 2020 title run are on the current purple and gold roster. Acquiring Russell Westbrook in the summer of 2021 dealt away key pieces like Kuzma and KCP to the Washington Wizards. 
Now, the Lakers sit towards the bottom of the Western Conference standings with a record below .500. The Washington Wizards aren't doing any better but the former team is vying for a championship with a prime AD and an aging LeBron. The other is the Washington Wizards.
Also read: "People Called LeBron James a Sellout Until he mentioned Jerry Jones": 4x NBA Champ Believes Lakers Star Might Get Rid of Duplicity in China-Nike Case
Kyle Kuzma on growing without LeBron James and Anthony Davis
LeBron James, Anthony Davis, and Kyle Kuzma all play the same position for the most part: the 4. so, when it came time to put out your best lineup, Kuzma was shunned to the side to help the Lakers go as small as they could. 
With Kyle having gotten traded away from the two superstars, he finally got a chance to shine on the Wizards with no real other 'threat' at his position. The fit with him and Kristaps Porzingis isn't the greatest but it certainly hasn't hindered his growth as an offensive talent. 
"Being in this situation helped a lot. Here, I'm not playing behind LeBron and AD. So coming here, I don't have that anymore. It's been great because me, Brad, and KP don't get in each other's way," said Kuzma. 
Washington Wizards and their lackluster season
The Washington Wizards re-signed Bradley Beal to a monster supermax contract extension and in doing so, have locked themselves into yet another few years of mediocrity. Brad recently came out and said that there were no other contending teams vying for his attention in the offseason so this was his best possible option. 
Kuzma has a $13 million player option coming up, quite the valuable one considering how good of a player he is in comparison to that sum of money. Both the Suns and the Hawks are reported to be interested in him. 
As for Kristaps, he's having somewhat of a resurgence ever since leaving Luka and the Mavs. He has admitted that he wasn't the right guy for Luka recently and is currently averaging 20+ points in DC. In fact, the Wizards are one of two teams with 3 players averaging 20+ points. The other is the Blazers. Yet, the Wizards are still 11-14.
Also read: "Reporter Went after Kyrie Irving": Former 6ft 11" Bulls Champion Lamented at the 'Hypocrisy' of Media for Underplaying Jerry Jones' Past
---