"Role players can play well on the road as we saw yesterday": Doc Rivers slyly praises his son Austin Rivers ahead of Sixers vs Wizards Game 3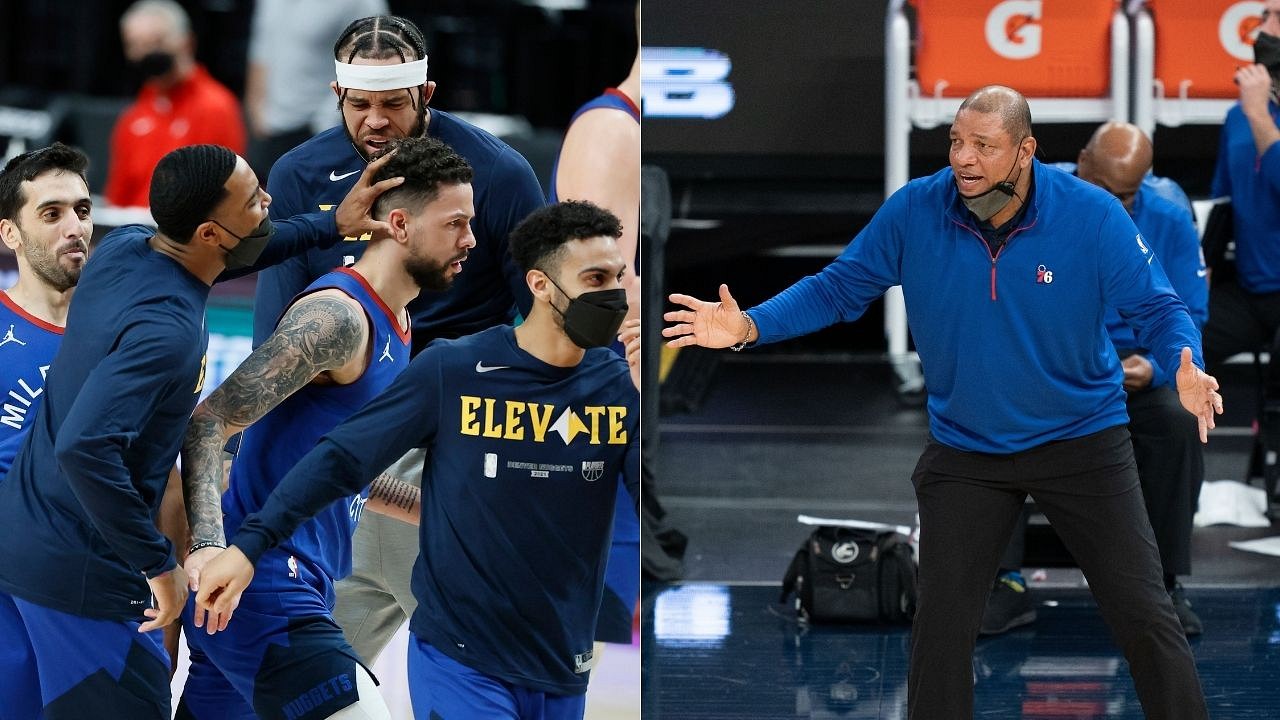 Sixers head coach Doc Rivers reveals his enthusiasm about his son Austin Rivers' ongoing playoff campaign with the Nuggets.
There is no player in the NBA who's been more accused of nepotism than Austin. Selected by the Pelicans with the 9th pick in the 2012 NBA draft, Rivers' career did not pan out the way he thought it'd be. Back in his high school days, many had tipped him to be an All-Star.
Instead, he found himself relegated to the back end of the Pels' bench behind Eric Gordon, among others. He was given a lifeline by his father, executive and head coach with the Clippers. But Austin had to earn his stripes the hard way in LA.
Also Read: "Ja Morant over Jayson Tatum going forward": Max Kellerman gives huge props to the Memphis Grizzlies star after his impressive playoff outings
Austin became a more accurate shooter and a pesky defender once he found his footing within the Clippers' setup. Since then, he's been a member of a few other teams, never for too long a time.
It seemed that his NBA career would be over by the end of this season once he was waived by the Thunder. But he's found his bearings in the Nuggets' setup and has now slotted well into their playoff rotation.
Doc Rivers praises Austin Rivers for his play vs Blazers
The Sixers are in a great position with regards to their playoff battle. Having won both home games handily against the Wizards, they're expected to make short work of the series.
The Doc, meanwhile, found an opportunity to praise his son publicly in his pre-game presser ahead of Game 3. When asked about how his team's role players could respond to a raucous Wizards crowd, Doc smiled and said:
"Role players sometimes play well on the road. I saw a role player in Denver play well last night."
Doc Rivers: "Role players sometimes play well on the road. I saw a role player in Denver play well last night."

— Rich Hofmann (@rich_hofmann) May 28, 2021
Also Read: "Dean Smith left Michael Jordan off Sports Illustrated picture": Billy Packer reminisces about the GOAT's rise before being drafted by Chicago Bulls
Austin did indeed light it up against the Blazers – particularly in the 4th quarter. He hit dagger 3 after dagger 3 to help the Nuggets maintain their separation down the stretch.
He also played some stifling defense on Lillard and McCollum and in general, held up to the test of guarding one of the most explosive offenses in the NBA today.
---
Share this article