"Shaq and Kenny Did It in 2014 and Then Again in 2022!": Dwyane Wade Talks About Leaving Inside the NBA and the Christmas Tree Debacle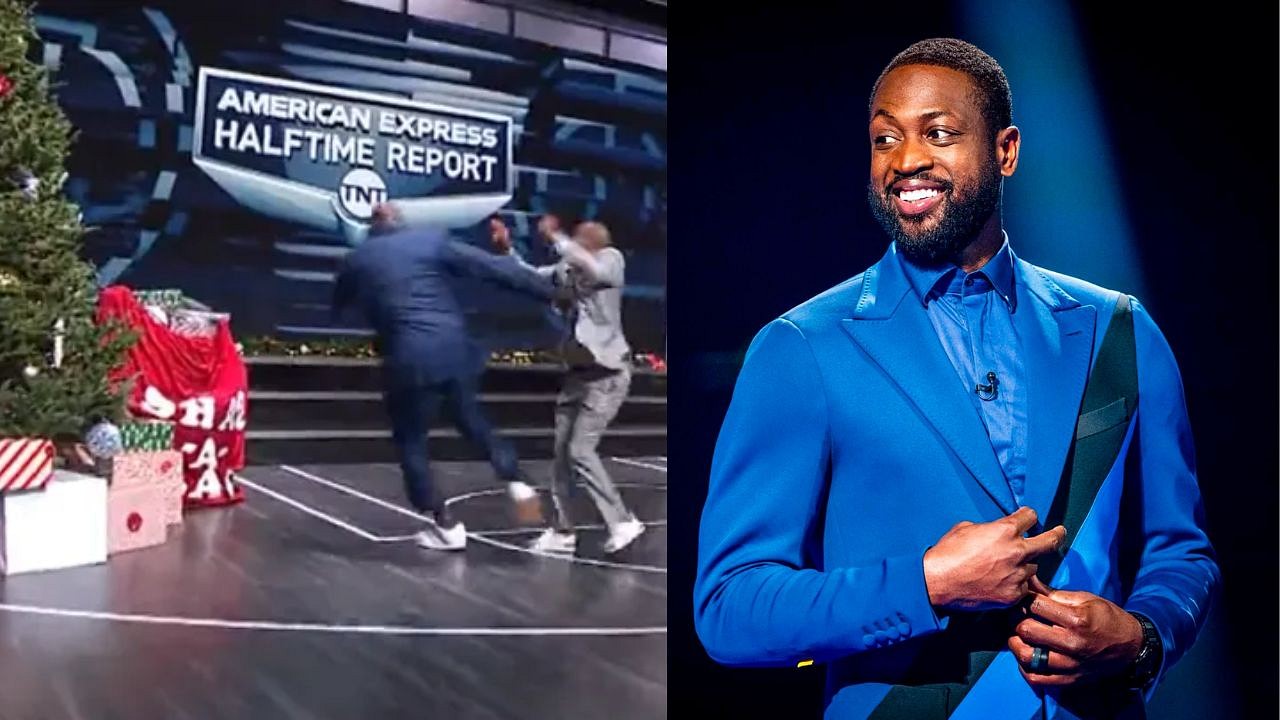 Dwyane Wade played in the NBA for 16 seasons. Being drafted at a time when Michael Jordan had just retired, and Kobe Bryant had taken over as the top Shooting Guard in the league wasn't easy. To fight and make a mark for himself when there was already the best player in the game in the same position wasn't easy.
However, Dwyane Wade never backed away from a battle. When he hung up his boots in 2019, Wade was a 3x Champion, 1x Finals MVP, and a 13x All-Star. Following in the footsteps of his former teammate, Wade joined TNT after his retirement.
He was an on-air analyst and used to host the Tuesday night show along with Shaquille O'Neal and Candace Parker. When he shared that he won't return to TNT this year, many were disappointed and wanted to know why. Well, here's your answer.
Also Read: "Rookie Michael Jordan Made Me Retire From the NBA!": George Gervin Explains Hilarious Story Behind His Retirement
Dwyane Wade left TNT to spend more time with his family
Playing in the NBA can be challenging for a player and their families. When they're in town, they spend a big chunk of their days practicing, working out, and then resting and getting ready for the games. The other times, they're on the road.
Having retired from the NBA, Wade was still doing the same when he was with TNT. He had to fly out to Atlanta every week to do the show for four months of the year. It was taxing and took a toll on himself and the family.
Talking about the same, Wade responded about leaving TNT by saying,
"My family, man. First of all, that's one of the greatest jobs in the world. But I retired and walked away from the game. I've been on this journey since I was 17 years old. And I'm not going to say I've been doing it by myself, because I've had a lot of help. But I've been on this journey to change my family's fortune and become something that my family can be proud of, and all the things that come with it, since I was 17."
"And so to go through that until I was 37 and then to come out of that, go through the pandemic and then have the job where I'm flying back and forth to Atlanta for four months out the year, it wasn't what I retired for. It wasn't where I needed to be at this point in my life. And so I just decided to take a step back to have my sabbatical year, if you will. And that's the first year that I can kind of look at everything I'm doing, and take a deeper look at it, and then see what's next for me."
It sounds like a fair point. Family is everything and he needed to take time out for them, especially after retirement.
Also Read: "Kobe Bryant said, tears streaming down his cheeks": Black Mamba broke down upon getting booed after winning 2002 All-Star MVP in Philadelphia
Wade gave his take on the Shaq-Kenny Christmas Tree episode
Everyone who's seen the clip of Kenny shoving Shaq into the Christmas tree has given their thoughts about the same.
DWade was no different. When asked by the interviewer if the same was staged, he said,
"That's the crazy thing about it. You never know. I worked there and I didn't know what was staged or real with Shaq. But I would say if it's a percentage, we all know that it's more than likely staged, but we still laugh and we still love it. And they did it in 2014 and they did it again in 2022, and we laughed the same. Man, that's why the show is so amazing. That magic that they created, because we're still laughing at the same thing that Kenny [Smith] did to Shaq eight years later."
This is the 2014 clip Wade was referring to:
Man those guys really know how to pull the same thing off but still make it a hit.
Also Read: "I'd Cut LeBron James!": Tracy McGrady Makes Shocking Pick Between the King, Michael Jordan, and Kobe Bryant
---
Share this article