"Shaquille O'Neal You're 1 and a Half!": Charles Barkley Mocks $400 Million Superstar While He Challenged Patrick Mahomes and Travis Kelce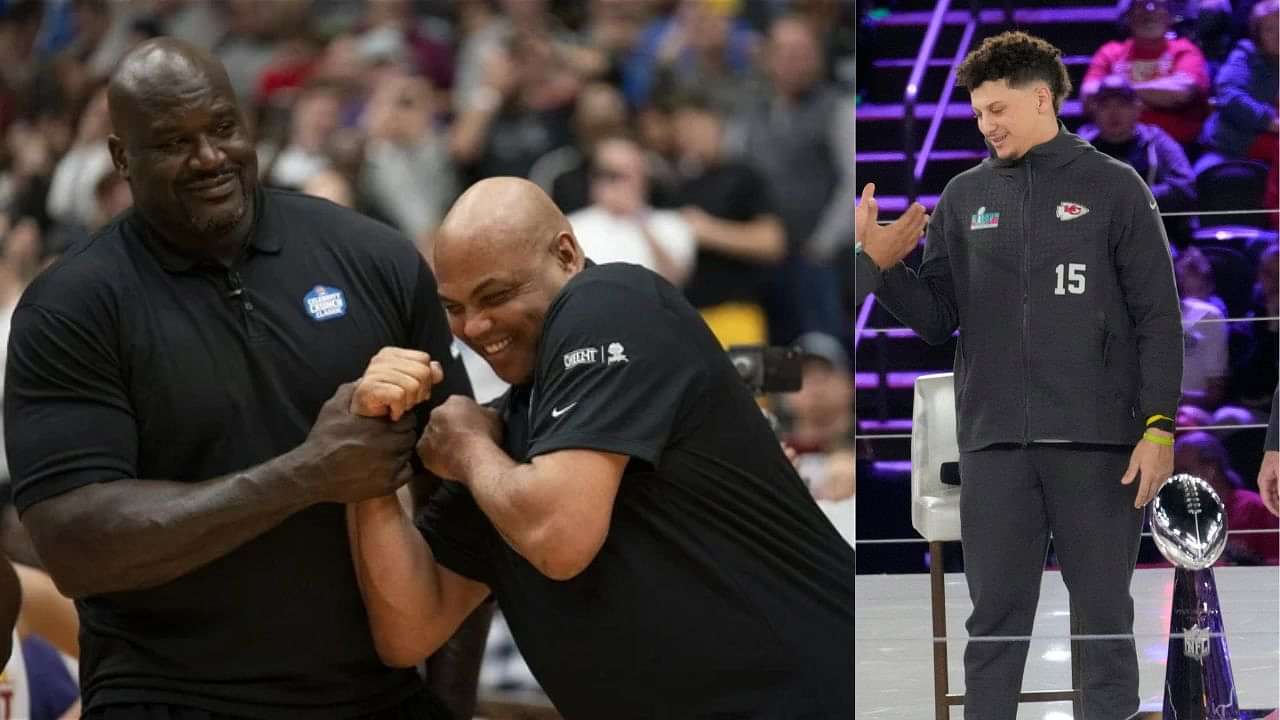 Shaquille O'Neal and the crew are back at the TD Garden tonight as the Celtics take on the Heat for Game 5. Before the game started, the guys decided to make a quick call to Kansas. They dialed up Patrick Mahomes to talk to him about his upcoming golf game against the Splash Brothers. One thing led to another, and Shaq ended up challenging Pat and Travis Kelce to a two-on-two, which led Charles Barkley to ridicule him over his size.
Before Game 4, they had Stephen Curry on air, where he received the Kareem Abdul-Jabbar Award. Curry was asked about the upcoming Golf game and was also accused by Shaq of getting him in trouble. After Steph seemed confident about getting a good result, they had to make a call to his opponent as well. They did exactly that as they called up Mahomes.
Shaquille O'Neal fat-shames Charles Barkley after being called big
Shaquille O'Neal is someone who is always looking for a fun challenge. When Patrick Mahomes talked about having a sweet jumper, Shaq took it as an opportunity to challenge the SuperBowl champions. He told Mahomes how his talking about a jumper meant he and Travis[Kelce] was a challenge to him and Kenny Smith.
Mahomes decided to be funny and said, "Free Throws only!"
Shaq held back a laugh and said, "No, a 2-on-2!"
Mahomes tried to say no, bringing up Shaq's hip surgery. Charles Barkley butted in and said, "It's not 2-on-2. It's 2.5-on-2."
Shaq asked, "Who's the half?"
Chuck replied and said, "You're one-and-a-half big!"
Shaq shut him down, saying, "I know your fat a** didn't just call me one-and-a-half!"
Loading embed tweet https://twitter.com/NBAonTNT/status/1661887720195604480?ref_src=twsrc%5Etfw
As long as Chuck and Shaq are in front of a camera, we know it's going to be a hoot and a half. Shaq keeps poking fun at Chuck, and Barkley returns the favor by going after the $400 Million star. Even though these guys love each other, it's their little bickers on TV which make Inside the NBA such a fun show to watch.
Patrick Mahomes and Travis Kelce are taking on Stephen Curry and Klay Thompson
Patrick Mahomes is an experienced golfer, and so is Stephen Curry. Both MVPs have had their share of experience in the Match before, with the results not going in their favor. Steph lost to Charles Barkley, and Mahomes lost to Tom Brady.
This year, it's the Splash Brothers vs The Kansas City duo. 4x NBA Champions vs 2x Super Bowl Champions. Stephen Curry and Klay Thompson will face Patrick Mahomes and Travis Kelce in Las Vegas on 29th June. While the proceedings of the contest will go to charity, we'll have to wait and see who wins this NBA x NFL challenge, for bragging rights, of course.
---