"Sorry for what?": Dennis Rodman was Forced to Apologize to Scottie Pippen Before Joining Michael Jordan and the Bulls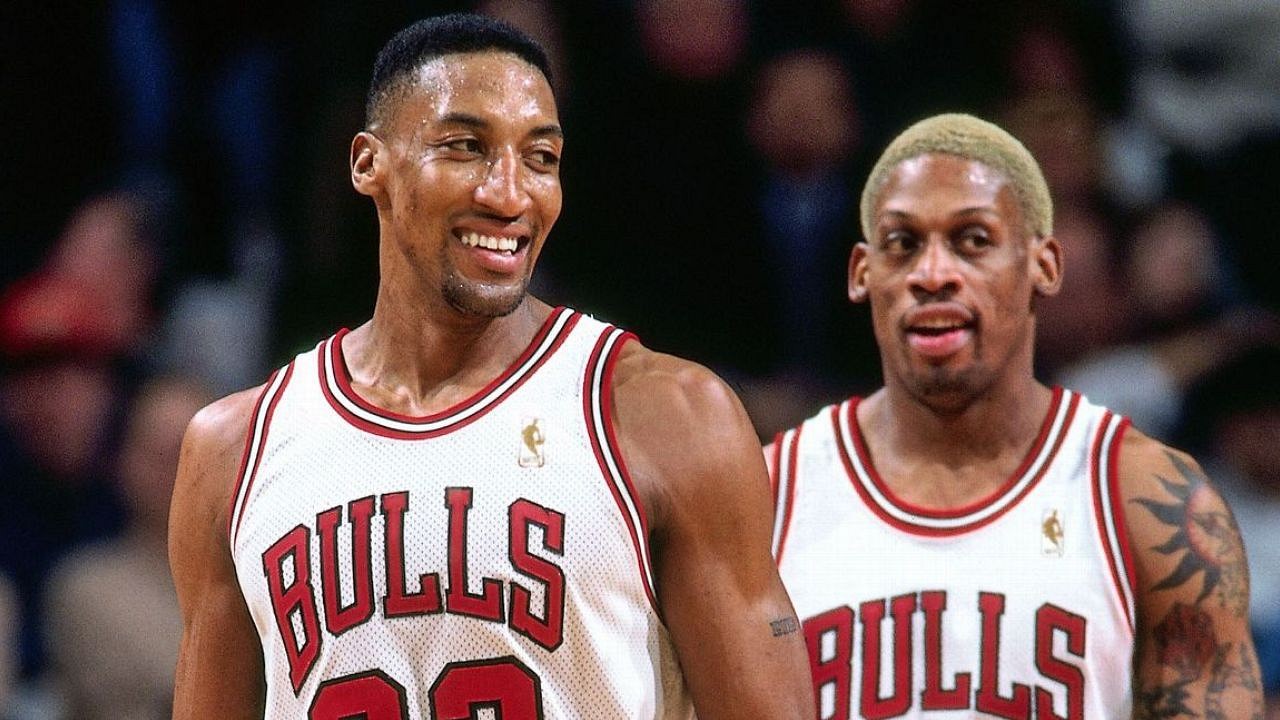 Dennis Rodman might have the meanest exterior one that does not seem penetrable by a stare or words. He seems cold and taut. If you look at any of his paparazzi pictures from the 1990s, you will see that he looks mean. But he isn't. Dennis is soft and nice. He just liked to be an oddball. An eccentric NBA player. The most eccentric if you think about it.
On the court, Rodman was a hard player. Tough as nails. He would go to war and duke it out with the best. Nobody liked Dennis on the court. His tenacity combined with his temper would often result in explosive outbursts between teams.
He liked to get under the skin of his opponents and as a result, nobody had good things to say about him. Rodman, however, was the opposite. Despite his antics, he never bad-mouthed anyone. And when he was coerced to apologize, he didn't bat an eyelid.
Also read: "LeBron James Led Lakers Up By 4, Cannot and Will Not Lose": Skip Bayless Jinxes the Lakers
Dennis Rodman once shoved Scottie Pippen in the 1991 Eastern Conference Finals
Before we get to the main story, let's rewind the tapes a little. Back in 1991, during game 4 of the Eastern Conference Finals, the Detroit Pistons squared off against the Chicago Bulls. Rodman was still a "bad boy", literally and figuratively. And during a play, he pushed Scottie Pippen so hard, he got a flagrant foul called on him.
The foul was inconsequential, the Bulls would go on to sweep the Pistons and establish a decade-long dominance. But for Scottie and the Bulls, it was more about their egos.
So, when the time came to recruit Dennis Rodman, the Bulls harbored some unrequited resentment. And there was only one way to resolve it.
Also read: "I'm Him, Not Ja Morant!": Anthony Edwards Goes Off For 29 Points vs. Grizzlies Before Hilariously Talking Trash to Tee Morant
Rodman was coerced to apologize before going on the legendary "3-peat"!
Scottie and the Bulls held the grudge for over 4 years, forcing Rodman to apologize when they met. Here is an excerpt from an interview with Dennis Rodman, where he told the tale of his signing.
"I went to Jerry Krause's house and Jerry Krause, Michael Jordan, Scottie Pippen, me, his wife, three dogs, cat, Phil Jackson. We had a meeting at Jerry Krause's house, all of us there, and we all sat like in a triangle. You know, we didn't talk to each other at all, we all just met on business. And Phil came up to me and said, Dennis, you know, before we put you on the team could you do me a favor?' I'm like, 'What is that Phil?' He said, 'Could you go and tell Scottie you're sorry?"
Of course, The Bulls coach had to ask that question. And Dennis was extremely nonchalant about it. He continued, "I'm like, 'Sorry for what?' He said, 'You know, that series you guys had in '91.' I said, 'You want me to go say sorry for that?' He said, 'Would you just go do it?'
Normally, anyone would have taken offense but Dennis, as we alluded to earlier is actually a nice guy. He adds, "I said alright. I went over to Scottie (and)I said, 'Scottie, sorry about that, man, you know, pushing you out of bounds.' Scottie said, 'Don't worry about it, it's OK, it's OK, we just want to win a championship."
The rest you know is history. Dennis Rodman is a 5x NBA champ and he is still one of the most fascinating personalities to have emerged from the NBA.
Also read: "20-25 is F**king Ridiculous, Devin Booker": Kevin Durant and NBA Twitter are Left Speechless After Suns Star's Historic 51-pt Outing
---