"Thank God Damian Lillard missed": Austin Rivers is hilariously seen praying for Blazers MVP to miss amidst historic 55-point night in Game 5 win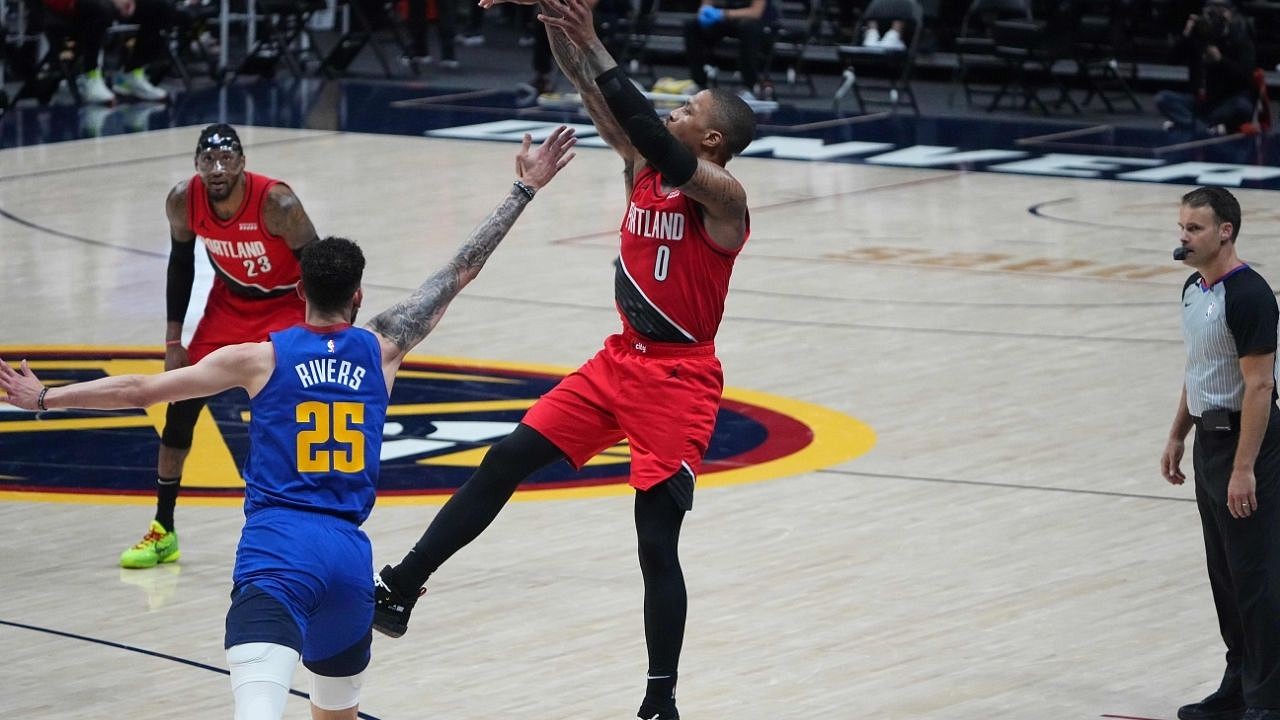 Austin Rivers is caught putting his hands together and praying for Damian Lillard to miss during his historic 55-point night in Game 5.
After having blown out the Denver Nuggets in Game 4 in Moda Center, Damian Lillard and the Blazers looked to snatch any semblance of momentum from the Nuggets as they looked to take Game 5. this didn't go as planned however, as despite Dame having one of the greatest Playoff shooting nights in NBA history, the Nuggets pulled through off the back of Nikola Jokic's 38 points. 
Damian Lillard has had two very different nights in Game 4 and in Game 5. Game 4 saw the Blazers superstar go 1-10 from the filed for merely 10 points as the Portland trampled Denver as Norman Powell went off for 29 points. Ironically, the Blazers lost Game 5 with Lillard doing a complete 180 and dropping a double nickel on Denver while shooting 12-17 from beyond the arc.
Also read: "LeBron James doesn't care about China": Colby Covington, goes off on Lakers MVP for not talking about human rights violations by CCP-backed government
There was no player on the Denver Nuggets roster who could contain Dame from getting to his spot as he drained shots over Michael Porter Jr's 7+ foot wingspan and over the quick-footed Austin Rivers. 
Austin Rivers prayed for Damian Lillard to miss during OT.
Austin Rivers could do nothing except resort to praying for Damian Lillard to miss at least a single shot as he continued to drain contested 3s over and over again, forcing 2 overtime periods all by himself. A hilarious video has surfaced capturing Rivers putting his hands together and thanking God for having Dame miss one shot in OT.
Austin Rivers reacts to Damian Lillard finally missing in OT pic.twitter.com/QaZZ6YQBM8

— New York Basketball (@NBA_NewYork) June 2, 2021
Austin Rivers reacts to Damian Lillard's 12 3-pointer, 55 point game:

"Bro…he was not missing for shit 🤦‍♂️. 1 hand in his face, 2 hands in his face. Lol I'm like wtf is this."

Sheesh. pic.twitter.com/1ayPoYpbnG

— ClutchPoints (@ClutchPointsApp) June 2, 2021
Also read: "Damian Lillard, I'm lost for words, this is a spiritual experience; GOD MODE": Kevin Durant lavishes the ultimate praise on the Blazers star's legendary Game 5 vs Nuggets with 12 3-pointers
Other than the fact that the Blazers's defense was well below average last night as well in terms of missed rotations, Jusuf Nurkic has had a tremendous amount of difficulty staying out of foul trouble when guarding Nikola Jokic. He's fouled out in multiple games this series and it's clear that Enes Kanter cannot stop Jokic down one bit. 
Games 6 and 7 are a must-win for Portland in the now and in terms of future implications for the team. A deep Playoff run would essentially mark the end of Terry Stotts's career as a head coach in Portland and it's incredibly difficult to imagine Neil Olshey running it back yet again with the same squad, just to be a first round exit. 
---