WATCH: Bronny James Embarrasses Himself Despite Hyping Up the Crowd For Insane Dunk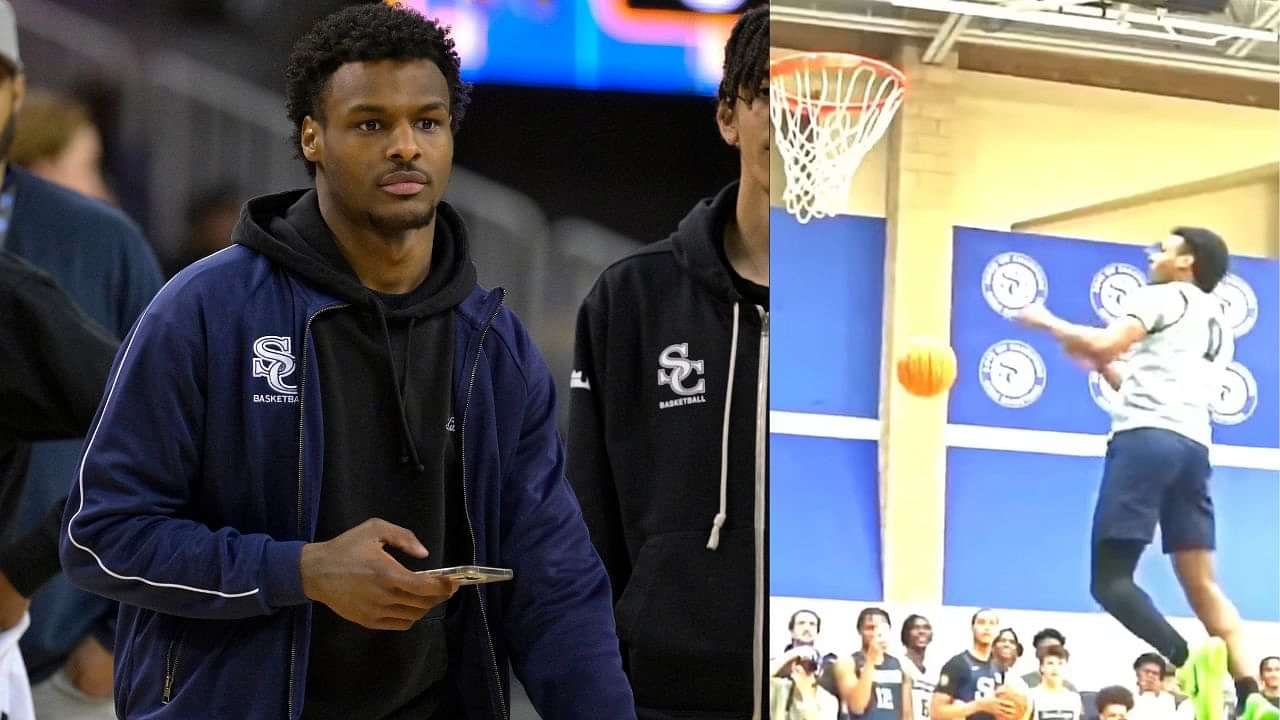 Bronny James has been in the media's eye for a long time. Originally named LeBron James Jr., the son of potentially the greatest to ever play basketball was never going to have a quiet life. However, even with that bar set, his fame has far exceeded all expectations.
With that being the case, any little highlight of the man is bound to go viral. However, due to that same logic, any mistake he makes is also going to be announced to the entire planet. And on one instance, the man had the misfortune of that happening to him, on a laughably terrible attempt at a highlight.
Also Read: "Ben Simmons Has More Bathrooms Than Points/Game": Shaquille O'Neal Ridicules Nets Star's Abysmal Showing This Season
Bronny James hypes the crowd up for his alley-oop… only to fail miserably
6'4" Bronny James may not have his father's height. However, the man unquestionably has LeBron James's ungodly athleticism that makes any rim look like it isn't high enough. So, when the man goes up for a dunk, everyone in the audience can't help but get excited.
However, on one occasion, there was just one problem with that. You see, timing is a very important thing when it comes to dunking. So, when someone gets it wrong, it can be beyond hilarious for everybody… except the man performing the feat, something Bronny James was forced to find out. Take a look at the short YouTube clip below.
Now, this is embarrassing. But the thing about it is, because of how high James jumped, fans couldn't help but forget about the comically badly missed alley-oop. That's just how great his talent and potential are. And so, he has gotten a lot of attention from colleges as well.
What colleges have shown an interest in Bronny James?
Bronny James has been getting countless scholarship offers from top colleges, especially since he was upgraded to a 5-star prospect by ESPN. Since then, the man has reportedly been sent offers by Ohio State, Michigan, Kentucky, and Memphis. Of these universities, Ohio has been deemed to be the favorite to land his loyalties.
Also Read: "Ben Simmons Has More Bathrooms Than Points/Game": Shaquille O'Neal Ridicules Nets Star's Abysmal Showing This Season
---